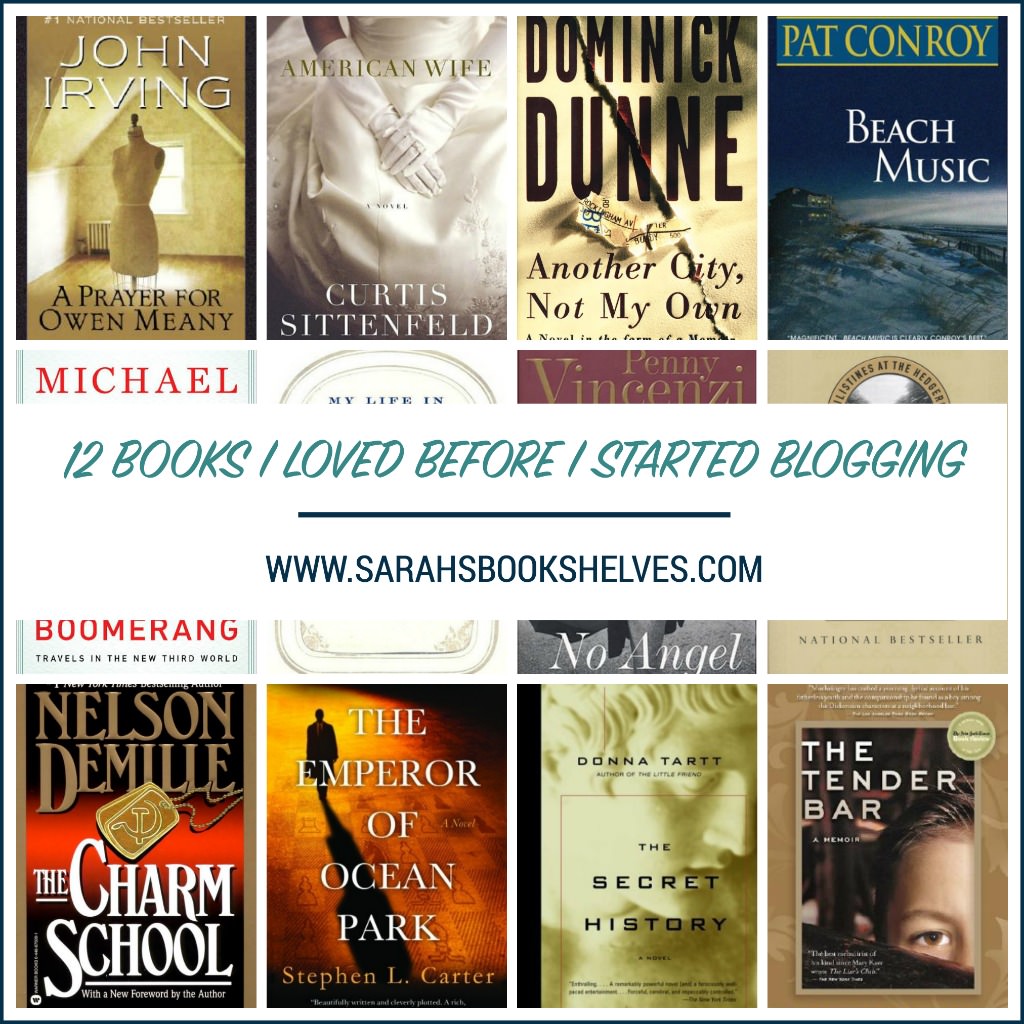 Last week was all about books I didn't like, but we're flipping the coin this week. There are so many books that I adored years ago, way before I started blogging, that I don't talk about much here.
So, today I'm going to spotlight 12 Books I Loved Before I Started Blogging…
This post contains affiliate links.
12 Books I Loved Before I Started Blogging
A Prayer for Owen Meany by John Irving
I honestly haven't read much John Irving since I started this blog, but he still remains one of my all-time favorite authors and Owen Meany is my favorite book of his. It's on my all-time favorites list and is due for a re-read!
American Wife
 by Curtis Sittenfeld
I love fiction that's inspired by real people and this one had me all kinds of curious about the inner life of Laura Bush.
Another City, Not My Own
and anything else by Dominick Dunne
Dunne is the man responsible for getting me started reading about "wealthy people behaving badly" with his nonfiction about wealthy and/or famous people in criminal situations. I loved his snark, his tenacity in taking down prominent people who took advantage of being prominent, his gossipy tidbits…and his Vanity Fair column. RIP Mr. Dunne.
Beach Music by Pat Conroy
My love for Pat Conroy began when I was pretty young and I read all my favorite books by him before I started this blog. Beach Music is one of the few that I haven't re-read in the past five years and I'm due. I also have a slight concern that it won't hold up for me…luckily, my cousin is test-driving it as we speak!
Boomerang: Travels in the New Third World
 by Michael Lewis
Awhile back, Michael Lewis was one of my all-time favorite authors. He can make the most mundane financial stories riveting and is a master at clearly explaining complicated financial concepts so non-finance nerds (like me!) can understand. In Boomerang, he investigates how the 2000's real estate bubble and 2008 crash impacted various foreign countries. He melds finance and hilarious studies of each country's culture into what I think is his most entertaining book! Sadly, his latest two books (Flash Boys and The Undoing Project
) have missed the mark for me.
My Life in France
by Julia Child
I used to read a ton of food / cooking memoirs before I started blogging and this was one of my favorites. Julia's booming personality shines through and I enjoyed reading about the period when she first fell in love with food.
No Angel
and The Spoils of Time Series by Penny Vincenzi
The British Spoils of Time series are juicy, multi-generational, historical fiction sagas that are full of drama. These were my guilty pleasure reading way back when!
Philistines at the Hedgerow : Passion and Property in the Hamptons
 by Steven Gaines
Rich people real estate porn set in the Hamptons. Similar to Michael Gross, but without the crushing, excruciating detail.
The Charm School by Nelson DeMille
Another of my old-school favorite authors! The Charm School is one of his more unique books and it made me wonder if something like The Charm School might have actually existed in the USSR during the Cold War. Bonus: DeMille has a new book (The Cuban Affair
) coming out on September 19th!
The Emperor of Ocean Park by Stephen L. Carter
This was the first book that introduced me to Stephen L. Carter's political thrillers. His books are page-turning thrill rides, but they're smart and throw in a fascinating look into upper crust, Harlem society. I went on to read four more of his books, including Back Channel most recently.
The Secret History by Donna Tartt
Believe it or not, I knew nothing about all the hype surrounding this book when I read it. I just wasn't plugged into the book world back then. It blew me away. I went on to find out that it blew most everyone else away too. 
The Tender Bar
 by J.R. Moehringer
I remember picking up this coming of age memoir on a complete whim, knowing nothing about it. It's stuck with me and introduced me to J.R. Moehringer's writing, which is right up my alley.
What are some of your old favorites?