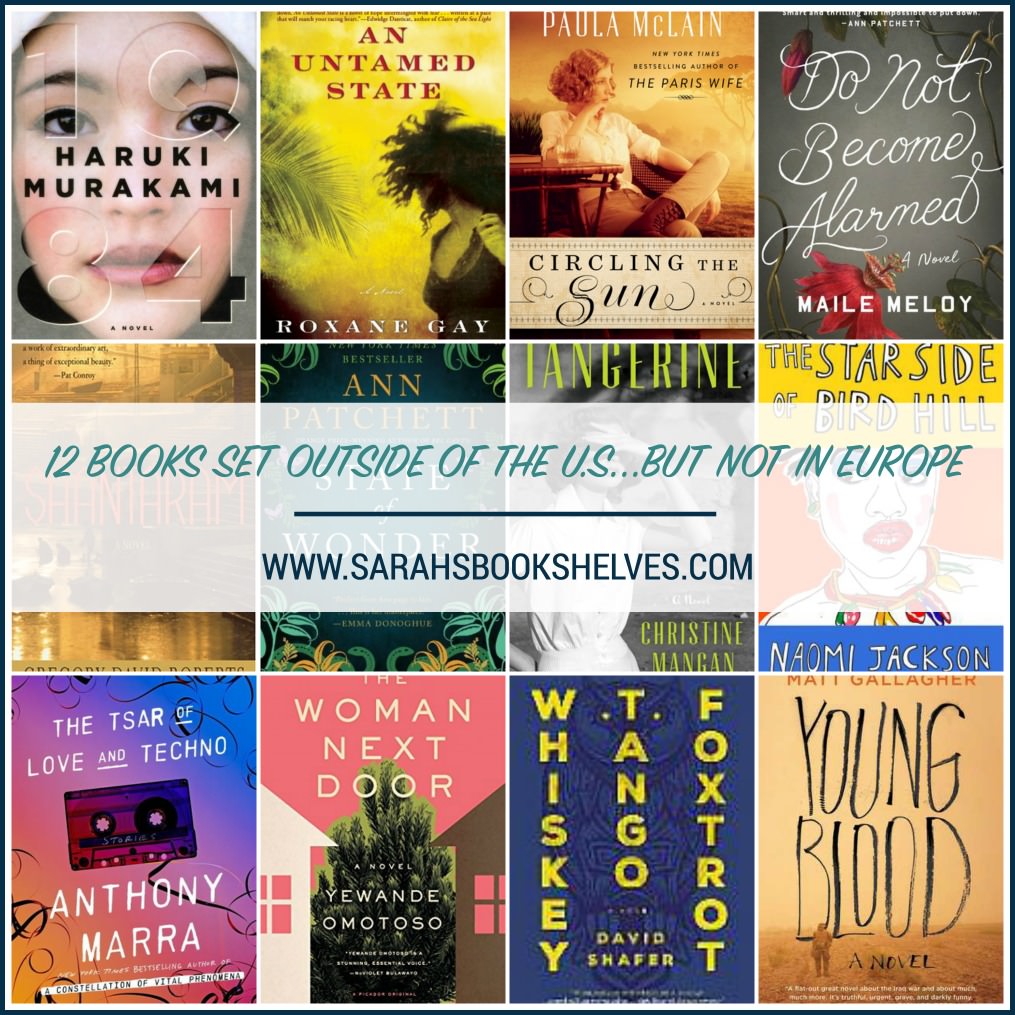 I love a book where the setting is just as much of a character as the actual characters and, more often than not, this happens with books set in exotic locales. There's something mysterious, sometimes enchanting, and sometimes dangerous about a place that couldn't be more different from your home. 
When I was putting this list together, the majority of books I'd read set in foreign (to the U.S.) countries took place in Europe (with France crushing other EU countries). So, I thought I'd share those books set outside of the U.S…but also outside of Europe. 
This post contains affiliate links (plus: here's your Amazon Smile-specific affiliate link
).
Linking up with Top Ten Tuesday hosted by That Artsy Reader Girl
12 Books Set Outside of the U.S…But Not in Europe
1Q84 by Haruki Murakami (my review)
Set in Japan, 1Q84 follows the parallel journeys of Aomame, a female assassin, and Tengo, an aspiring writer, as they enter an alternate reality (the year 1Q84) to solve the mystery of a religious cult and the myth of the "Little People". Sounds totally ridiculous, but I was engrossed for the full 900+ pages.
Affiliate Link: Buy from Amazon
An Untamed State by Roxane Gay (my review)
An absolutely brutal book about a kidnapping set partially in Haiti.
Affiliate Link: Buy from Amazon
Circling the Sun by Paula McLain (my review)
Historical fiction based on the true story of Beryl Markham, a British woman raised on a horse farm in 1920's Kenya, who went on to break the glass ceiling for women in horse training and aviation.
Affiliate Link: Buy from Amazon
Do Not Become Alarmed
 by Maile Meloy (my review)
A plot-based page turner where cruise ship vacationers' children go missing in an unnamed South American country that is extremely similar to Costa Rica.
Affiliate Link: 
Buy from Amazon
Shantaram by Gregory David Roberts (my review)
A sweeping epic about an escaped convict who finds friendship, love, and an unbelievable amount of adventure in Bombay (as it was called at the time, now Mumbai), India. PS – the story is supposed to be somewhat autobiographical.
Affiliate Link:
 Buy from Amazon
State of Wonder
by Ann Patchett (my review)
I will never un-see the anaconda scene (anyone who has read the book will know exactly what I'm talking about) in this novel about a tribe of people in the Amazon where women can give birth well into their seventies.
Affiliate Link: Buy from Amazon
Tangerine
 by Christine Mangan
A story of a fraught, obsessive friendship and all the wreckage it leaves behind in 1950's Tangier, Morocco.
Affiliate Link: Buy from Amazon

The Star Side of Bird Hill by Naomi Jackson (my review)
A beautifully written story full of generational and cultural clashes about two young Brooklyn girls who are sent to live with their grandmother in Barbados.
Affiliate Link: Buy from Amazon
The Tsar of Love and Techno by Anthony Marra (my review)
A collection of linked short stories spotlighting life in the USSR/Russian Federation/Russia from 1937 to present day (including life under Stalin, Brezhnev, Gorbachev, and Putin).
Affiliate Link: Buy from Amazon
The Woman Next Door
 by Yewande Omotoso (my review)
This novel is like Grumpy Old Men
 crossed with Desperate Housewives
 set in South Africa and involving race. And, ultimately, it's about friendship and regret.
Affiliate Link: Buy from Amazon
Whiskey Tango Foxtrot
by David Shafer (my review)
A Burma (aka Myanmar) based non-profit worker (Leila), a directionless heir to a board game empire (Leo), and an one hit wonder self-help guru (Mark) are improbably brought together to prevent an international cabal from taking control of all the world's information. Huh?! That's what I thought, but I really enjoyed this debut!
Affiliate Link: Buy from Amazon
Youngblood
by Matt Gallagher (my review)
A story about the personal side of war and its complexities that takes place during the Iraq insurgency.
Affiliate Link: Buy from Amazon
What are some of your favorite books set outside of the U.S?