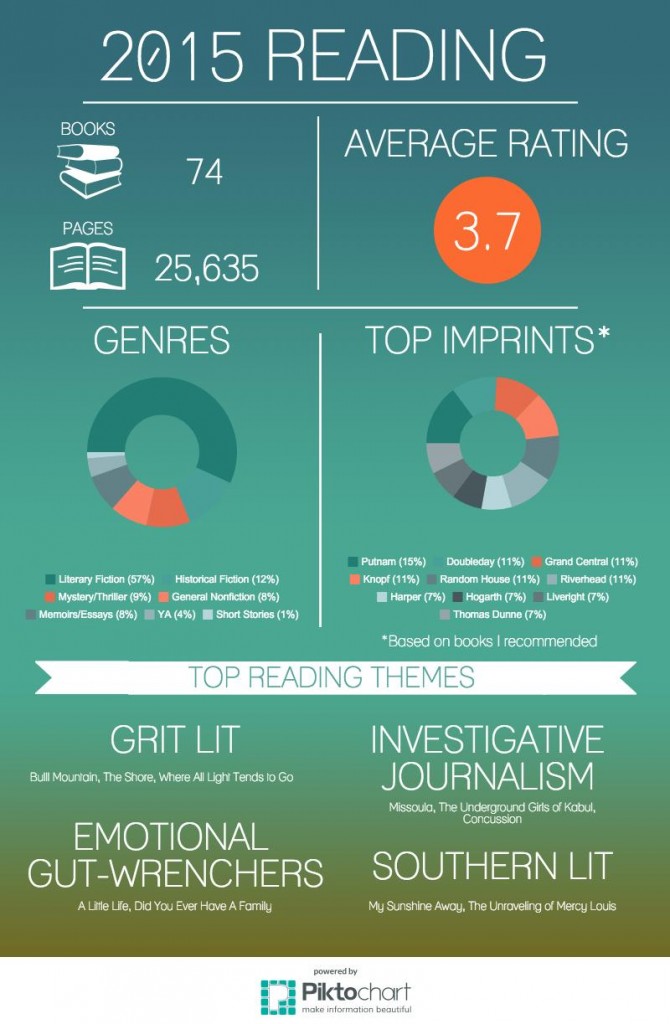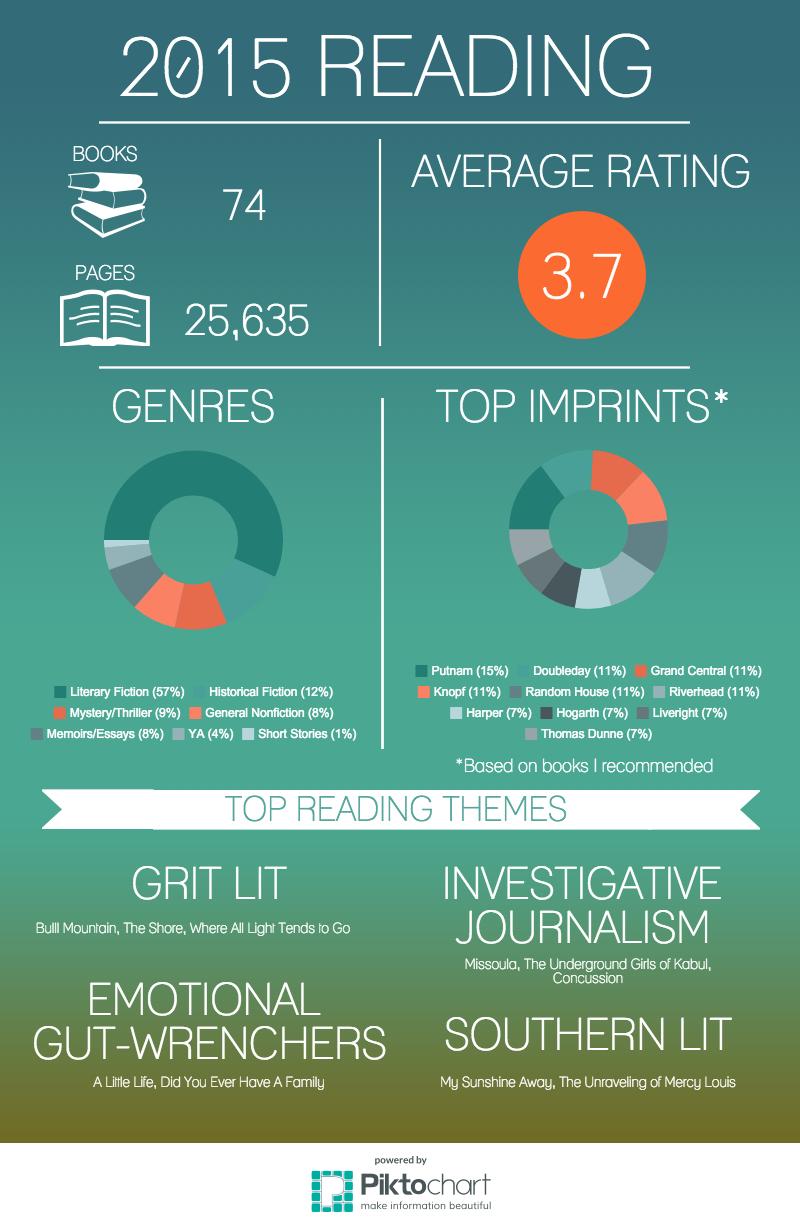 Happy New Year, everyone! A bunch of numbers…just what you need on a potentially hungover New Year's Day, right?!
This is the first year I've ever kept reading stats…I know, kind of unbelievable. It's also the first full year I've maintained a Goodreads account and the first year I've set a Goodreads Challenge goal, which I didn't meet (6 books short)! So, I have no previous data to compare with these numbers, but I do have a baseline for next year (silver linings, right?).
Reading
Overall, I found myself drawn to darker, edgier books and books that hit me hard emotionally this year. And, some of my tried and true reading themes didn't hit the spot like normal (i.e. wealthy people behaving badly), so maybe my reading taste is evolving or maybe I just picked the wrong books. But, thanks to Shannon's post, I've started to pay closer attention to imprints for the first time in the hopes that it will improve my book selection. 
Longest Book Read: City on Fire (944 pages). I cringe at the thought that I'll never have those hours back. But, I've been so curious about sales numbers and Book Riot mentioned on their Year in Review podcast that it likely hasn't sold more than 50,000 copies…and it needs to sell 350,000 to break even. Wow, just wow.
Shortest Book Read: Brave Enough by Cheryl Strayed (160 pages of quotes)
Books I Wish Had Gotten More Attention: Infinite Home by Kathleen Alcott, Summerlong by Dean Bakopoulos, The Unraveling of Mercy Louis by Kieja Parssinen, Beneath the Bonfire by Nickolas Butler, and Home is Burning by Dan Marshall
Diversity Stats
I didn't proactively monitor my diversity stats, but 62% of my 2015 reading was female authors (this is without actively trying to read more female authors; I guess you could call it a baseline). I'm not reporting POC because I still haven't figured out a reliable way to do that (see this fantastic post on the difficulties of accurately tracking diversity by Andi at Estella's Revenge).
Blogging
For the first time ever (for me), one blog post (The Girl on the Train Spoiler Discussion) absolutely dominated my page-views and comments all year long. My analytics plug-in malfunctioned partway through the year and I lost all my 2015 detailed data through September (aside from overall monthly page-views and unique visitors, which I'd kept in a spreadsheet)…which prompted me to switch to Google Analytics. Why, oh why, didn't I do this sooner?! So, I don't have fantastic stats about my best performing posts, etc. Here are the highlights from what I do have…
Key Takeaways
Most Discussed Posts (determined by number of comments in 2015):

Best Performing Posts/Pages in Q4 2015:
Best Performing Book Reviews in Q4 2015:
My Personal Favorites
How were your 2015 reading and blogging stats?