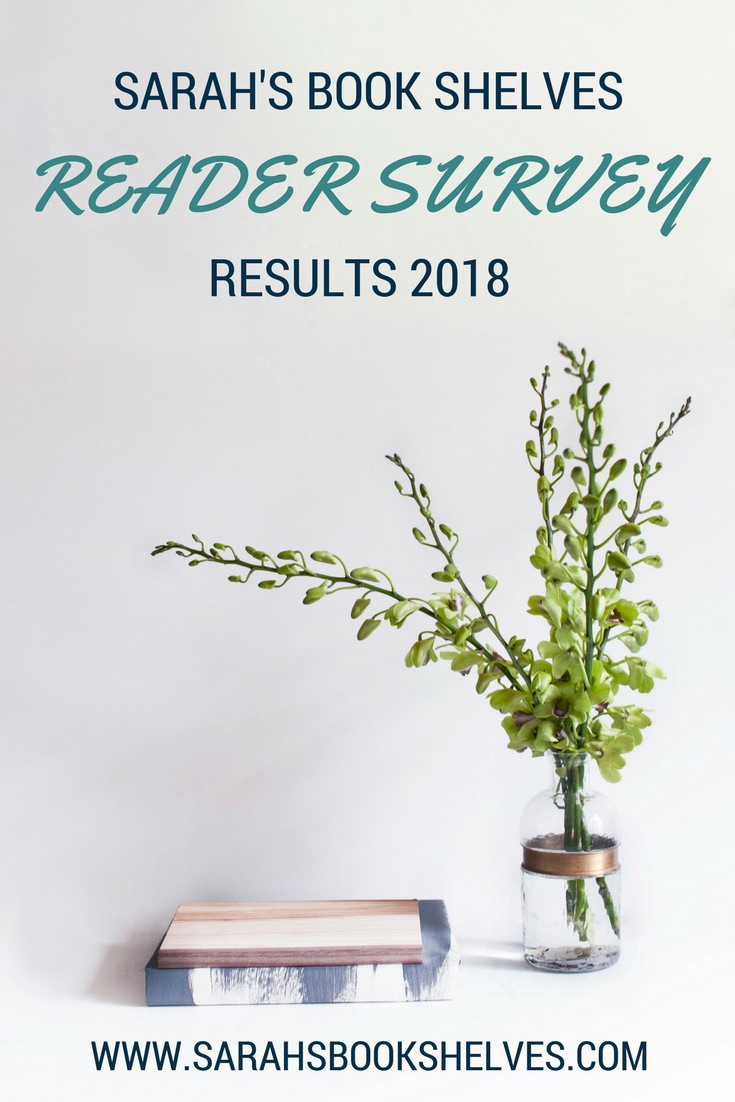 First of all, a huge thank you to the 148 of you who took the time to complete the First Annual Sarah's Book Shelves Reader Survey! It wasn't the shortest survey in the world and I appreciate you taking the time to tell me about yourselves and provide feedback about the blog. And because of y'all, we now know all kinds of fun stuff about who reads this blog!
I had so much fun reading the results and getting to know you better…and I was even completely surprised by a few things! I hope you enjoy getting to know each other as much as I have…
Getting to Know You
Almost all (97%) of you are women.
Almost half of you are between 45 and 64 years old and another almost half are between 25 and 44.
Just over 70% of you do not have your own blogs. This doesn't surprise me quite as much as the other items on this list, but it's important for me to keep in mind when I'm writing posts. The readers I hear from most in the comments section generally do have their own blogs. And, please please don't feel like you have to have your own blog to comment here…I'd especially love to hear from all the "regular readers" out there!
Y'all like to cook / bake, run / walk (and exercise in general), watch TV / movies, write, travel, and garden. What do most of these activites have in common? They can all be solitary activities…am I detecting some Introverts out there?
Your favorite TV show is This is Us. Your favorite magazine / website is Real Simple. Your favorite podcast is What Should I Read Next? (Modern Mrs. Darcy's podcast), but the overall category winner was people who don't listen to podcasts at all (y'all should try them…I'm getting so many great books recommendations from podcasts these days!).
A Few Surprises
Over 75% of you

do not

have children at home (either because you don't have children at all or have grown children). This absolutely floored me…maybe because I have young children at home and wrongly assumed many of my readers had a similar family situations.
Y'all read a TON, which I knew, but I didn't realize quite how high your numbers would be! 2/3 of you read more than 50 books a year and 1/4 of you read more than 100 books a year. Of course, I'm sure the super heavy readers are also the ones who would find it fun to complete this survey, so that could have skewed the numbers!
When I asked you why you keep visiting Sarah's Book Shelves, 84% of you said the book reviews! I'm so shocked because book reviews tend to get less traffic than other types of posts. But, you love them, so they'll stick around. Glad I learned this in the survey because I'd been toying with cutting back on reviews.
Despite the volume of cat pictures you see on #bookstagram, not a single one of you mentioned your cat when I asked what you liked to do other than read. On the contrary, some of you mentioned your dogs! So, who would've thought…bookworms can be dog people too!
Your General Reading Habits
More than 50% of you like to read hard copy books (hardcover or paperback).
You love using your local library (75% of you). And, over 50% of you buy books from Amazon.
Your favorite genres are serious literary fiction (66%), mysteries / thrillers (65%), historical fiction (64%), and lighter fiction (56%).
90% (WOW!) of you get your best book recommendations from book blogs, followed by social media and friends.
Most of you (67%) track your reading on Goodreads, followed by 28% in a paper journal and 20% in a spreadsheet (if you're one of these readers, check out my "Rock Your Reading" Tracker!). Personally, I use Goodreads and the "Rock Your Reading" Tracker (because it gives you way more stats than Goodreads does).
Favorite Books You Read in 2017

I'm not surprised by the first four, as I loved them all and three of them made my Best Books of 2017 list. Given you like to read this blog, it's not surprising we have similar taste!
Then, it gets interesting. I didn't particularly like A Gentleman in Moscow (my review) or Eleanor Oliphant Is Completely Fine (my review) and wrote contrarian reviews of both. We can't agree on everything and that's what makes talking books so much fun!
Least Favorite Books You Read in 2017
There are a number of critical darlings / award winners on this list (Idaho, Never Let Me Go, Lincoln in the Bardo, Sing, Unburied, Sing, Exit West
). I also didn't like some of these. Interestingly, Little Fires Everywhere
 (my review) popped up on both lists! 
For more about my issues with critical darlings last year, check out my post on the Best Books of 2017 Lists I Agree With…and the Ones I Don't.
And, many of you mentioned DNFing books you weren't enjoying, which I'm a huge fan of! Why waste time reading a book you don't like?! We're not in school anymore, after all.
Your Biggest Reading Problems
Your Questions and Feedback
Thank you for the many great questions and comments you had for me! I had originally planned to answer them in this post, but it got to be too dang long. 
Don't worry, I'll respond to all your questions and comments in a separate post tomorrow!
What do you think about all these awesome blog readers? Are you surprised by anything?