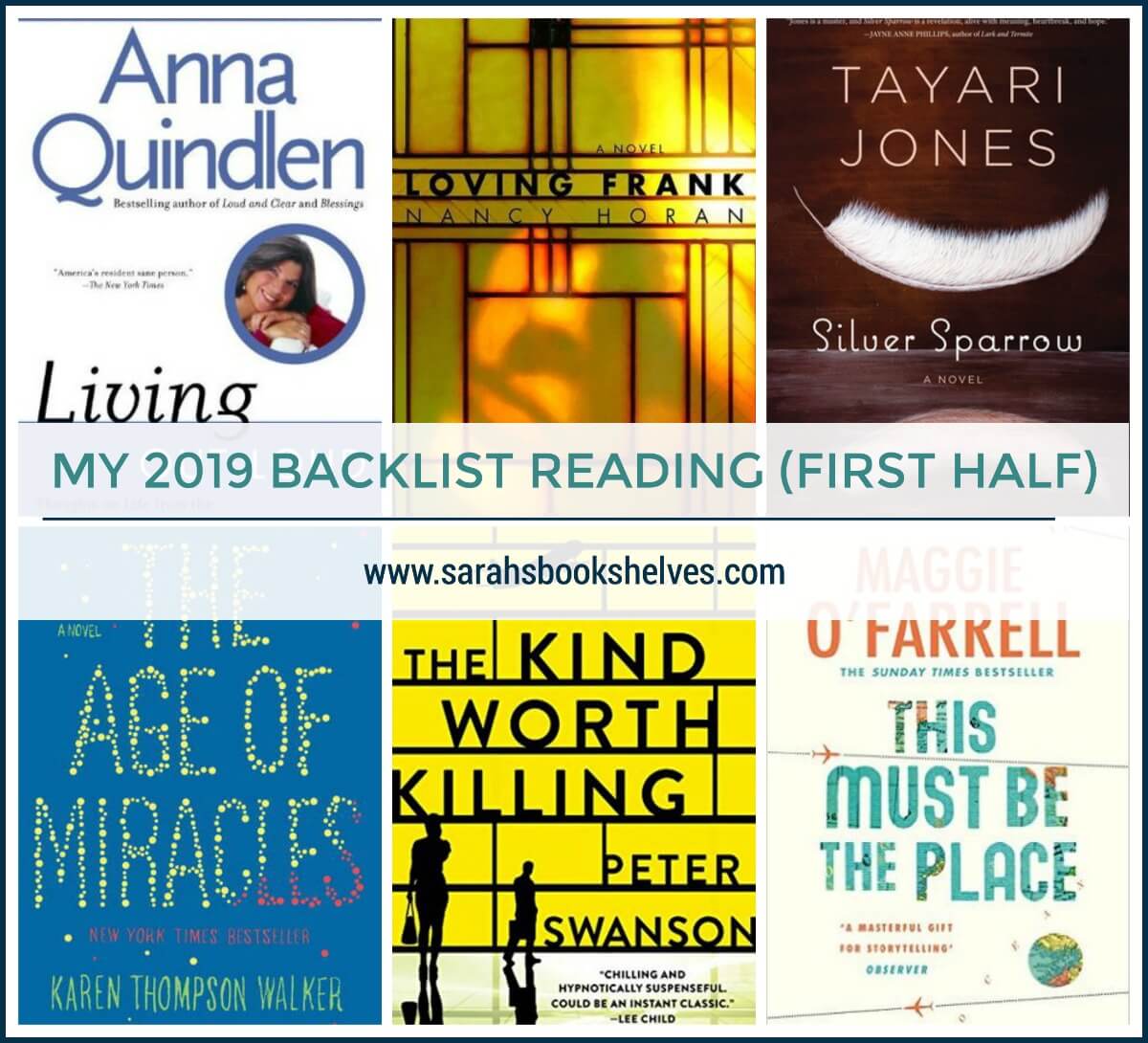 Well, this is embarrassing…I wrote the majority of my 2019 Backlist Reading post in JANUARY and didn't realize I'd never posted it until I went in to draft my review of The Age of Miracles, a backlist book I read recently. 
Though I briefly mentioned all these books on the blog back when I read them, I thought y'all might still want to see my more detailed thoughts. Get out your library cards because you can probably get these books without a super long hold list!
This post contains affiliate links (plus: here's your Amazon Smile-specific affiliate link
), through which I make a small commission when you make a purchase (at no cost to you!).
My 2019 Backlist Reading (First Half)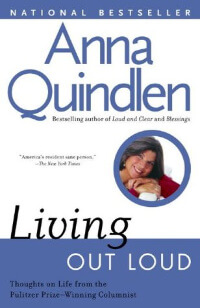 Living Out Loud
 by Anna Quindlen
Nonfiction – Essays (Released August 12, 1988)
278 Pages
Affiliate Link: Buy from Amazon
Source: Purchased (Publisher: Random House)

Plot Summary: A collection of Quindlen's "Life in the 30's" column for the New York Times.
My Thoughts: Y'all know how much I adore Anna Quindlen…and that she's in my stable (and maybe the Queen of?) of "women who get women" authors. I love her practical, reasonable, down-to-earth view on life. These columns were written in the 1980's, but the issues she discusses and the views she has on them are still surprisingly (or, unsurprisingly) relevant today. She's honest about the gray areas of certain issues (particularly  about abortion, the death penalty, and the AIDS crisis) and about how her views changed as she aged and acquired more life experience. This is my first dose of old-school Anna Quindlen and I'm thrilled that there are a couple more of her essay collections (Thinking Out Loud, Loud and Clear) waiting for me.
When I was younger and saw the world in black and white, I believed the woman my mother was was determined by her character, not by social conditions. Now that I see only shades of gray, I know that that is nonsense. She would have gotten her second wind in the seventies. She would have wanted the things I have come to take for granted: work, money, a say in the matter, a voice of her own. She would have wanted to run her life, too. Instead she was born and died in an era in which her life ran her.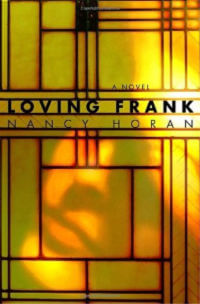 Loving Frank
 by Nancy Horan
Historical Fiction (Released August 7, 2007)
384 Pages
Affiliate Link: Buy from Amazon
Source: Purchased (Publisher: Ballantine Books)

Plot Summary: A novel based on the true story of famous architect Frank Lloyd Wright's epic affair with Mamah Borthwick Cheney, one of this married clients.
My Thoughts: I'm a total sucker for novels based on real people and events (e.g. The Swans of Fifth Avenue, We Were the Lucky Ones, The Paris Wife, Z: A Novel of Zelda Fitzgerald) and I can now add Loving Frank to the list of fantastic ones! Prior to this book, not much was known about Mamah and very little attention was given to her as part of Frank Lloyd Wright's life…Loving Frank brings Mamah front and center. While this story is about an epic love affair, it goes much deeper than that. It's also about a woman's journey to find herself in a time (the early 1900's) when women weren't supposed to have their own identities or interests. It's about women's roles in society and marriage and losing your identity through marriage and motherhood. In this respect, the themes are quite modern despite the story happening a hundred years ago. Neither Mamah nor Wright is an entirely sympathetic character…in fact, many people will hate Mamah and her choices, but many women will also identify with certain parts of her struggle. The many layers and shades of gray to this story make it an excellent book club selection. PS – do NOT Google the real story of Frank and Mamah before you read the book…you do not want to spoil the ending!
But this noble woman had a soul that belonged to her alone—that valued womanhood above wifehood or motherhood.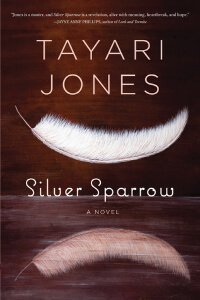 Silver Sparrow
by Tayari Jones 
Fiction – Literary (Released January 1, 2011)
352 Pages
Affiliate Link: Buy from Amazon
Source: Library (Publisher: Algonquin)

Plot Summary: Set in 1980's Atlanta, the story of James Witherspoon and his two families, his "legitimate" one and his secret one, and his two daughters of the same age, born to different mothers.
My Thoughts: Y'all know how much I loved Jones' An American Marriage (my review) last year, so when my December backlist reading hit a lull, I grabbed Silver Sparrow from the library on a whim. And, I think I loved it just as much as An American Marriage! It has a very similar feel to An American Marriage and also takes place in Atlanta. The dynamic between Witherspoon's two daughters (initially, one is aware of the other, but not vice versa) is fascinating and poignant. I ended up feeling for both of his families…much like Jones made me empathize with all three main characters in An American Marriage. And, I loved her exploration of how it would feel to be the "illegitimate" child and wife. I'm now two for two on 5 star books from Tayari Jones…I think it's safe to call her a new favorite author!
I am not the one to believe that our shared blood made us sisters, but having shared a father gave us something in common that looped around our ankles and pulled tight around our wrists. This was between all of us. The six of us were hog-tied, fastened in place by different knots.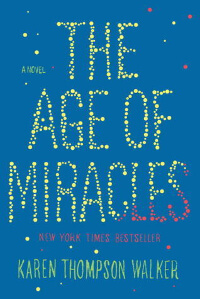 The Age of Miracles by Karen Thompson Walker
Fiction – Literary (Released June 21, 2012)
385 Pages
Affiliate Link: Buy from Amazon
Source: Library (Publisher: Random House)
Plot Summary: When Earth gradually slows its rotation (a phenomenon called "the slowing"), causing all kinds of ripple effects, 11 year old Julia and her family must adjust the way they live.
My Thoughts: After reading Karen Thompson Walker's second novel, The Dreamers (my review), I knew I wanted to try her debut novel, which many readers said was even better than The Dreamers. And, I agree! Walker's excellent writing from The Dreamers was also on display in The Age of Miracles and I love how she focused on one family's experience rather than following a number of different characters (as she did in The Dreamers). The story is told from Julia's perspective as she's looking back to when she was 11 years old and I liked this better than if she had just told the story from Julia's 11 year old perspective in real time because she could relate her coming of age experience with some wisdom only acquired through life experience. I also loved that the story centered around a middle school aged child…it's a time when I remember we were all obsessed with conspiracy theories, which played well into this particular story. And, it was fascinating to think about all the ways the slowing of the Earth would impact humans. The Age of Miracles reads very quickly and is a completely unique story. 5 stars!
It's hard to believe that there was a time in this country—not so long ago—when thick almanacs were printed every year and listed, among other facts, the precise clock time of every single sunrise and every single sunset a year in advance. I think we lost something else when we lost that crisp rhythm, some general shared belief that we could count on certain things.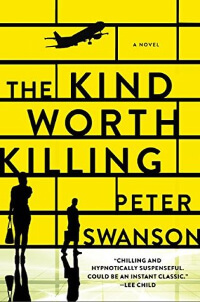 The Kind Worth Killing
by Peter Swanson 
Fiction – Mystery / Thriller (Released February 3, 2015)
311 Pages
Affiliate Link: Buy from Amazon
Source: Library (Publisher: William Morrow)
Plot Summary: Wealthy banker Ted Severson meets gorgeous Lily Kintner on a flight from London to Boston, during which Ted opens up about his wife's infidelity, mentions he could kill her for it, and Lily offers to help him do it.
My Thoughts: Ashley Spivey (of #SpiveysClub Facebook Group) has been recommending this thriller for ages and, despite having a finicky relationship with the genre, I really liked it! I admit the premise is preposterous (and, though I haven't read it myself, I hear it's very similar to Patricia Highsmith's Strangers on a Train), but if you can just roll with it, then this thriller is satisfying! The twists definitely surprised me, but weren't totally outlandish and I actually had some level of empathy for all of the characters. I did have trouble buying Lily's motive for wanting to help Ted, but an interview with Swanson at the back of the book helped a bit with that. If you like a neat ending, this may not be the right pick for you. Though this wasn't a 5 star read for me (it's 4 stars), I am thrilled to have another thriller to recommend!
I wondered briefly if she was insane, and as soon as I had that thought I decided to plunge forward anyway. I knew this feeling well. It was the way I had made enormous sums of money, by taking foolish risks.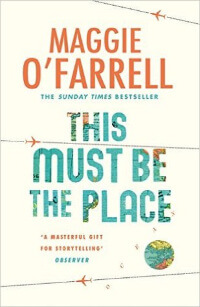 This Must Be the Place
by Maggie O'Farrell 
Fiction – Literary (Released July 19, 2016)
400 Pages
Affiliate Link: Buy from Amazon
Source: Purchased (Publisher: Knopf)

Plot Summary: When Daniel Sullivan, a divorced American professor, goes to Ireland to reclaim his grandfather's ashes, he meets and marries a famous actress (Claudette) who fled her life in the spotlight and was presumed dead.
My Thoughts: This is my first foray into Maggie O'Farrell's fiction after loving her memoir, I Am, I Am, I Am…despite a few quibbles with some minor plot points, I loved it! It feels like an epic (it spans decades, jumps around in time, and is told from multiple perspectives), but it reads easily. It's a family drama with secrets to be discovered, but I'd say it's less dark than many dysfunctional family novels I read. While Claudette is not an easy woman, I loved her irreverence, eccentricities, and lack of concern for what anyone else thinks of her. And, I'm discovering that I love Maggie O'Farrell's writing in general. This Must Be the Place is going on my character-driven novels I couldn't put down list and I'm definitely going to be diving deeper into O'Farrell's fiction backlist.
To apply the word "famous" to her wouldn't be entirely accurate. Fame is what she'd had before she'd done what she did; what came afterward went beyond, into a kind of gilded, deified sphere of notoriety. These days, she was known less for her films than for having vanished right at the height of her career. Poof. Ta-da. Just like that. Thereby making herself into one of the most-speculated-about enigmas of our time.
What great backlist books have you read this year?
Pin this post…