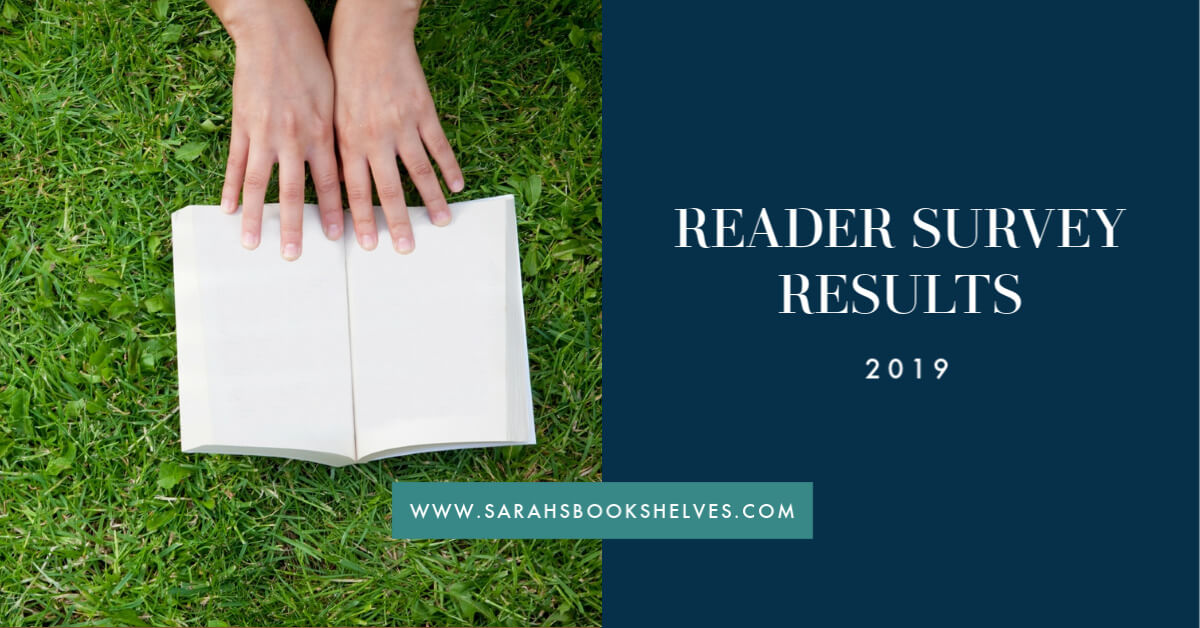 First of all, a huge thank you to the 346 (more than double the responses I got last year!) of you who took the time to complete the 2nd Annual Sarah's Book Shelves Reader Survey! It wasn't the shortest survey in the world and I appreciate you taking the time to tell me about yourselves and provide feedback about the blog and especially about my new podcast. And because of y'all, we now know all kinds of fun stuff about who reads this blog and who listens to the podcast!
Second, I'm so sorry these results are coming so late! I was underwater with keeping up with the podcast this winter/spring and didn't have time to finish getting through the results.
I had so much fun reading the results and getting to know you better. I hope you enjoy getting to know each other as much as I have…
Getting to Know You
Almost all (97%) of you are women (same as last year).
My audience has gotten younger since last year. Almost half of you are between 35 and 54 years old and another almost 40% are over 55 years old, whereas the largest half of last year's audience was between 45 and 64 years old.
Just over 86% of you do not have your own blogs (up from 70% last year). So, all you "regular readers" out there, you're in good company here!
Almost 75% of you

do not

have children at home (either because you don't have children at all or have grown children). This is down slightly from last year and doesn't surprise me ONLY because it shocked the daylights out of me last year! I mistakenly assumed that, because I have elementary school aged children, that much of my audience was like me. You know what they say about assuming…
Your General Reading Habits
You love using your local library (almost 75% of you). And, over 60% of you buy books from Amazon (slightly up from last year). And, almost 25% of you are members of a bookish subscription service (ex: Book of the Month).
Your favorite genres are (funny that the top 2 genres are ones I have finicky relationships with!):

Mysteries / Thrillers (71%)

Historical Fiction (69%)

Serious Literary Fiction (61%)

Lighter Fiction (58%)

84% of you get your best book recommendations from book blogs, followed friends (51%). Podcasts were not high on this list (only 3%).
Most of you (65%) track your reading on Goodreads, followed by 24% in a paper journal and 17% in a spreadsheet (if you're one of these readers, check out my "Rock Your Reading" Tracker!). Personally, I use Goodreads and the "Rock Your Reading" Tracker (because it gives you way more stats than Goodreads does).
About 85% of you like to read hard copy books (hardcover or paperback). This is WAY up from last year (just over 50%). I wonder if this is because I've acquired some younger readers, who hang out on #bookstagram where hard copy books are queen?
Favorite Books You Read in 2018
Least Favorite Books You Read in 2018
What you'd like to see on the blog…
You'd like to see MORE…book reviews (Wow! Full length book reviews are my least viewed posts, but I'm glad to hear y'all like them and will look for more books that lend themselves to them!), book recommendations (which means I need to read more!), book lists, better search functionality (hopefully coming in a blog redesign in the next few months), and author interviews (these can now be found on the podcast).
You'd like to see LESS…podcast discussion (Through this survey, I realized there is less overlap between my blog readers and podcast listeners than I thought. I need to noodle on this for a bit.), reading stats (I'll still do an end of the year reading stats post, but will try to minimize stats discussion throughout the year), and Brain Candy (negated by the number of people who said they liked the brain candy and wanted to see more light fiction). 
You don't want me to change…Book of the Month posts, book reviews, and book lists.
What you'd like to see on the podcast…
You'd like to see MORE…authors (I've been having more authors on lately and will continue doing that!), upcoming releases (We share one upcoming release on every episode and do quarterly upcoming release previews. Tell me in the comments if you want more than that!), regular readers (I'm working on an idea to bring on more), backlist (We discuss at least 2 backlist books on every episode and I'll look for opportunities to share more backlist).
You'd like to see LESS…banter (Fair enough! Will try to be mindful of this!).
You don't want me to change…Format, Rate It Game, Tone / Style, and Backlist Books.
Guests you'd like to see…More Authors – including Celeste Ng, Taylor Jenkins Reid, Emily Giffin, Ann Patchett, Anna Quindlen, Tara Westover, Gretchen Rubin, and Lauren Groff.
Book Bloggers – Anne Bogel (Modern Mrs. Darcy), Hunter @Shelf by Shelf, Born and Read in Chicago, Allison @ Mind Joggle (Ep. 18)
Books Podcasters – Annie Jones (I'm scheduled to record with her later this summer!)
General Internet People that also Read – Becca and Grace from Bad on Paper Podcast (Ep. 24 – will air July 10!), Laura Tremaine, Knox and Jamie from The Popcast, John and Sherry from Young House Love.
Your Biggest Reading Problems
Time
Overwhelmingly everyone's biggest reading problem…and mine too! I wrote a post about how to fit in more reading time and one about types of books that work well when you're super busy. Cheers to hoping we all get more reading time!
Finding People to Talk Books With
This is one of my favorite things about blogging about books and I love the online community I've found. Many of you mentioned having trouble finding people in your real life to talk books with. I found that when I put myself out there as a book person, so many people that I didn't even realize were readers started talking books with me all the time! So make yourself known as a book person in your everyday life. You might find some kindred spirits.
Finding the Right Books for Your Taste
I struggle with this one too! It's hard to get a good sense of your reading taste, but also remain open to new types of books. I've recently been focusing less on the book selections themselves and more on who the recommendation comes from (my "Rock Your Reading Tracker" is helping me keep track of my best recommendation sources!) and it's helping!
Concentrating When Reading
Many of you mentioned social media and technology in general contributing to this issue. I've heard of people setting their phone's timer to help them read for certain periods of time. The Offtime app filters and blocks distracting communications. Personally, I don't use social media notifications…and I sometimes put my phone on airplane mode.
Your Questions and Feedback
How do I find the book recommendations from the podcast so I don't have to write them down while I am walking?
Every podcast episode has a corresponding blog post that comes out Wednesday mornings (this is called the "Show Notes") and includes every book we talk about with purchase links and time stamps for each book. Example from a recent episode.

You can also scroll down in the episode's podcast screen to see "Episode Notes" which contains the same list you'll find in the blog post.
You were talking to someone about a new mystery and you referred to Gone Girl as a touchstone for great mysteries. I so disagree. I think you need someone who can talk to the really great mysteries and the many sub genres in mysteries-thriller, police procedural, cozy, slasher, British, the origins of the mystery.
Thanks for the feedback! I stand by my opinion of Gone Girl…as everyone has their own reading taste. As to the genre itself, though I do occasionally read mysteries / thrillers, they are not my primary genre of choice. I'll look to get a podcast guest on who specializes more in this area.
Love what you're doing and you're inspiring me to start a blog myself. I'd love to hear more from you on how you started that and what your blogging experience has been (maybe a podcast episode? 🙂
So glad to hear this! I'm thinking of doing an "ask me anything" podcast episode either later this year or early next, so I'll speak more to this question on that episode!
Shorter podcast episodes…
I'm toying with an idea for this Fall and you might be getting your wish…at least for episodes airing every other week!
Could you ever do an event where your fellow book readers meet somewhere? Maybe a reading retreat or something? I think that would be fun!
This would be fun, but a TON of work and I'm a one woman show. So, this probably won't happen in the near future, but you never know down the line!
Do you interview top line authors on the podcast?
It depends on who you consider top line, but I think so! So far, I've had Georgia Hunter (We Were the Lucky Ones), Mary Laura Philpott (I Miss You When I Blink), Angie Kim (Miracle Creek), and Lindsay J. Palmer (Otherwise Engaged) on the podcast and look forward to more in the future.
Bit amused that comments seem to be mainly between bloggers.
I agree that's the case…and I wish it wasn't! All I can say is that, before I started my own blog, I never commented on people's blog posts. I just didn't feel comfortable. To all my readers who aren't bloggers, please know that I'd LOVE to hear from you!
Please add a search bar on your website so we can find reviews quickly.
There is one (on the right side below the ad), but it's admittedly a little buried because I'm required to place the ad in the top half of the page. But, I'm working on an updated blog look that will put the search bar in a more prominent place!
What do you think about all these awesome blog readers and podcast listeners? Are you surprised by anything?