I'm thrilled to have the opportunity to participate in #30Authors again this year! And I couldn't be happier to be paired with Richard Alley, author of 2015's Five Night Stand.
#30Authors is an event started by The Book Wheel that connects readers, bloggers, and authors. In it, 30 authors review their favorite recent reads on 30 blogs in 30 days. It takes place annually during the month of September and has been met with incredible support from and success in the literary community. It has also been turned into an anthology, which is currently available on Amazon and all author proceeds go to charity. Previous #30Authors contributors include Celeste Ng, Cynthia Bond, Brian Panowich, and M.O. Walsh. 
To see this year's full line-up,visit www.thebookwheelblog.com/30authors or follow along on Twitter @30Authors.
Richard Alley on City of Secrets by Stewart O'Nan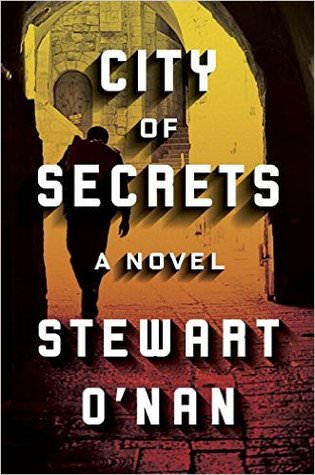 I've only recently become acquainted with Stewart O'Nan and that's a delicious prospect for an avid reader as he's the author of 16 novels and four works of nonfiction, including Faithful, co-written with Stephen King and chronicling the Boston Red Sox's championship 2014 season. There is much to look forward to with such an oeuvre.
O'Nan's latest, City of Secrets, is a novel full of noir-ish characters and intrigue. The location is Jerusalem, the time is post-World War II, and our protagonist, Jossi Brand (an alias), has survived the concentration camps where his Jewish family perished. He's made his way to his new home by sea freighter and joined a de-facto family of rebels working within the Haganah resistance to foil the occupying British Mandate forces.
Brand lives in a state of paranoia, not about the British who might burst into his sparely furnished room to arrest him on any night, but of the cell he works within and whether he's an integral member or an expendable patsy. And he's in love with Eva — The Widow, as she's known — a one-time actress, physically scarred now, who works with the rebels to extract information from the enemy through amorous means.
Brand drives a taxi by trade, one provided by the Haganah to transport people and weapons as needed, and to deliver Eva to her rendezvouses. The unspoken details of what happens behind closed doors in the King David hotel, and of what the rebellion's leader might be planning, eats at him daily as he drives through the city's various ethnic centers picking up fares to keep up appearances. Along for the ride are victims of the Nazis — Brand's sister and a lover named Katya, whose memory he clings to dearly even as he waits for Eva to conduct her business.
O'Nan's novels are each distinctly individual. In recent months I've read stories taking place in 1920s Hollywood (West of Sunset) and present-day Niagara Falls (The Odds). Much like the innate fear in our man Brand, you never know just what might be around the next corner of an O'Nan book. And, just like the intrigue in City of Secrets, it's what will keep you reading this author again and again.
About Richard Alley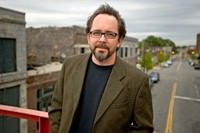 Richard J. Alley, author of FIVE NIGHT STAND, is an award-winning reporter, columnist, and editor from Memphis, Tennessee, where he lives with his wife and four children.
His short story, "The Panama Limited," appears in the anthology MEMPHIS NOIR (Akashic Books).
Learn more about Richard on his Author Website, Facebook, Twitter, and Goodreads.
You can purchase Richard's latest novel, Five Night Stand
, from Amazon
 (affiliate link) and Barnes & Noble.
About Stewart O'Nan
From Author's Website: 
Stewart O'Nan's award-winning fiction includes Snow Angels, A Prayer for the Dying, Last Night at the Lobster, and Emily, Alone. Granta named him one of America's Best Young Novelists. He lives in Pittsburgh.
Learn more about Stewart on his Author Website, Facebook, Twitter, and Goodreads.
You can purchase Stewart's latest novel, City of Secrets, from Amazon 
(affiliate link) and Barnes & Noble.