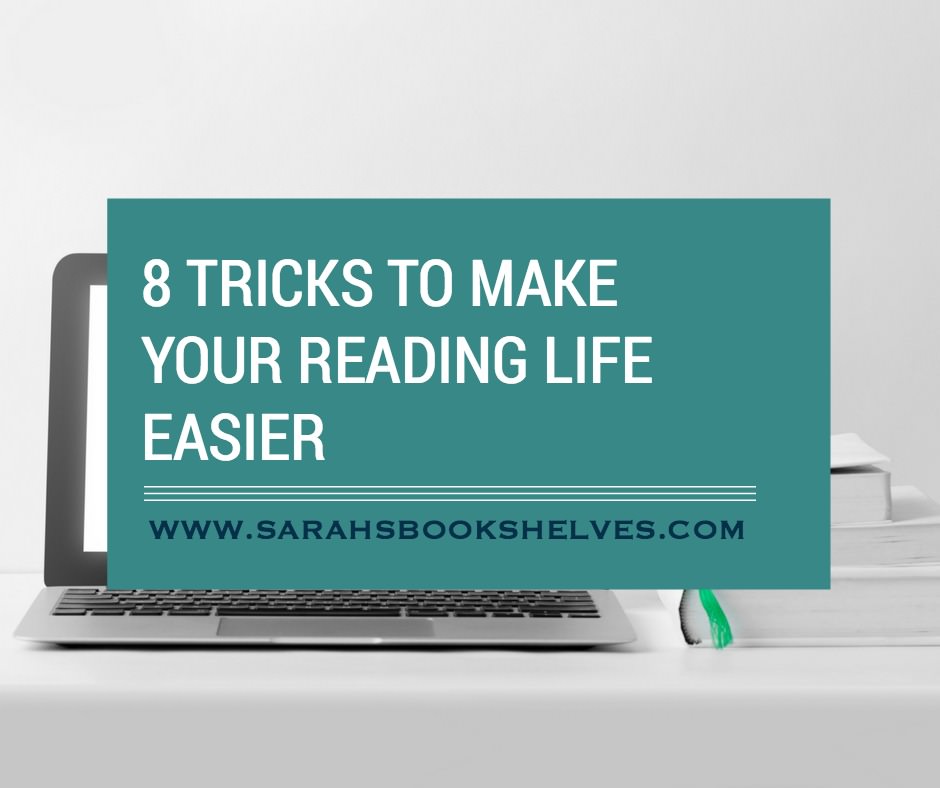 For a person that runs my own blog, I'm incredibly un-tech savvy, but I do love easy tricks to make your reading life easier! The key is they must be super simple for me to actually adopt them. You may know all of these tricks already, but I just picked up many of them over the past year or two…and they've all vastly improved my reading life.
This post contains affiliate links (plus: here's your Amazon Smile-specific affiliate link
).
8 Tricks to Make Your Reading Life Easier
Amazon (Kindle and Audible) Tricks
Email your Kindle highlights and notes to yourself.
On the home menu that runs along the top of your Kindle, choose the 3 vertical dots icon on the far right > Notes > Export Notes (on the bottom of the list of notes that pops up) > Send. Check your inbox for an email with a nicely formatted PDF AND a spreadsheet attached! I save all my PDFs in a folder for easy access to all my highlights and notes!
Bookmark passages on Audible ("highlighting for audiobooks").
Just tap "Clip" to mark your spot and tap the triple dots in the upper righthand corner to find all your bookmarks (under "Clips & Bookmarks").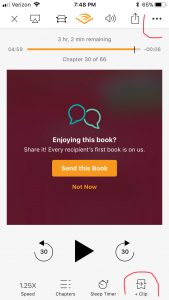 Download audiobooks from your local library.
Many local libraries use the Overdrive system to enable you to check out e-books and audiobooks. I download and listen to audiobooks directly through the Overdrive app on my phone. Libby is also an easy way to download audiobooks from your library.
Add audio narration to an Amazon e-book purchase for a small extra charge.
This comes in really handy if you're reading one of those doorstop books and want to get through it faster. Adding some listening time to your existing reading time will make things go much faster.


Bonus: you can add Audible narration to e-books you've checked out from the library via Overdrive. This means you can effectively get a really cheap audiobook! Sometimes, I'll check out an e-book from the library just to get the cheap audiobook…having no intention of actually reading the e-book.
Library Tricks
Suspend library holds.
I'm sure man of you have experienced the frustration of a bunch of your library holds coming in at the same time. I sure have. Well, you can keep this from happening by suspending holds, which holds your place in the queue while delaying when you have to check the book out. You can suspend each hold by 7, 14, 21, 28, and up to 180 days. I call this "actively managing my holds."
Put books on hold at the library before they're published.
Sometimes, but not always, libraries will purchase a book well before publication date. This often happens with exceptionally popular new releases. And, this is where book bloggers who are reading and talking about books before they're published can really help you. As soon as you hear about an upcoming book you're interested in, check your library to see if you can put it on hold. You can't actually check it out until publications date, but you can get in the line early. For example, I already have a hold on Fredrick Backman's sequel to Beartown (Us Against You), which doesn't come out until June.
Goodreads Tricks
Compare books with your Goodreads friends.
You can see a side by side comparison of all the books you and a specific Goodreads friend has shelved and/or rated. Goodreads even gives you the percentage of similar taste for books you both rated. This can be incredibly helpful information as you look for your Go-To Recommendation Sources! Click on your profile picture in the top right corner of your Goodreads homepage > Friends > Compare Books for the friend you want to compare with.
Save your favorite quotes on Goodreads.
In response to my recent post sharing 14 of my favorite book quotes, many of you asked how I keep track of my favorite quotes. Well, this is one of my ways! In the main menu bar of your Goodreads homepage, choose Community > Quotes > Add a Quote (in very small type on the right side of the page). You can type in your quote, choose the author and book from dropdown menus, and even categorize your quotes with tags.
What other reading hacks do you have up your sleeve? I know y'all probably have some that I missed because I'm not that tech savvy!