Fiction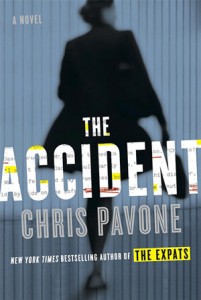 Released March, 2014
402 Pages
Bottom Line: Read it.
Affiliate Link: Buy from Amazon
Plot Summary
When the manuscript of an unauthorized biography about a famous media mogul (titled The Accident), lands on literary agent Isabel Reed's desk, it kicks off a frantic day of battles between those trying to get it published and those trying to bury it, putting everyone's lives in danger.
My Thoughts
The Accident is, quite literally, a literary page turner (I'm not actually sure if this is a legit "genre", but I like the sound of it!). A thriller about the book publishing business? I wasn't sure something like this could keep me on the edge of my seat, but The Accident absolutely did.
Told over the course of one day ("24" style), The Accident combines the book publication process, the CIA, literary agents and editors, publishing houses, and a huge media conglomerate into an edge of your seat thriller. And, it poses an intriguing real life "what if" scenario (i.e. something that probably doesn't happen in real life, but potentially could – and I'm a sucker for these!) about the media's involvement in world events.
The real time action is interspersed with segments of the actual manuscript, so the reader is learning about the explosive secrets the manuscript contains at the same time as he/she is experiencing the extraordinary lengths various parties are going to either A) get it published or B) bury it. 
I thought the writing was brilliant at times and over the top at others. Let me explain. It was almost like Pavone took his strength too far…to the point where, when he (or his editor) wasn't careful, it became a weakness. The brilliance came out when Pavone created heart-pounding drama out of something decidedly not dramatic (i.e the act of someone reading a manuscript!) or when his descriptive style made me think "yes, that's exactly how it is" (see my review of Shotgun Lovesongs for an explanation of this phrase) with a little chuckle.
[…] securing a job as a summer au pair for one of those bankery families whose women and children spend their summer in Bridgehampton while Dad comes out at the weekend to get tight and grope the help in the butler's pantry.
Pavone's writing shifted to "over the top" when he used an abundant excess (yes, I know this is redundant, but he was REALLY excessive at times) of descriptive terms to talk about things that really didn't matter. The intricate details of surroundings like office furniture got a bit distracting, taking away from his top notch story.
It's the back of the building that's twenty-first-century, brushed steel and gleaming veneers, bright flat shadowless lighting systems and a mesmerizing array of cutting-edge medical technology. He settles into a creaky leather armchair facing the big mahogany desk, and catches a glimpse of himself in a gilt-edged mirror […]
The Accident tells a story unlike any I've read before. Its edge of your seat action and flashes of brilliant writing ultimately overcame the excessive descriptions for me, making it a great addition to my 2014 Summer Reading and Page Turners lists.
You May Also Like
The Emperor of Ocean Park by Stephen L. Carter