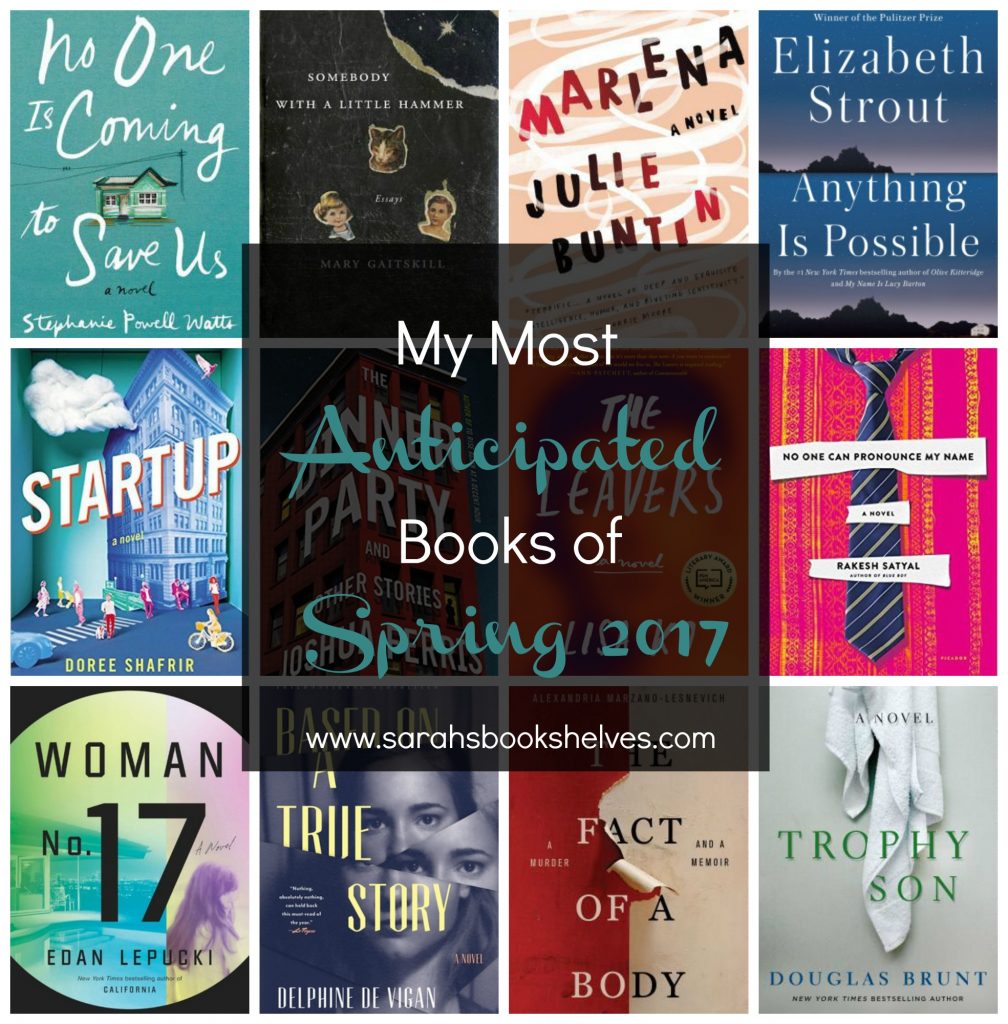 This post contains affiliate links.
You may notice that my most anticipated books of Spring 2017 list leans toward the lighter side. I like to spend April and May trying to find spell-binding books to be included in my annual Summer Reading Guide, which means I'm seeking out books that aren't overly difficult to read, yet still smart (aka brain candy). Here's what's caught my eye…
April
No One Is Coming to Save Us
 by Stephanie Powell (April 4, Ecco)
This debut novel had me at The Great Gatsby
, plus Elle Magazine included it in its list of 25 Most Anticipated Books by Women for 2017.
The Great Gatsby brilliantly recast in the contemporary South: a powerful first novel about an extended African-American family and their colliding visions of the American Dream.
Somebody with a Little Hammer
 by Mary Gaitskill (April 4, Pantheon Books)
Though I've never read Gaitskill before, I heard great things about her novel, The Mare
, and I tend to love authors pontificating on life (i.e. Pat Conroy, Ann Patchett).
[…] a searingly intelligent book of essays on matters literary, social, cultural, and personal.
Marlena by Julie Buntin (April 4, 2017, Henry Holt)
The Millions called this debut "an important story about addiction and poverty in middle America" in their 2017 Great Book Preview. But, the fact that Stephanie Danler (author of Sweetbitter
, one of my favorite books of 2016) called it "lacerating" sealed the deal for me.
An electric debut novel about love, addiction, and loss; the story of two girls and the feral year that will cost one her life, and define the other's for decades.
Anything Is Possible
 by Elizabeth Strout (April 25, Random House)
My Name Is Lucy Barton
 (my review) was one of my favorite books of 2016, so I'm naturally going to read its companion piece!
Written in tandem with My Name Is Lucy Barton and drawing on the small-town characters evoked there, these pages reverberate with the themes of love, loss, and hope that have drawn millions of readers to Strout's work.
Startup
 by Doree Shafrir (April 25, Little Brown)
The Millions included this debut in its 2017 Great Book Preview and Kirkus called it a "page-turning pleasure that packs a punch" in its starred review.
A hilarious debut novel by a BuzzFeed culture writer about the difficulties of real life connection in the heart of New York City's tech world.
May
The Dinner Party
 by Joshua Ferris (May 2, Little Brown)
I've never read Ferris, though his last novel (To Rise Again at a Decent Hour
) was shortlisted for the Man Booker Prize. I like my short stories fairly dark, so this collection sounds right up my alley.
Full of the keenly observed, mordant wit that characterizes his beloved, award-winning novels, the stories in The Dinner Party are about people searching for answers in the aftermath of life's emotional fissures–those abrupt, sometimes violent, moments that change lives forever.
The Leavers
 by Lisa Ko (May 2, Algonquin Books)
This debut novel has already won the 2016 PEN/Bellwether Prize for fiction, awarded by Barbara Kingsolver for a novel that addresses issues of social justice, and is one of the most anticipated debuts of th year. Plus, there's a blurb from Ann Patchett, one of my favorite authors.
Set in New York and China, The Leavers is a vivid and moving examination of borders and belonging. It's the story of how one boy comes into his own when everything he's loved has been taken away–and how a mother learns to live with the mistakes of her past.
No One Can Pronounce My Name
 by Rakesh Satyal (May 2, Picador)
I've had great luck with stories about immigrants trying to fit in in the United States (Shelter
, Everything I Never Told You, and The Book of Unknown Americans
) and with this particular publisher (Shelter, The Woman Next Door
).
A humorous and tender multi-generational novel about immigrants and outsiders—those trying to find their place in American society and within their own families.
Woman No. 17
 by Edan Lepucki (May 9, Little Brown)
Lepucki's (author of 2014's California) latest novel has been called "darkly comic, twisty and tense"…music to my ears!
A sinister, sexy noir about art, motherhood, and the intensity of female friendships, set in the posh hills above Los Angeles, from the New York Times bestselling author of California.
Based on a True Story
 by Delphine de Vigan (May 9, Bloomsbury USA)
I've recently been on the hunt for a satisfying thriller (I'm decidedly not satisfied by so many of them) and this one gets bonus points for this one being true crime.

The international sensation that sold half a million copies in France: a chilling work of true-crime literature about a friendship gone terrifyingly toxic and the very nature of reality.
The Fact of a Body
 by Alexandria Marzano-Lesnevich (May 16, Flatiron Books)
This true crime memoir has been recommended for fans of In Cold Blood
, Midnight in the Garden of Good and Evil
, Serial, and Making A Murderer. Talk about an all-star line-up! Also, Celeste Ng, author of Everything I Never Told You (review), called it a "marvel."
An intellectual and emotional thriller that is also a different kind of murder mystery, The Fact Of a Body is a book not only about how the story of one crime was constructed―but about how we grapple with our own personal histories. Along the way it tackles questions about the nature of forgiveness, and if a single narrative can ever really contain something as definitive as the truth.
Trophy Son
 by Douglas Brunt (May 30, St. Martin's Press)
I really enjoyed Brunt's novel about Wall Street excess, Ghosts of Manhattan
 (my review), and am a huge tennis fan. So, I'm intrigued by what Brunt will do with pro tennis excess!
Written with an insider knowledge of the tennis circuit, Trophy Son explores a young man striving to find balance in his life, navigating moral compromises, performance-enhancing drugs, and the elusive lure of wealth and celebrity.
*All book summaries (in block quotes) are from Goodreads.
What Spring 2017 books are you looking forward to?