Can you believe it's already time for the Best Books of 2017 So Far?!
Last year, 60% of the books on my June Best Books of 2016 So Far list ended up on my overall favorite books of 2016 list. Which, based on the massive reading slump I had during the first few months of last year, is kind of shocking.
I don't feel like the beginning of this year has been as slumpy as last year, so we'll have to see how many of this year's halftime crop make it to the finish line…
Hosted by The Broke and The Bookish.
This post contains affiliate links.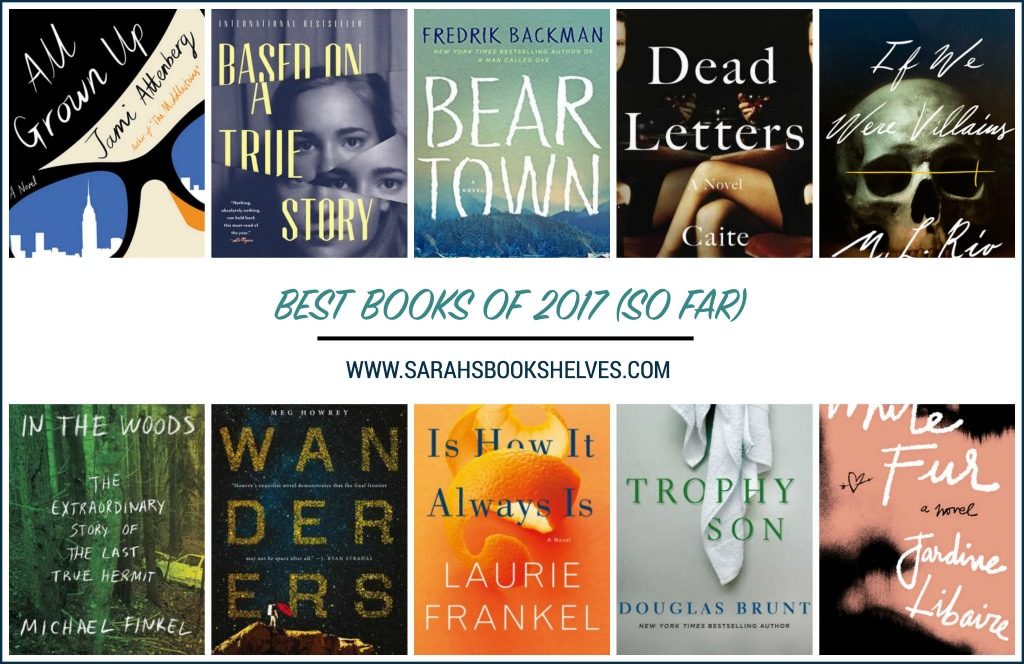 All Grown Up
by Jami Attenberg (my review)
The book that definitely isn't for everyone, but was for me…
Based on a True Story by Delphine de Vigan (Spoiler Discussion)
The book that totally messed with my head…
Beartown by Fredrik Backman (my review)
Started to fill the empty hole Friday Night Lights
left in me…
Dead Letters by Caite Dolan-Leach (my review)
The book I've been recommending to absolutely everyone and the top seller via my affiliate links…
If We Were Villains by M.L. Rio (my review)
The dark, campus novel I'd been searching for ever since loving Black Chalk…
The Stranger in the Woods
by Michael Finkel (my review)
Best nonfiction of the year so far…and best audiobook.
The Wanderers
by Meg Howrey (my review)
The psychology of going to Mars…and the most unique book I've read all year…
This Is How It Always Is
 by Laurie Frankel (my review)
Had me feeling a full range of emotions…
Trophy Son
by Douglas Brunt (my review)
A new addition to my Best of the Brain Candy list and the first of my two winning sports novels this year…
White Fur
by Jardine Libaire (my review)
The most gorgeous writing of the year so far…and a love story I actually enjoyed!
What are your favorite books so far this year?