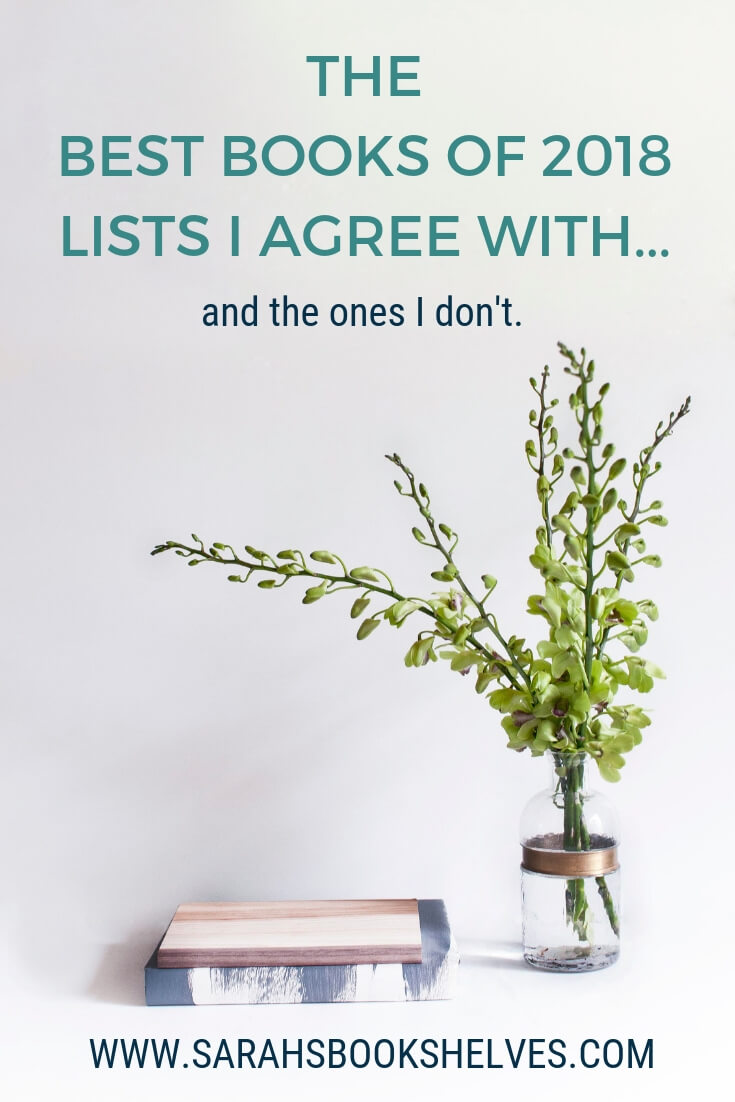 Real Quick: If you missed yesterday's post, Sarah's Book Shelves is getting a PODCAST! And you can listen to a 5 minute trailer now wherever you listen to podcasts. More details here!
Last year, I set out to find out which bookish media sources I agreed most with about the best books of the year…and the ones I agreed least with.
And, I found that I pretty much didn't agree with all the "traditional" media sources, but that I did agree with smaller Facebook groups, podcasts, and bloggers. Unfortunately, some of my best bookish media sources from last year haven't yet published their Best Books of 2018 lists. I'm not sure why since I'm sharing this post a day later than I did last year. But, I'll update my results as soon as the Best of 2018 lists from sources like From the Front Porch podcast, Sorta Book Nerds Facebook Group, #SpiveysClub Facebook Group, and Modern Mrs. Darcy come in.
I kept track of as many Best Books of 2018 lists from major bookish news sources as possible and calculated what percentage of their Best Books of 2018 I liked / didn't like. Now that I know my Best Bookish News Sources, I can use these publications or podcasts to pick better books moving forward!
The Best Best Books of 2018 Lists I Most Agree With
These are my Best Bookish Media Sources…
My Thoughts:
Y'all, I'm shocked at this list! Three of these sources (NYT 10 Best Books, Bookpage, and Publisher's Weekly) were my WORST from last year! 
The overall % agreement was lower for my best sources this year. Last year, my top sources were ALL above 20% and my #1 source (Sorta Book Nerds Facebook Group) was at 50%.

I suspect some of the sources that are publishing their lists late will come in and knock some of these out of the top spots. Stay tuned…I'll update you when they publish their lists!

There were a couple specific books I agreed with critics on (

Educated

, The Great Believers,

An American Marriage

, Bad Blood) this year…far more of them than last year. I think they carried me since they appeared on so many lists this year.
The Best Books of 2018 Lists I DON'T Agree With
These are my Worst Bookish Media Sources…
My Thoughts:
So…Library Reads topping my worst list is surprising. I've been using their monthly picks lists as recommendation sources all year! But, not only did it top my worst sources list based on their Best Books of 2018 list, but I checked my recommendations sources stats from the entire year (I use my Rock Your Reading Tracker to keep this stat!) and realized their unsuccessful recommendations completely canceled out their successful ones! So, big takeaway for me…put less stock in this recommendation source next year.
Bustle is on this list for the second year in a row.
What I'm going to do with this information
At the moment, not much. I'm going to wait for the last few sources to come in with their Best Books of 2018 list and then see where things fall.

However, I might give Publisher's Weekly another chance as a recommendation source in 2019 (I'd cut them out in 2018).
Book of the Month was a top recommendation source for me last year. This year, enough of their picks were unsuccessful to cancel out the successful picks, leaving me with a 0% success rate. I said earlier in the year that I wasn't as thrilled with their picks compared to previous years (basically, ever since they changed their judges structure). Turns out that was confirmed by the numbers. Let's hope they can turn things around in 2019.
Find the Best Books of 2018 Lists You Most Agree and Disagree With!
Download the spreadsheet via the sign-up form below.
Follow the spreadsheet's instructions to find your Best and Worst Best Books of 2018 lists.
Trust your Best Bookish Media Sources! Use them to pick books moving forward. Most publish "Most Anticipated Books" and mid-year Best Books list, which are great sources for recommendations throughout the year. Maybe you'll even find some new-to-you sources you didn't even realize were in line with your taste!
Be skeptical of book recommendations from your Worst Bookish Media Sources.
Give it a go! What Best Books of 2018 lists did you agree or disagree with? What are your Best and Worst Bookish News Sources?