This year, I've been frustrated with knowing too much about a book before I start reading. And, I've started to intentionally "go in blind" with certain books. If I hear rumblings that there are major plot twists in a book I want to read, I will hold off reading reviews until after I've finished the book. I did this with Our Endless Numbered Days recently…and I'm so glad I did!
Awhile back, Shannon at River City Reading wrote a great post about sneaky spoilers in book reviews. Today, I want to focus on the official marketing blurbs that you see on Goodreads, Amazon, etc. Lately, I feel like more and more blurbs have revealed way too many plot details.
I'm not sure if I've just been paying closer attention lately and have started noticing something that's always been there. Or, if publishers really have been including more plot details in their blurbs. I realize it's a fine line for publishers to walk…they have to include enough detail to sell the book, but avoid spoiling the reading experience. But, I worry that the level of detail that's becoming accepted as "non-spoilery" is growing.
Here are some examples from my recent reading…
Books with Non-Spoilery Blurbs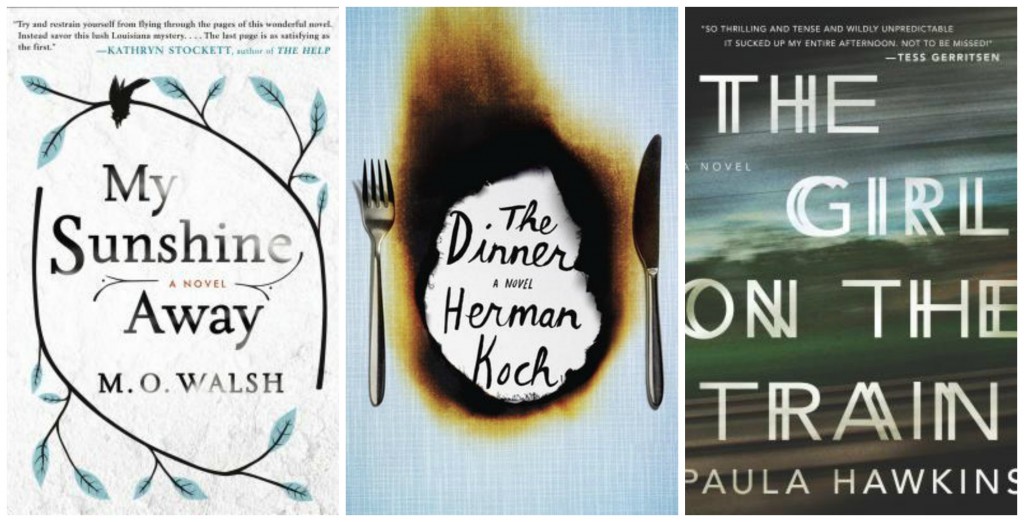 My Sunshine Away by M.O. Walsh
Sold me on reading the book, but avoided mentioning an early plot detail that I loved discovering for myself.
Blurb:
"My Sunshine Away" unfolds in a Baton Rouge neighborhood best known for cookouts on sweltering summer afternoons, cauldrons of spicy crawfish, and passionate football fandom. But in the summer of 1989, when fifteen-year-old Lindy Simpson–free spirit, track star, and belle of the block–experiences a horrible crime late one evening near her home, it becomes apparent that this idyllic stretch of Southern suburbia has a dark side, too. 
The Dinner by Herman Koch
Lets you know that there is action to look forward to, but avoids going into too much detail.
Blurb:
A summer's evening in Amsterdam and two couples meet at a fashionable restaurant. Between mouthfuls of food and over the delicate scraping of cutlery, the conversation remains a gentle hum of politeness – the banality of work, the triviality of holidays. But the empty words hide a terrible conflict and, with every forced smile and every new course, the knives are being sharpened… Each couple has a fifteen-year-old son. Together, the boys have committed a horrifying act, caught on camera, and their grainy images have been beamed into living rooms across the nation; despite a police manhunt, the boys remain unidentified – by everyone except their parents. As the dinner reaches its culinary climax, the conversation finally touches on their children and, as civility and friendship disintegrate, each couple shows just how far they are prepared to go to protect those they love. 
The Girl on the Train by Paula Hawkins
For a book that there's really not much to say about without spoiling things, the blurb walked the line perfectly. 
Blurb:
Rachel takes the same commuter train every morning. Every day she rattles down the track, flashes past a stretch of cozy suburban homes, and stops at the signal that allows her to daily watch the same couple breakfasting on their deck. She's even started to feel like she knows them. "Jess and Jason," she calls them. Their life—as she sees it—is perfect. Not unlike the life she recently lost.

And then she sees something shocking. It's only a minute until the train moves on, but it's enough. Now everything's changed. Unable to keep it to herself, Rachel offers what she knows to the police, and becomes inextricably entwined in what happens next, as well as in the lives of everyone involved. Has she done more harm than good?
Books with "Blabby" Blurbs

*I'm just going to link to the blurbs in this section so as not to spoil things for anyone trying to go in blind.
Boo by Neil Smith (Goodreads blurb)
The only thing I knew going into this book was that it was a story about a heaven populated only with thirteen year old Americans…and that there was some big mystery about how Boo ended up there. When I read the full blurb after finishing the book, I was shocked to discover some of my favorite surprise moments were given away in advance.
Our Endless Numbered Days by Claire Fuller (Goodreads blurb)
I didn't read this blurb too closely before reading the book…and, I'm glad I didn't because the blurb's last paragraph is way too good of a roadmap.
The Half Brother by Holly LeCraw (Goodreads blurb)
I read this blurb closely before reading the book and it kind of ruined it for me. There was only one major plot point that I can think of that wasn't included in the blurb. 
The Bullet by Mary Louise Kelly (Goodreads blurb)
This one is the most egregious for me because the publishers had an extremely intriguing premise to work with. "Woman finds a bullet lodged in her neck, but has never been shot"…I didn't need to know anymore than that to try this one out! After reading the book, I was disappointed to discover that the blurb reveals how the bullet got there and the family secret behind it.
What are your thoughts on the level of detail publishers include in their marketing blurbs? What are some "good" blurbs and "blabby" blurbs have you've seen lately?