Welcome to my monthly feature "Book of the Month Selections: What Book Should You Choose?"! Every month, I provide commentary on the books that are chosen as that month's Book of the Month selections that will hopefully help you choose your pick, and tell you which book(s) I'm going to choose. AND, I provide you with the most up to date version of my Ultimate Guide to the Book of the Month Judges with free, downloadable template (below).
First, I'm sorry for recommending Not That I Could Tell from last month's selections…I read it and was fairly bored (I rated it 2.5 stars). Hopefully, I'll do better this month! This month's selections didn't appeal to me at first glance, but after doing some research, I'm now interested in two of them!
Choose the best Book of the Month selection for you every time!
Check out my fun new tool to help you pick the best Book of the Month selection for your taste: my Ultimate Guide to the Book of the Month Judges and free, downloadable template to help you find your go-to BOTM judge!
Book of the Month April 2018 Selections
The Girl Who Smiled Beads by Clementine Wamariya (Release Date: April 26, 2018)
288 Pages
Average Goodreads Rating: 4.46 on 117 ratings
Selected By: Etaf Rum (Book of the Month Brand Ambassador )

A riveting story of dislocation, survival, and the power of the imagination to save us

Clemantine Wamariya was six years old when her mother and father began to speak in whispers, when neighbors began to disappear, and when she heard the loud, ugly sounds her brother said were "thunder." It was 1994, and in 100 days more than 800,000 people would be murdered in Rwanda and millions more displaced. Clemantine and her fifteen-year-old sister, Claire, ran and spent the next six years wandering through seven African countries searching for safety–hiding under beds, foraging for food, surviving and fleeing refugee camps, finding unexpected kindness, witnessing unimaginable cruelty. They did not know whether their parents were alive.

At age twelve, Clementine, along with Claire, was granted asylum in the United States–a chance to build a new life. […]
My Thoughts:
The Girl Who Smiled Beads is a memoir that came out of this article on Medium, which went viral and immediately sucked me in. Goodreads readers said it's powerful, painful, and hard to read. It's written in dual timelines, alternating chapters about Wamariya's childhood in Rwanda with her present-day life in the U.S. A few Goodreads readers mentioned that the chapters sometimes read like snippets, feeling a bit unfinished. It was called a "must read" by Library Journal (one of my Go-To Recommendation Sources) and was included on their April picks list. And, Nicole Bonia of The Readerly Report podcast (another Go-To Recommendation Source) rated it 5 stars.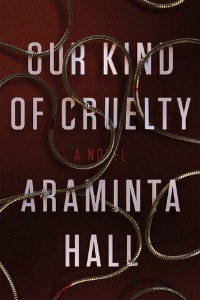 Our Kind of Cruelty by Araminta Hall (Release Date: May 8, 2018)
288 Pages
Average Goodreads Rating: 4.05 on 288 ratings
Selected By: Siobhan Jones (Book of the Month Editorial Director)

Mike knows that most of us travel through the world as one half of a whole, desperately searching for that missing person to make us complete.
But he and Verity are different. They have found each other and nothing and no one will tear them apart.
It doesn't matter that Verity is marrying another man.
You see, Verity and Mike play a game together, a secret game they call 'the crave', the aim being to demonstrate what they both know: that Verity needs Mike, and only Mike.
Verity's upcoming marriage is the biggest game she and Mike have ever played. And it's for the highest stakes.
Except this time in order for Mike and Verity to be together someone has to die …
My Thoughts:
This is another buzzy thriller that was compared to You
by Caroline Kepnes by multiple Goodreads reviewers. Goodreads reviewers also said it was dark, gritty, full of crazy and dislikable characters, similar to other books, and predictable. They also mentioned it was partly told from a deranged stalker's perspective. Gillian Flynn called it "simply one of the nastiest and most disturbing thrillers I've read in years." A.J. Finn (author of The Woman in the Window
) called it "a perfect nightmare of a novel."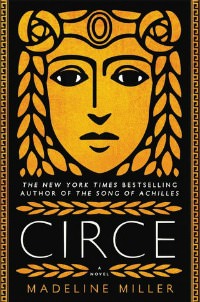 Circe by Madeline Miller (Release Date: April 10, 2018)
400 Pages
Average Goodreads Rating: 4.44 on 450 ratings
Selected By: Liberty Hardy (co-host of Book Riot's All the Books podcast)
In the house of Helios, god of the sun and mightiest of the Titans, a daughter is born. But Circe is a strange child–not powerful, like her father, nor viciously alluring like her mother. Turning to the world of mortals for companionship, she discovers that she does possess power–the power of witchcraft, which can transform rivals into monsters and menace the gods themselves.

Threatened, Zeus banishes her to a deserted island, where she hones her occult craft, tames wild beasts and crosses paths with many of the most famous figures in all of mythology, including the Minotaur, Daedalus and his doomed son Icarus, the murderous Medea, and, of course, wily Odysseus.

But there is danger, too, for a woman who stands alone, and Circe unwittingly draws the wrath of both men and gods, ultimately finding herself pitted against one of the most terrifying and vengeful of the Olympians. To protect what she loves most, Circe must summon all her strength and choose, once and for all, whether she belongs with the gods she is born from, or the mortals she has come to love.
My Thoughts:
Circe is the follow-up to Miller's The Song of Achilles
, but apparently has less of a romantic storyline than Achilles. Goodreads reviewers said it's fantasy that reads like an historical fiction novel and has adventure, betrayal, violence, and magic, but is ultimate the story of one woman's life. Other words they used to describe it: spellbinding, captivating, and perfect. Most importantly, Catherine at Gilmore Guide to Books (one of my Go-To Recommendation Sources) is reading it right now and said the story is fabulous, she keeps reading sentences over and over again, and that she's head over heels in love. And, Ann Patchett (one of my all-time favorite authors) called it "an epic spanning thousands of years that's also a keep-you-up-all-night page turner."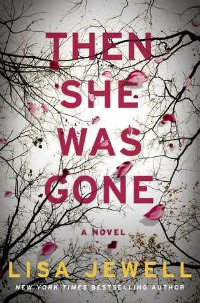 Then She Was Gone by Lisa Jewell (Released: April 17, 2018)
368 Pages
Average Goodreads Rating: 4.37 on 6,146 ratings
Selected By: Laura Whitelaw (Book of the Month Readers Committee Member)
Ten years after her teenage daughter disappears, a woman crosses paths with a charming single father whose young child feels eerily familiar, in this evocative, suspenseful drama from New York Times bestselling author Lisa Jewell—perfect for fans of Paula Hawkins and Liane Moriarty.
My Thoughts:
The second thriller / mystery of this month's picks. Goodreads reviewers said it was fast-paced, dark, disturbing, had a predictable storyline, had a number of unlikely coincidences, but also had a touching ending (a rarity for a thriller). They also mentioned it was told from multiple perspectives. It was included on the Library Journal (one of my Go-To Recommendation Sources) April picks list.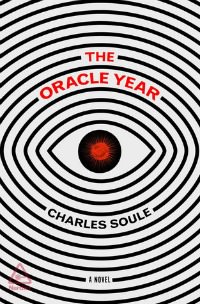 The Oracle Year by Charles Soule (Release Date: April 3, 2018)
416 Pages
Average Goodreads Rating: 4.13 on 68 ratings
Selected By: Samantha Irby (Author of We Are Never Meeting in Real Life
and Blogger)

From bestselling comic-book franchise writer Charles Soule comes a clever and witty first novel of a twenty-something New Yorker who wakes up one morning with the power to predict the future—perfect for fans of Joe Hill and Brad Meltzer, or books like This Book Is Full of Spiders and Welcome to Night Vale.
My Thoughts:
This one sounds somewhat Science Fiction-y and has also been described as a thriller. Goodreads reviewers said it's a fun read with an eclectic cast of characters. That is has a fast-paced plot with an action-movie feel and really takes off in the second half, but does have some loose ends. I've seen multiple comparisons to Blake Crouch's Dark Matter. It's also an Amazon Best Book of April 2018.
What Book of the Month Club April 2018 selection(s) will I choose?
I'm going to choose Circe and The Girl Who Smiled Beads!
Despite the fact that I'm not into Greek mythology at all, the high praise (especially from highly trusted recommendation sources) convinced me to give Circe a go! And, the Medium article that spawned The Girl Who Smiled Beads completely drew me in and made me want to read more, so I'm tacking that one on too.
Make your Book of the Month selections by Friday, April 6th.
What book will you choose this month?
This Month's Special Deals
NEW MEMBER DEAL: Anyone who purchases a new BOTM subscription will get their first month free! Use code YESPLZ.
ANNUAL PAYMENT DEAL: BOTM is now a monthly subscription service. However, given that some members preferred paying upfront, they are now offering a 12-month option. Members who sign up for 12 months will pay $149.99/year. That's $12.50/book, instead of the standard price of $14.99/month.
How to Join Book of the Month…
Book of the Month is a subscription service for people who like to try new books from a curated selection and like to read in hardcover format. Through Book of the Month, you can get a hardcover book for generally significantly less than you'd pay in a bookstore or through Amazon. And, you get to try something new that has been vetted by one of Book of the Month's well-read judges!
Sign up for any of the subscription plans below and you get to choose one of five books selected by Book of the Month's panel of judges (including a surprise guest judge). Book of the Month will then mail your chosen book to your house with a cute note. You also have the option to purchase additional books for $9.99 each and to skip a month if you want.
Sign up for a Book of the Month membership (NEW pricing below)!
New members will sign up for a membership that renews monthly:
A book of your choice for $14.99 / month
Add extra books to your shipment for $9.99 each
Skip any month you want
Free shipping, always