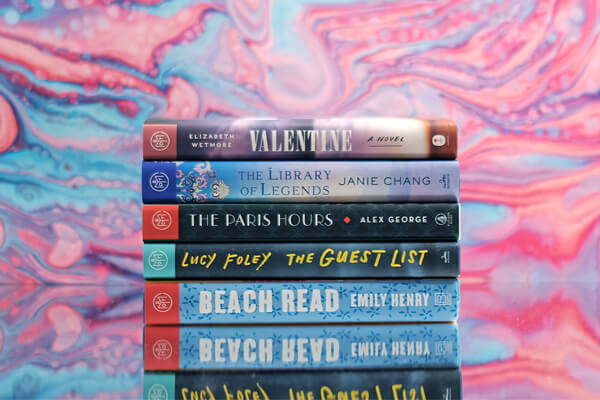 Book of the Month Selections: What Book Should You Choose?"! Every month, I provide commentary on the books that are chosen as that month's Book of the Month selections that will hopefully help you choose your pick, and tell you which book(s) I'm going to choose. AND, I provide you with the most up to date version of my Ultimate Guide to the Book of the Month Judges with free, downloadable template (below).
Welcome to my monthly feature "
I like this month's picks! There's a literary novel that I've heard great things about from two of my most trusted recommendation sources and a romance that sounds like the type of romance I can get behind (i.e. one that addresses serious issues despite the lighter style).
This post contains affiliate links and I will be compensated if you make a purchase after clicking on my links, but I'm also a paying customer.
Book of the Month April 2020 Selections
Beach Read
by Emily Henry
Fiction – Rom-Com (Release Date: May 19, 2020)
384 Pages
Average Goodreads Rating: 4.28 on 235 ratings
Recommended By: Jasmine Guillory (Author of The Proposal)
A romance writer who no longer believes in love and a literary writer stuck in a rut engage in a summer-long challenge that may just upend everything they believe about happily ever afters.

Augustus Everett is an acclaimed author of literary fiction. January Andrews writes bestselling romance. When she pens a happily ever after, he kills off his entire cast.

Until, one hazy evening, one thing leads to another and they strike a deal designed to force them out of their creative ruts: Augustus will spend the summer writing something happy, and January will pen the next Great American Novel. She'll take him on field trips worthy of any rom-com montage, and he'll take her to interview surviving members of a backwoods death cult (obviously). Everyone will finish a book and no one will fall in love. Really.
My Thoughts:
Beach Read is Emily Henry's (author of previous Book of the Month pick A Million Junes) debut adult novel (she's previously written YA) and it's being released as a paperback original (meaning Book of the Month is probably the only place you'll be able to get a hardcover). It has pointed commentary on how readers judge books, which will probably appeal to many bookworms. Goodreads reviewers said it's more serious than the cover implies and goes deeper than your typical beach read. They also said it's emotional and a tear-jerker, but also sarcastic and there's a competitive dynamic (a bit of an enemies to lovers arc) between the two love interests. It was also blurbed by Jasmine Guillory and Sally Thorne.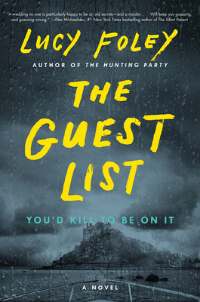 The Guest List by Lucy Foley
Fiction –  Mystery / Thriller (Release Date: May 5, 2020)
320 Pages
Average Goodreads Rating: 4.11 on 1,778 ratings
Recommended By: Torrey Devitto (Actress, Chicago Med)

A wedding celebration turns dark and deadly in this deliciously wicked and atmospheric thriller reminiscent of Agatha Christie from the author of The Hunting Party.

On an island off the coast of Ireland, guests gather to celebrate two people joining their lives together as one. The groom: handsome and charming, a rising television star. The bride: smart and ambitious, a magazine publisher. It's a wedding for a magazine, or for a celebrity: the designer dress, the remote location, the luxe party favors, the boutique whiskey. 

As the champagne is popped and the festivities begin, resentments and petty jealousies begin to mingle with the reminiscences and well wishes. The groomsmen begin the drinking game from their school days. The bridesmaid not-so-accidentally ruins her dress. The bride's oldest (male) friend gives an uncomfortably caring toast.

And then someone turns up dead. Who didn't wish the happy couple well? And perhaps more important, why?
My Thoughts:
This British, closed-setting thriller is a bit of a nod to Agatha Christie (specifically, And Then There Were None). The publisher says it's also perfect for fans of Ruth Ware and Jessica Knoll. Goodreads reviewers said the story goes back and forth in time and is told from multiple perspectives (some readers said too many). They said it's a slow burn (slower than The Hunting Party), super atmospheric (eerie), and has dislikable characters (especially the groomsmen). Resentments simmer and grow as the night goes on and the guests get drunker before secrets and connections between the guests are finally revealed.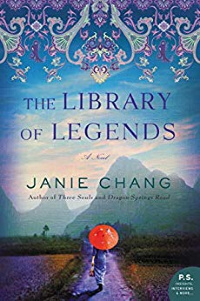 The Library of Legends by Janie Chang
Historical Fiction  (Release Date: May 12, 2020)
400 Pages
Average Goodreads Rating: 4.30 on 40 ratings
Recommended By: Seji Akinrogunde (@theartisangeek)
From the author of Three Souls and Dragon Springs Road comes a captivating historical novel in which a convoy of student refugees travel across China, fleeing the hostilities of a brutal war with Japan.

China, 1937. When Japanese bombs begin falling on the city of Nanking, nineteen-year-old Hu Lian and her classmates at Minghua University are ordered to flee. Lian and a convoy of students, faculty and staff must walk 1,000 miles to the safety of China's western provinces, a journey marred by the constant threat of aerial attack. And it is not just the refugees who are at risk; Lian and her classmates have been entrusted with a priceless treasure: a 500-year-old collection of myths and folklore known as the Library of Legends.

The students' common duty to safeguard the Library of Legends creates unexpected bonds. Lian becomes friends and forms a cautious romance with the handsome and wealthy Liu Shaoming. But after one classmate is arrested and another one is murdered, Lian realizes she must escape before a family secret puts her in danger too. Accompanied by Shao and his enigmatic maidservant, Sparrow, Lian makes her way to Shanghai in the hopes of reuniting with her mother.
My Thoughts:
The Library of Legends is a companion novel to Three Souls and Dragon Springs Road and includes characters from both novels. It's a mix of historical fiction and fantasy with some romance. Goodreads reviewers said the story is an allegory that teaches a lesson (people coming together for a common goal), deals with myths and gods, and is a mix of China's history and legends / folklore. They mentioned its beautiful storytelling and some readers said the beginning is a bit slow, but that the second half picks up. One reviewer also said the Acknowledgements hinted at a possible sequel. It's been blurbed by Kate Quinn, Lisa See, and Jean Kwok.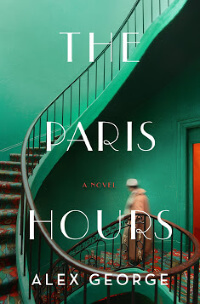 The Paris Hours by Alex George
Historical Fiction (Release Date: May 5, 2020)
272 Pages
Average Goodreads Rating: 4.37 on 84 ratings
Recommended By: Steph Hockersmith (@PieLadyBooks)
Paris between the wars teems with artists, writers, and musicians, a glittering crucible of genius. But amidst the dazzling creativity of the city's most famous citizens, four regular people are each searching for something they've lost.

Camille was the maid of Marcel Proust, and she has a secret: when she was asked to burn her employer's notebooks, she saved one for herself. Now she is desperate to find it before her betrayal is revealed. Souren, an Armenian refugee, performs puppet shows for children that are nothing like the fairy tales they expect. Lovesick artist Guillaume is down on his luck and running from a debt he cannot repay—but when Gertrude Stein walks into his studio, he wonders if this is the day everything could change. And Jean-Paul is a journalist who tells other people's stories, because his own is too painful to tell. When the quartet's paths finally cross in an unforgettable climax, each discovers if they will find what they are looking for.

Told over the course of a single day in 1927, The Paris Hours takes four ordinary people whose stories, told together, are as extraordinary as the glorious city they inhabit.
My Thoughts:
Alex George went to boarding school in Paris and returned later in life as an attorney, so he writes about the location from a place of experience. Kelly Massry rated it 5 stars and said it read like 4 short stories built around the 4 main characters, whose connections eventually come to light in the final chapters. She said it's a great choice for readers whom short stories are generally a stretch. Goodreads reviewers said it has a page-turning storytelling style, is immersive, has a jaw-dropping ending, and is gorgeously written. They warn readers not to skip the End Note. The one knock on Goodreads is that it's a bit hard to follow and get into in the beginning (due to the number of characters and the quick switches between their perspectives), but once you encounter each character multiple times, it becomes easier. It's been blurbed by authors Melanie Benjamin and Will Schwalbe.
Valentine by Elizabeth Wetmore
Fiction – Literary (Release Date: March 31, 2020)
320 Pages
Average Goodreads Rating: 4.28 on 274 ratings
Recommended By: Siobhan Jones (Book of the Month Editorial Director)
It's February 1976, and Odessa, Texas, stands on the cusp of the next great oil boom. While the town's men embrace the coming prosperity, its women intimately know and fear the violence that always seems to follow.

In the early hours of the morning after Valentine's Day, fourteen-year-old Gloria Ramírez appears on the front porch of Mary Rose Whitehead's ranch house, broken and barely alive. The teenager had been viciously attacked in a nearby oil field—an act of brutality that is tried in the churches and barrooms of Odessa before it can reach a court of law. When justice is evasive, the stage is set for a showdown with potentially devastating consequences.
My Thoughts:
This debut novel is told from alternating perspectives. The publisher says it's the "lovechild of Harper Lee and Cormac McCarthy." It's a character-driven exploration of womanhood (with strong female characters) and covers sexual violence, gender roles, race, class, and religion. The publisher says it's for readers of Barbara Kingsolver, Delia Owens, Jeannette Walls, and Elizabeth Strout. Susie from Novel Visits and Catherine from Gilmore Guide (2 of my best recommendation sources) both rated it 5 stars and said the writing is gorgeous, there is a vivid sense of place, and they loved the story of "women living in a man's time and trying to find justice and their own places within that world." They warned it's not for everyone since it's a bit dark, but would be fantastic for book clubs. Goodreads reviewers mentioned the author does not use quotation marks for dialogue if that bothers you. It was also blurbed by Mary Beth Keane (author of Ask Again, Yes). Finally, it's rumored to be the April #ReadwithJenna pick.
What Book of the Month April 2020 selection(s) will I choose?
I'm going with Valentine this month…it's rare that Susie and Catherine steer me wrong! I'm also considering adding Beach Read…it's out of my wheelhouse, but sounds like the kind of romance I could get behind and lighter books are working for my coronavirus era reading.
Make your Book of the Month selections by Monday, April 6th.
What book will you choose this month?
This Month's Special Deals
NEW MEMBER DEAL FOR SARAHSBOOKSHELVES READERS: Get your first book for $9.99 with Code SARAHSBOOKSHELVES (enter at checkout).
ANNUAL PAYMENT DEAL: BOTM is now a monthly subscription service. However, given that some members preferred paying upfront, they are now offering a 12-month option. Members who sign up for 12 months will pay $149.99/year. That's $12.50/book, instead of the standard price of $14.99/month.
How to Join Book of the Month…
Book of the Month is a subscription service for people who like to try new books from a curated selection and like to read in hardcover format. Through Book of the Month, you can get a hardcover book for generally significantly less than you'd pay in a bookstore or through Amazon. And, you get to try something new that has been vetted by one of Book of the Month's well-read judges!
Sign up for any of the subscription plans below and you get to choose one of five books selected by Book of the Month's panel of judges (including a surprise guest judge). Book of the Month will then mail your chosen book to your house with a cute note. You also have the option to purchase additional books for $9.99 each and to skip a month if you want.
Sign up for a Book of the Month membership (NEW pricing below)!
New members will sign up for a membership that renews monthly:
A book of your choice for $14.99 / month
Add extra books to your shipment for $9.99 each
Skip any month you want
Free shipping, always
Pin this post…