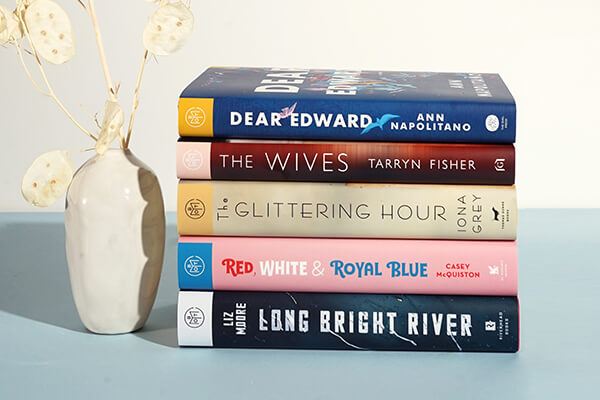 Welcome to my monthly feature "Book of the Month Selections: What Book Should You Choose?"! Every month, I provide commentary on the books that are chosen as that month's Book of the Month selections that will hopefully help you choose your pick, and tell you which book(s) I'm going to choose. AND, I provide you with the most up to date version of my Ultimate Guide to the Book of the Month Judges with free, downloadable template (below).
I've already read and loved one of this month's picks and am excited about a second one!
This post contains affiliate links and I will be compensated if you make a purchase after clicking on my links, but I'm also a paying customer.
Choose the best Book of the Month selection for you every time!
I've just updated my Ultimate Guide to the Book of the Month Judges to reflect the February 2018 structural changes that significantly changed the judges that appeared regularly. Here's a free, downloadable template to help you find your go-to BOTM judge!
Book of the Month December 2019 Selections
The Wives
by Tarryn Fisher
Fiction – Psychological Thriller (Release Date: December 30, 2019)
336 Pages
Average Goodreads Rating: 4.07 on 572 ratings
Selected By: Anna Pitoniak (Author of Necessary People)
Imagine that your husband has two other wives.

You've never met the other wives. None of you know each other, and because of this unconventional arrangement, you can see your husband only one day a week. But you love him so much you don't care. Or at least that's what you've told yourself.

But one day, while you're doing laundry, you find a scrap of paper in his pocket—an appointment reminder for a woman named Hannah, and you just know it's another of the wives.

Who exactly is your husband, and how far would you go to find the truth? Would you risk your own life? And who is his mysterious third wife?
My Thoughts:
The Wives is a domestic thriller with polygamy. Tarryn Fisher has written romance novels in addition to thrillers and co-authored the Never, Never trilogy with Colleen Hoover (who blurbed this book…but, note the authors' connection, so take that into account for the blurb). Goodreads reviewers called it a mind-f*ck (questioning what's real and what's not) and unputdownable. They talked about a crazy ending that seems a bit divisive. On the flip side, some mentioned not feeling connected with the main character and loving the first half (which explores the psychological dynamics of all the marriages) more than the second (the "thriller" part).
The Glittering Hour by Iona Grey
Historical Fiction / Romance (Release Date: December 10, 2019)
480 Pages
Average Goodreads Rating: 4.37 on 258 ratings
Selected By: Evie Dunmore (Author of Bringing Down the Duke)

Selina Lennox is a Bright Young Thing. Her life is a whirl of parties and drinking, pursued by the press and staying on just the right side of scandal, all while running from the life her parents would choose for her.

Lawrence Weston is a penniless painter who stumbles into Selina's orbit one night and can never let her go even while knowing someone of her stature could never end up with someone of his. Except Selina falls hard for Lawrence, envisioning a life of true happiness. But when tragedy strikes, Selina finds herself choosing what's safe over what's right.
My Thoughts:
Iona Grey is a British author whose debut novel was Letters to the Lost. The Glittering Hour spans 2 decades including post WWI and the lead-up to WWII. The story alternates timelines; in 1936, 9 year old Alice goes on a hunt to learn the secrets of her mother's past and, 1925 covers Selina's "it" girl days. Goodreads reviewers said it's emotional, beautiful, heart-breaking, and moving. On the flip side, some said it was wordy and that Part 1 was particularly slow. Some mentioned this is closed door on the romance part.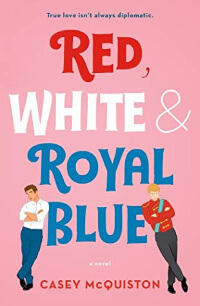 Red, White, and Royal Blue by Casey McQuiston
Fiction – Rom-Com (Release Date: May 14, 2019)
45,831 Pages
Average Goodreads Rating: 4.39 on 45, 831 ratings
Selected By: Siobhan Jones (Book of the Month Editorial Director)

What happens when America's First Son falls in love with the Prince of Wales?

When his mother became President, Alex Claremont-Diaz was promptly cast as the American equivalent of a young royal. Handsome, charismatic, genius—his image is pure millennial-marketing gold for the White House. There's only one problem: Alex has a beef with the actual prince, Henry, across the pond. And when the tabloids get hold of a photo involving an Alex-Henry altercation, U.S./British relations take a turn for the worse.

Heads of family, state, and other handlers devise a plan for damage control: staging a truce between the two rivals. What at first begins as a fake, Instragramable friendship grows deeper, and more dangerous, than either Alex or Henry could have imagined. Soon Alex finds himself hurtling into a secret romance with a surprisingly unstuffy Henry that could derail the campaign and upend two nations and begs the question: Can love save the world after all? Where do we find the courage, and the power, to be the people we are meant to be? And how can we learn to let our true colors shine through?
My Thoughts:
This is a royal, LGBTQ romance that readers have been loving this year. On podcast Ep. 25, Siobhan Jones (Editorial Director at BOTM) said that, in December, BOTM tries to choose one book from earlier in the year that they "missed" as a December pick and Red, White, and Royal Blue is this year's choice! Since this book has been out for awhile, I'm going to share some of the rave reviews from my trusted recommendation sources: Tina from TBR, etc ("soapy and gossipy, but with depth," 5 stars), Kailey from @KMC_Reads ("did an amazing job evoking such strong emotions," 5 stars), and Carla from Happiest When Reading (4 stars).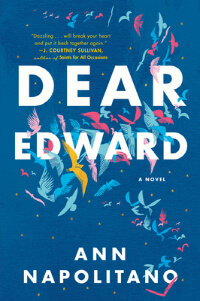 Dear Edward by Ann Napolitano
Literary Fiction (Release Date: January 6, 2020)
352 Pages
Average Goodreads Rating: 4.15 on 436 ratings
Selected By: Brianna Goodman (Book of the Month Editorial & Content Manager)
In the face of tragedy, what does it take to find joy?

One summer morning, twelve-year-old Edward Adler, his beloved older brother, his parents, and 183 other passengers board a flight in Newark headed for Los Angeles. Among them is a Wall Street wunderkind, a young woman coming to terms with an unexpected pregnancy, an injured vet returning from Afghanistan, a septuagenarian business tycoon, and a free-spirited woman running away from her controlling husband. And then, tragically, the plane crashes. Edward is the sole survivor.

Edward's story captures the attention of the nation, but he struggles to find a place for himself in a world without his family. He continues to feel that a piece of him has been left in the sky, forever tied to the plane and all of his fellow passengers. But then he makes an unexpected discovery–one that will lead him to the answers of some of life's most profound questions: When you've lost everything, how do find yourself? How do you discover your purpose? What does it mean not just to survive, but to truly live?
My Thoughts:
This coming of age novel is based on the true story of a 9 year old Dutch boy who was the sole survivor of the Afriqiyah Airways Flight 771 crash. It's being marketed for fans of Ann Patchett and Celeste Ng (comparisons which, if true, will make me very happy!). The story is told in alternating timelines between the years after the crash and those leading up to it. Goodreads reviewers called it touching, heart-breaking, emotional, and sad, but hopeful. Some said there are too many characters and it's hard to keep track of all those narratives. And, some said parts read like a page turner, it deals with the media spotlight and grief, and some wanted more Edward (rather than the backstories of other plane passengers). Racheal at Booklist Queen rated it 4 stars. John Boyne called it "the best book about a young person I've read since Emma Donoghue's Room." It was also blurbed by Kevin Wilson (Nothing to See Here), J. Courtney Sullivan (Saints for All Occasions), and Lily King (Euphoria). I also hear it's good for book clubs.
Long Bright River by Liz Moore
Literary Fiction – Mystery (Release Date: January 7, 2020)
496 Pages
Average Goodreads Rating: 4.23 on 206 ratings
Selected By: Ashley Spivey (@spiveysbookclub)
Two sisters travel the same streets, though their lives couldn't be more different. Then one of them goes missing.

In a Philadelphia neighborhood rocked by the opioid crisis, two once-inseparable sisters find themselves at odds. One, Kacey, lives on the streets in the vise of addiction. The other, Mickey, walks those same blocks on her police beat. They don't speak anymore, but Mickey never stops worrying about her sibling.

Then Kacey disappears, suddenly, at the same time that a mysterious string of murders begins in Mickey's district, and Mickey becomes dangerously obsessed with finding the culprit–and her sister–before it's too late.
My Thoughts:
This book is being marketed as "the next Girl on the Train" and was blurbed by Paula Hawkins. Forget about that right now…Long Bright River is not like The Girl on the Train (it's different, much better, and was 4.5 stars for me!). It's feels like a literary police procedural with some character-driven family drama thrown in and I'd say it's much more mystery than thriller (i.e. Miracle Creek, A Nearly Normal Family)! It's long, but I flew through it. There are multiple suspenseful hooks to keep you going. Where is Kacey (she disappears early in the book? Who is killing women in Mickey's district? What are Kacey and Mickey's family secrets? And, Long Bright River takes a hard, but compassionate look at opioid addiction culture and would make a great fiction / nonfiction pairing with Dopesick by Beth Macy. Need more convincing? Jami Attenberg (author of All This Could Be Yours) and Chelsea from Suspense Thrill both rated it 5 stars! Plus, here's Ashley Spivey's (the judge who recommended this book) full review.

What Book of the Month December 2019 selection(s) will I choose?
I'm picking Long Bright River (to get a hard copy for my shelves) and Dear Edward because I've been interested in this one, but haven't been able to get a galley! 
Make your Book of the Month selections by Friday, December 6th.
What book will you choose this month?
This Month's Special Deals
GIFT SUBSCRIPTION DEAL: Get your first book for $5 with Code FAME5
ANNUAL PAYMENT DEAL: BOTM is now a monthly subscription service. However, given that some members preferred paying upfront, they are now offering a 12-month option. Members who sign up for 12 months will pay $149.99/year. That's $12.50/book, instead of the standard price of $14.99/month.
How to Join Book of the Month…
Book of the Month is a subscription service for people who like to try new books from a curated selection and like to read in hardcover format. Through Book of the Month, you can get a hardcover book for generally significantly less than you'd pay in a bookstore or through Amazon. And, you get to try something new that has been vetted by one of Book of the Month's well-read judges!
Sign up for any of the subscription plans below and you get to choose one of five books selected by Book of the Month's panel of judges (including a surprise guest judge). Book of the Month will then mail your chosen book to your house with a cute note. You also have the option to purchase additional books for $9.99 each and to skip a month if you want.
Sign up for a Book of the Month membership (NEW pricing below)!
New members will sign up for a membership that renews monthly:
A book of your choice for $14.99 / month
Add extra books to your shipment for $9.99 each
Skip any month you want
Free shipping, always
Pin this post…