Welcome to my monthly feature "Book of the Month Selections: What Book Should You Choose?"! Every month, I provide commentary on the books that are chosen as that month's Book of the Month selections that will hopefully help you choose your pick, and tell you which book(s) I'm going to choose. AND, I provide you with the most up to date version of my Ultimate Guide to the Book of the Month Judges with free, downloadable template (below).
I've read 4 of this month's picks (and am the Book of the Month judge that recommended one!) and I've really liked all of them! This is definitely going to be a multiple book month for me.
This post contains affiliate links and I will be compensated if you make a purchase after clicking on my links, but I'm also a paying customer.
Book of the Month February 2020 Selections
American Dirt
by Jeanine Cummins
Fiction – Literary (Release Date: January 21, 2020)
400 Pages
Average Goodreads Rating: 4.15 on 2,334 ratings
Selected By: Partnership with Oprah's Book Club (American Dirt was Oprah's latest book club pick)
Lydia Quixano Pérez lives in the Mexican city of Acapulco. She runs a bookstore. She has a son, Luca, the love of her life, and a wonderful husband who is a journalist. And while there are cracks beginning to show in Acapulco because of the drug cartels, her life is, by and large, fairly comfortable.

Javier is erudite. He is charming. And, unbeknownst to Lydia, he is the jefe of the newest drug cartel that has gruesomely taken over the city. When Lydia's husband's tell-all profile of Javier is published, none of their lives will ever be the same.

Forced to flee, Lydia and eight-year-old Luca soon find themselves miles and worlds away from their comfortable middle-class existence. Instantly transformed into migrants, Lydia and Luca ride la bestia—trains that make their way north toward the United States, which is the only place Javier's reach doesn't extend. 
My Thoughts:
I read American Dirt back in December (before all the controversy erupted…here's a good overview of what's gone down) and I loved it then (my review). Since then, Latinx authors have raised concerns about stereotypes in the story and the fact that Jeanine Cummins is not an Own Voices author (i.e. she's a non-Mexican writing from the Mexican perspective). I'm going to link to a couple different viewpoints on this book and I hope you'll use them to decide for yourself whether you'd like to give it a shot: Lupita.Reads, Jordys.Book.Club, Booksteanhenny, Zibby Owens. Also, make sure to check out the special statement about this book on Book of the Month's website.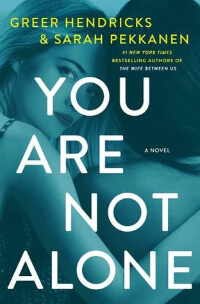 You Are Not Alone by Greer Hendricks & Sarah Pekkanen
Fiction – Thriller (Release Date: March 3, 2020)
352 Pages
Average Goodreads Rating: 4.08 on 678 ratings
Selected By: ME!

You probably know someone like Shay Miller.
She wants to find love, but it eludes her.
She wants to be fulfilled, but her job is a dead end.
She wants to belong, but her life is so isolated.

You probably don't know anyone like the Moore sisters.
They have an unbreakable circle of friends.
They live the most glamorous life.
They always get what they desire.

Shay thinks she wants their life.
But what they really want is hers.
My Thoughts:
Book of the Month loves their repeat authors and this is the third appearance for Greer Hendricks and Sarah Pekkanen. When I started this book, I was in an epic reading slump (four DNFs in a row!). You Are Not Alone was just the book I needed, hooking me from page one and keeping me engrossed for the next two days. It's a story about loneliness and the lengths people are willing to go for companionship. It reveals enough of what's going on beneath the surface to keep you on the edge of your seat…and then smacks you in the face with the logical, yet unexpected "why" of it all. And, for once, a thriller where the women are in charge! PS – I recommend going in as blind as possible. 4 stars from me…plus, Jordan from @jordys.book.club shared it on Episode 43 my podcast and Tina from TBR, etc. loved it! Check out my full "Why I Liked It" essay!
The Holdout by Graham Moore
Fiction – Mystery (Release Date: February 18, 2020)
336 Pages
Average Goodreads Rating: 3.99 on 199 ratings
Selected By: Emily Schuman (Cupcakes & Cashmere, @emilyschuman)
In this twisty tale from Moore (The Sherlockian), the Academy Award-winning screenwriter of The Imitation Game, young juror Maya Seale is convinced that African American high school teacher Bobby Nock is innocent of killing the wealthy white female student with whom he appears to have been involved and persuades her fellow jurors likewise. Ten years later, a true-crime docuseries reassembles the jurors, and Maya, now a defense attorney, must prove her own innocence when one of them is found dead in Maya's room.
My Thoughts:
This courtroom drama was inspired by Moore's real-life experience serving on a jury in 2008 and sending that defendant to prison for murder. Moore thinks his jury was correct, but always wonders about the small chance they could've gotten it wrong. The Holdout does not have a particularly thriller-y vibe, but it's easy to quickly turn the pages (I rated it 4 stars!). It looks at the impact of a high profile trial on the jury (particularly one that is sequestered)…how it affects the jurors' lives, families, and mental state…and how slippery the legal system is in the U.S. It's a less weird, more accessible version of The Body in Question (one of my Underrated Gems of 2019). If you like a courtroom drama that delves deep into a serious issue, The Holdout is for you!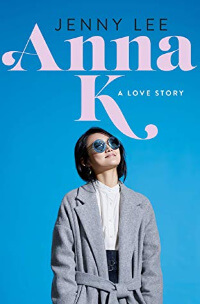 Anna K by Jenny Lee
Fiction – Young Adult (Release Date: January 14, 2020)
400 Pages
Average Goodreads Rating: 3.89 on 81 ratings
Selected By: Camille Perri (author of When Katie Met Cassidy)
Meet Anna K. At seventeen, she is at the top of Manhattan and Greenwich society (even if she prefers the company of her horses and Newfoundland dogs); she has the perfect (if perfectly boring) boyfriend, Alexander W.; and she has always made her Korean-American father proud (even if he can be a little controlling). Meanwhile, Anna's brother, Steven, and his girlfriend, Lolly, are trying to weather an sexting scandal; Lolly's little sister, Kimmie, is struggling to recalibrate to normal life after an injury derails her ice dancing career; and Steven's best friend, Dustin, is madly (and one-sidedly) in love with Kimmie.

As her friends struggle with the pitfalls of ordinary teenage life, Anna always seems to be able to sail gracefully above it all. That is…until the night she meets Alexia "Count" Vronsky at Grand Central. A notorious playboy who has bounced around boarding schools and who lives for his own pleasure, Alexia is everything Anna is not. But he has never been in love until he meets Anna, and maybe she hasn't, either. 
My Thoughts:
Anna K is a YA romance that is the first novel in a series (the second installment, Anna K Away, is coming in 2021) and has been optioned for TV by HBO Max (and I think it would make fantastic TV). It's being billed as a reimagining of the classic novel, Anna Karenina, but also as "Crazy Rich Asians meets Gossip Girl." I haven't read Anna Karenina, but I have read Anna K and I think the "Crazy Rich Asians meets Gossip Girl" comparison is accurate…with some serious Chuck Bass vibes. There's a lot of NYC glitz, drugs, beautiful people, and partying. Though you do have to suspend belief at times and there is a lot of YA slang, it's a super fun and easy read (y'all know I don't normally read YA). I was rooting so hard for Anna and Vronsky…but, I was frustrated by the ending (luckily, an ending I don't like doesn't kill a book for me). Excellent pick for fans of last year's American Royals (my review). Plus, Grace Atwood from the Bad on Paper Podcast loved it!
The Girl With the Louding Voice by Abi Dare
Literary Fiction (Release Date: February 4, 2020)
384 Pages
Average Goodreads Rating: 4.45 on 71 ratings
Selected By: Siobhan Jones (Book of the Month Editorial Director)
Adunni is a fourteen-year-old Nigerian girl who knows what she wants: an education. This, her mother has told her, is the only way to get a "louding voice"–the ability to speak for herself and decide her own future. But instead, Adunni's father sells her to be the third wife of a local man who is eager for her to bear him a son and heir.

When Adunni runs away to the city, hoping to make a better life, she finds that the only other option before her is servitude to a wealthy family. As a yielding daughter, a subservient wife, and a powerless slave, Adunni is told, by words and deeds, that she is nothing.
My Thoughts:
Dare grew up in Lagos, Nigeria, so this is an #ownvoices novel…in addition to being Dare's debut. Adunni's voice has been called "idiosyncratic and powerful" and supposedly she does not use proper English grammar when she speaks (some Goodreads reviewers said this takes some getting used to, but most said they eventually settled into it). This story was inspired by Dare's 8 year old daughter (the traditional age many Nigerian girls are sold into domestic servitude) and how her life could've turned out under different circumstances. Goodreads reviewers said that Adunni is a great main character, the story deals with gender roles and class, and that it's a difficult, but hopeful read. Katie at @katieneedsabiggerbookshelf said it "had a little bit of A Woman Is No Man, a little bit of Hum If You Don't Know The Words, and a little bit of The Help." Also, it was blurbed by Imbolo Mbue (author of Behold the Dreamers) and Tara Conklin (author of The Last Romantics).
What Book of the Month February 2020 selection(s) will I choose?
Lots to get this month…in addition to You Are Not Alone, I'm adding on The Holdout (I want a hard copy to photograph for Instagram!) and Anna K (ditto The Holdout)!
Make your Book of the Month selections by Thursday, February 6th.
What book will you choose this month?
This Month's Special Deals
NEW MEMBER DEAL: Get your first book for $9.99 with Code HEART (enter at checkout).
ANNUAL PAYMENT DEAL: BOTM is now a monthly subscription service. However, given that some members preferred paying upfront, they are now offering a 12-month option. Members who sign up for 12 months will pay $149.99/year. That's $12.50/book, instead of the standard price of $14.99/month.
How to Join Book of the Month…
Book of the Month is a subscription service for people who like to try new books from a curated selection and like to read in hardcover format. Through Book of the Month, you can get a hardcover book for generally significantly less than you'd pay in a bookstore or through Amazon. And, you get to try something new that has been vetted by one of Book of the Month's well-read judges!
Sign up for any of the subscription plans below and you get to choose one of five books selected by Book of the Month's panel of judges (including a surprise guest judge). Book of the Month will then mail your chosen book to your house with a cute note. You also have the option to purchase additional books for $9.99 each and to skip a month if you want.
Sign up for a Book of the Month membership (NEW pricing below)!
New members will sign up for a membership that renews monthly:
A book of your choice for $14.99 / month
Add extra books to your shipment for $9.99 each
Skip any month you want
Free shipping, always
Pin this post…