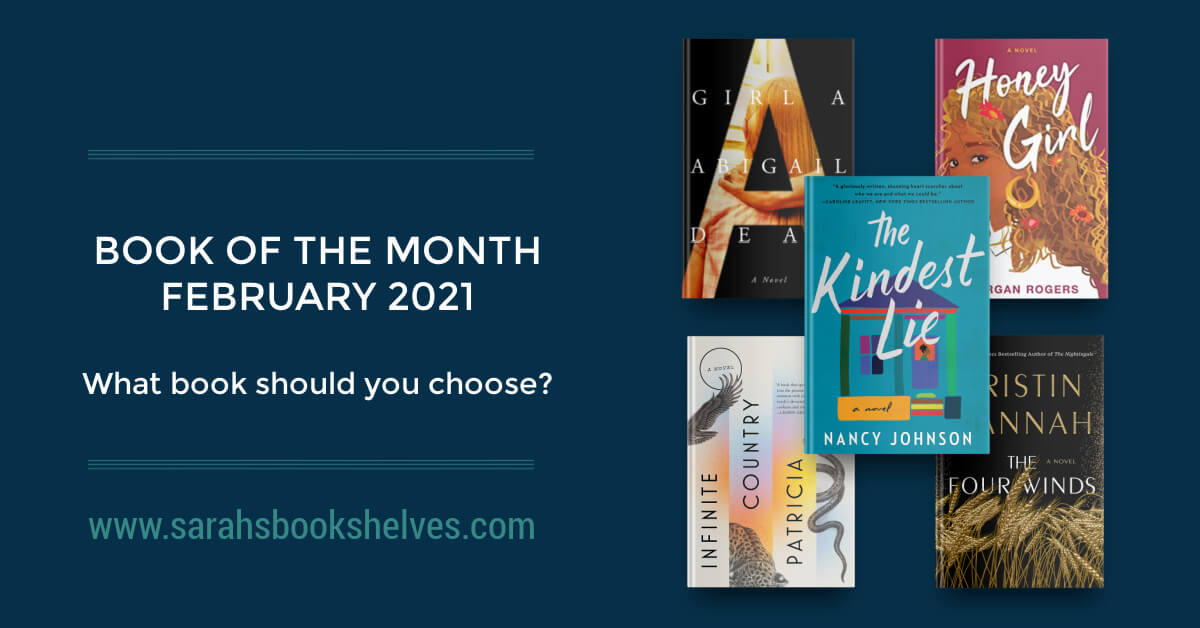 Welcome to my monthly feature "Book of the Month Selections: What Book Should You Choose?"! Every month, I provide commentary on the books that are chosen as that month's Book of the Month selections that will hopefully help you choose your pick, and tell you which book(s) I'm going to choose. 
I like this month's picks…mostly! There are 2 main picks I'm interested in (one I'm choosing for my box and one I'll keep on my radar and wait for some trusted sources to vet it) and I love the add-ons this month!
I want to call special attention to one add-on: The Bad Muslim Discount by Syed M. Masood. I loved this irreverently funny and deeply layered story of 2 Muslim immigrant families living in San Francisco. And, Syed will be a guest on Sarah's Bookshelves Live Podcast in early March!
This post contains affiliate links and I will be compensated if you make a purchase after clicking on my links, but I'm also a paying customer.
Book of the Month February 2021 Selections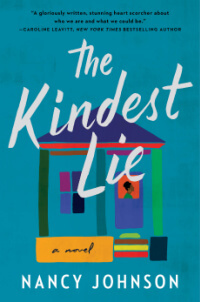 The Kindest Lie
by Nancy Johnson
Fiction (Release Date: February 2, 2021)
336 Pages
Average Goodreads Rating: 4.18 on 261 ratings
Recommended By: Jerrod MacFarlane (BOTM Editorial Team) 
It's 2008, and the rise of Barack Obama ushers in a new kind of hope. In Chicago, Ruth Tuttle, an Ivy-League educated black engineer, is married to a kind and successful man. He's eager to start a family, but Ruth is uncertain. She has never gotten over the baby she gave birth to—and abandoned—when she was a teenager. She had promised her family she'd never look back, but Ruth knows that to move forward, she must make peace with the past.

Returning home, Ruth discovers the Indiana factory town of her youth is plagued by unemployment, racism, and despair. While her family is happy to see her, they remind her of the painful sacrifices to give Ruth a shot at a better future—like the comfortable middle-class life she now enjoys.

Determined, Ruth begins digging into the past. As she uncovers burning secrets her family desperately wants to hide, she unexpectedly befriends Midnight, a young white boy who is also adrift and looking for connection. When a traumatic incident strains the town's already searing racial tensions, Ruth and Midnight find themselves on a collision course that could upend both their lives.
My Thoughts:
This debut, #OwnVoices novel is being marketed as to fans of Tayari Jones & Jacqueline Woodson. It tackles race, class, and police brutality…woven in with family secrets. Goodreads reviewers mentioned the story is told from multiple POV's (Ruth's and Midnight's), it will make you think, it would be great for book clubs, and it's fast-paced. On the flip side, some said the ending was too tidy, the storyline felt like it had been done before, and some of the family dynamics weren't explored as thoroughly as readers would have liked. @genthebookworm loved "how it covers so many topics (race, motherhood, class) while also being a character deep dive." She also said, "It's so layered and detailed and has enough depth while also keeping you guessing and trying to put together the pieces of the main characters' secret history." And, Tina from @tbretc (my #1 recommendation source of 2020) loved it and compared it to Saving Ruby King and An American Marriage. But, Susie from @novelvisits rated it 3 stars and said there were plots points that are too extreme and it's overly long. She also thought Johnson had to "work too hard to bring everything together." It was blurbed by Catherine Adel West (author of Saving Ruby King).
Girl A by Abigail Dean
Fiction – Mystery / Thriller (Release Date: February 2, 2021)
352 Pages
Average Goodreads Rating: 4.13 on 492 ratings
Recommended By: Paula Hawkins (author of The Girl on the Train)

Lex Gracie doesn't want to think about her family. She doesn't want to think about growing up in her parents' House of Horrors. And she doesn't want to think about her identity as Girl A: the girl who escaped, the eldest sister who freed her older brother and four younger siblings. It's been easy enough to avoid her parents–her father never made it out of the House of Horrors he created, and her mother spent the rest of her life behind bars. But when her mother dies in prison and leaves Lex and her siblings the family home, she can't run from her past any longer. Together with her sister, Evie, Lex intends to turn the House of Horrors into a force for good. But first she must come to terms with her siblings – and with the childhood they shared.
My Thoughts:
This debut novel is an extremely dark and is being compared to Room and Sharp Objects. There are trigger warnings for child abuse and neglect, but I hear you should be able to handle it if you could handle Room (probably avoid if you couldn't). Sibling dynamics play prominently in the story, which is interesting considering the author is an only child (part of what got her interested in sibling dynamics). Goodreads reviewers cautioned that Girl A is not a thriller, rather it's more of a character-driven, psychological family drama focused on trauma and its aftermath. They described it as disturbing, emotionally tough, and heart-breaking. They also said some of the children's experiences were kept vague and the jumping around in time was confusing. This book was won in a competitive auction and it getting a lot of hype. It will also be a limited TV series. Sally Hepworth (author of The Mother-in-Law) called it a "sure-fire bestseller."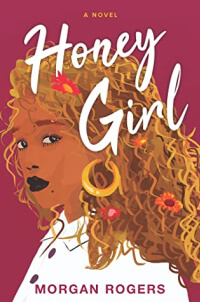 Honey Girl by Morgan Rogers
Fiction (Release Date: February 23, 2021)
304 Pages
Average Goodreads Rating: 4.34 on 147 ratings
Recommended By: Christina Lauren (Author of In a Holidaze)
With her newly completed PhD in astronomy in hand, twenty-eight-year-old Grace Porter goes on a girls' trip to Vegas to celebrate. She's a straight A, work-through-the-summer certified high achiever. She is not the kind of person who goes to Vegas and gets drunkenly married to a woman whose name she doesn't know…until she does exactly that.

This one moment of departure from her stern ex-military father's plans for her life has Grace wondering why she doesn't feel more fulfilled from completing her degree. Staggering under the weight of her father's expectations, a struggling job market and feelings of burnout, Grace flees her home in Portland for a summer in New York with the wife she barely knows.

In New York, she's able to ignore all the annoying questions about her future plans and falls hard for her creative and beautiful wife, Yuki Yamamoto. But when reality comes crashing in, Grace must face what she's been running from all along—the fears that make us human, the family scars that need to heal and the longing for connection, especially when navigating the messiness of adulthood.
My Thoughts:
This #OwnVoices, coming of age LGBTQ debut is being compared to Queenie. It addresses themes of millennial burnout and unemployment in a precarious economy. Goodreads reviewers overwhelmingly said the romance is not the focal point of this story (rather, the focal point is Grace's personal evolution and coming of age), there is a lot of Millennial angst, and the story deals with mental illness. They praised Rogers' stunning writing that made readers forget it was a debut. On the flip side, they said there were too many side characters (but readers did love the wide array of representation in those characters). Reviewers also said it was ultimately uplifting despite covering serious topics, but they wouldn't call it light and/or funny. It was named a Most Anticipated Book of 2021 by Oprah Magazine and blurbed by Christina Lauren, Jasmine Guillory, and Catherine Adel West.
Infinite Country by Patricia Engel
Fiction – Literary (Release Date: March 2, 2021)
208 Pages
Average Goodreads Rating: 4.43 on 81 ratings
Recommended By: Angie Cruz (Author of Dominicana)
At the dawn of the new millennium, Colombia is a country devastated by half a century of violence. Elena and Mauro are teenagers when they meet, their blooming love an antidote to the mounting brutality of life in Bogotá. Once their first daughter is born, and facing grim economic prospects, they set their sights on the United States.

They travel to Houston and send wages back to Elena's mother, all the while weighing whether to risk overstaying their tourist visas or to return to Bogotá. As their family expands, and they move again and again, their decision to ignore their exit dates plunges the young family into the precariousness of undocumented status, the threat of discovery menacing a life already strained. When Mauro is deported, Elena, now tasked with caring for their three small children, makes a difficult choice that will ease her burdens but splinter the family even further.
My Thoughts:
Colombian-American Engel's novel is small, but powerful. It deals with the struggle undocumented immigrant parents face between the adversity in their new country and the reasons why they left their home country…and not really feeling like they belong in either place. I've heard it's a tough read with trigger warnings for sexual assault. Goodreads reviewers said it's multi-generational, powerful, heart-breaking, that myths play a role, and it gets political. They also noted some perspective changes (Talia's siblings' perspectives are added) that didn't happen until well into the novel that were a bit confusing and that it's light on the dialogue. Morgan Hoit (@nycbookgirl) said it's one of her favorite novels she's ever read (note that Morgan works for Infinite Country's publisher and has been a guest on my podcast). It's also blurbed by Lauren Groff, Lisa Ko, and R.O. Kwon.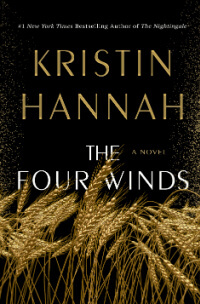 The Four Winds by Kristin Hannah
Fiction – Historical (Release Date: February 2, 2021)
464 Pages
Average Goodreads Rating: 4.34 on 1,346 ratings
Recommended By: Jessica Turner (Author of The Mom Creative)
Texas, 1934. Millions are out of work and a drought has broken the Great Plains. Farmers are fighting to keep their land and their livelihoods as the crops are failing, the water is drying up, and dust threatens to bury them all. One of the darkest periods of the Great Depression, the Dust Bowl era, has arrived with a vengeance.

In this uncertain and dangerous time, Elsa Martinelli—like so many of her neighbors—must make an agonizing choice: fight for the land she loves or go west, to California, in search of a better life.
My Thoughts:
I have to say that I'm in the minority with Kristin Hannah. So many people love her work, but it's just not my cup of tea (I thought The Nightingale was just okay and DNF'd The Great Alone). I have heard it's really emotional and a tear-jerker. So, let me share some other readers' opinions. Liz Hein (@lizisreading_) said it's "bleak and grim, but with an unforgettable female main character", @katieneedsabiggerbookshelf loved it, Alyssa Hertzig (@alyssaisbooked) loved it and said it's an "emotional page turner with a lot of interesting historical stuff," and Susie from @novelvisits really liked it ("great depiction of a family during the Depression Era and saw a lot of parallels between what we're living through now with the pandemic and what people had to live through during the Depression").  On the flip side, Catherine from Gilmore Guide to Books rated it 3 stars and said "this felt like a gritty (literally) romance novel and Hannah's reliance on melodrama is not to my taste."

What Book of the Month February 2021 selection(s) will I choose?
I'm getting The Kindest Lie as my main pick and adding on The Bad Muslim Discount and The Push (I've already read and loved both, both authors will be on the podcast, and I'm getting hard copies for my shelves and Instagram photos)!
Make your Book of the Month selections by Saturday, February 6th.
What book will you choose this month?
This Month's Special Deals
NEW MEMBER DEAL: Get your first book for $9.99 with Code FEBREADS (enter at checkout).
ANNUAL PAYMENT DEAL: BOTM is now a monthly subscription service. However, given that some members preferred paying upfront, they are now offering a 12-month option. Members who sign up for 12 months will pay $149.99/year. That's $12.50/book, instead of the standard price of $14.99/month.
How to Join Book of the Month…
Book of the Month is a subscription service for people who like to try new books from a curated selection and like to read in hardcover format. Through Book of the Month, you can get a hardcover book for generally significantly less than you'd pay in a bookstore or through Amazon. And, you get to try something new that has been vetted by one of Book of the Month's well-read judges!
Sign up for any of the subscription plans below and you get to choose one of five books selected by Book of the Month's panel of judges (including a surprise guest judge). Book of the Month will then mail your chosen book to your house with a cute note. You also have the option to purchase additional books for $9.99 each and to skip a month if you want.
Sign up for a Book of the Month membership (NEW pricing below)!
New members will sign up for a membership that renews monthly:
A book of your choice for $14.99 / month
Add extra books to your shipment for $9.99 each
Skip any month you want
Free shipping, always
Pin this post…