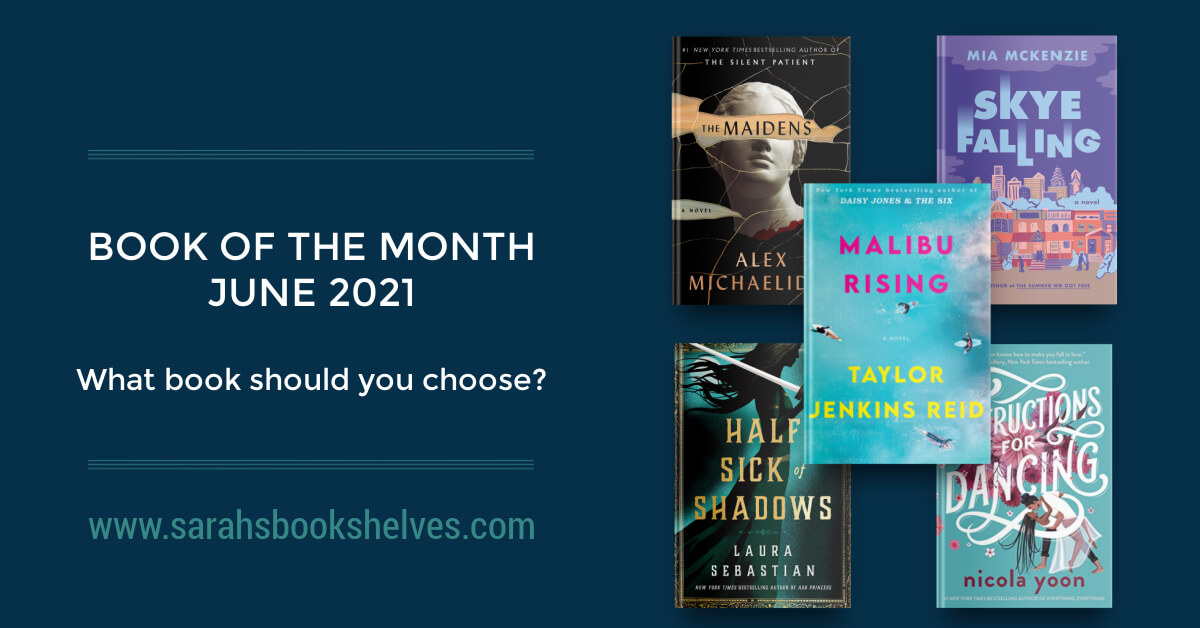 Welcome to my monthly feature "Book of the Month Selections: What Book Should You Choose?"! Every month, I provide commentary on the books that are chosen as that month's Book of the Month selections that will hopefully help you choose your pick, and tell you which book(s) I'm going to choose. 
This was an interesting month of picks…two big name books and three more genre-esque choices. I'd actually already pre-ordered the one book I would be interested in (and have already read and loved), so I'll be skipping this month (the genre-esque choices are not my cup of tea).
This post contains affiliate links and I will be compensated if you make a purchase after clicking on my links, but I'm also a paying customer.
Book of the Month June 2021 Selections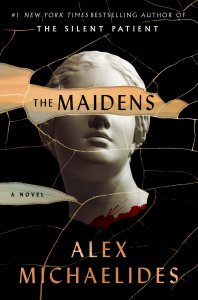 The Maidens
by Alex Michaelides
Fiction – Thriller (Release Date: June 15, 2021)
352 Pages
Average Goodreads Rating: 3.82 on 1,670 ratings
Recommended By: Lucy Foley (Author of The Guest List)
Edward Fosca is a murderer. Of this Mariana is certain. But Fosca is untouchable. A handsome and charismatic Greek Tragedy professor at Cambridge University, Fosca is adored by staff and students alike—particularly by the members of a secret society of female students known as The Maidens.

Mariana Andros is a brilliant but troubled group therapist who becomes fixated on The Maidens when one member, a friend of Mariana's niece Zoe, is found murdered in Cambridge.

Mariana, who was once herself a student at the university, quickly suspects that behind the idyllic beauty of the spires and turrets, and beneath the ancient traditions, lies something sinister. And she becomes convinced that, despite his alibi, Edward Fosca is guilty of the murder. But why would the professor target one of his students? And why does he keep returning to the rites of Persephone, the maiden, and her journey to the underworld?
My Thoughts:
This is the Sophomore novel by the author of The Silent Patient (the 2019 runaway bestselling psychological thriller), which is going to be a hard act to follow. The Goodreads reviews are mixed so far. Reviewers said it involves psychology and Greek mythology (which seems to be a 2021 trend?!), is atmospheric and has a sense of foreboding. They said it's a slow burn, but is readable and has short chapters. The major gripes among more critical reviewers are that it's lacking the "burn" part of "slow burn," it lacks plot and emotional tension, the twists are less surprising than in The Silent Patient, and the ending is rushed. Tina from TBR, etc (my #1 recommendation source from 2020 and co-host of the brand new podcast, Book Talk, etc.) rated it 4 stars and compared it to The Secret History (one of my all-time favorite books). She said there are lots of twists, but the ending makes sense and she liked the campus setting and a tie-in to The Silent Patient. She agreed with many Goodreads reviewers who said it was a slow burn and described it as "more psychological suspense than thriller."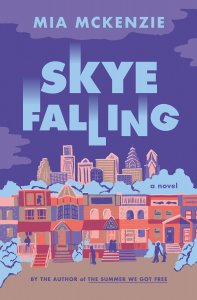 Skye Falling by Mia McKenzie
Fiction (Release Date: June 22, 2021)
320 Pages
Average Goodreads Rating: 4.24 on 38 ratings
Recommended By: Sarah Beauchamp (Writer & Founder, Mad Dyke)

Twenty-six and broke, Skye didn't think twice before selling her eggs and happily pocketing the cash. Now approaching forty, Skye moves through life entirely–and unrepentantly–on her own terms, living out of a suitcase and avoiding all manner of serious relationships. Her personal life might be a mess, and no one would be surprised if she died alone in a hotel room, but at least she's free to do as she pleases. But then a twelve-year-old girl shows up during one of Skye's brief visits to her hometown of Philadelphia, and tells Skye that she's "her egg." Skye's life is thrown into sharp relief and she decides that it might be time to actually try to have a meaningful relationship with another human being. Spoiler alert: It's not easy.

Things gets even more complicated when Skye realizes that the woman she tried and failed to pick up the other day is the girl's aunt and now it's awkward. All the while, her brother is trying to get in touch, her problematic mother is being bewilderingly kind, and the West Philly pool halls and hoagie shops of her youth have been replaced by hipster cafes.
My Thoughts:
Mia McKenzie is the author of The Summer We Got Free, which won a LAMBDA Award for the best lesbian, gay, bisexual, and transgender books. The synopsis for this #ownvoices novel feels really muddled to me…I'm still not sure what it's truly about (and one Goodreads reviewer mentioned that this is a hard book to fit neatly into a publisher's synopsis)?! Goodreads reviewers said it has powerful messages about race and gentrification, explores friends and family, has a nuanced protagonist (who some described as unlikable at times, but also endearing), has great side characters, has a bit of romance (but as a side to the main story), has a funny writing style and a bit of sweetness. Taylor Jenkins Reid called it "razor sharp and outrageously funny."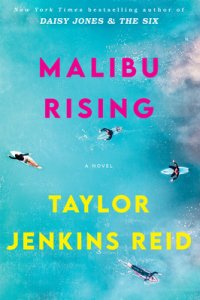 Malibu Rising by Taylor Jenkins Reid
Fiction (Release Date: June 1, 2021)
384 Pages
Average Goodreads Rating: 4.28 on 3,156 ratings
Recommended By: Chelsea Handler (Author of Life Will Be the Death of Me)
Malibu: August 1983. It's the day of Nina Riva's annual end-of-summer party, and anticipation is at a fever pitch. Everyone wants to be around the famous Rivas: Nina, the talented surfer and supermodel; brothers Jay and Hud, one a championship surfer, the other a renowned photographer; and their adored baby sister, Kit. Together the siblings are a source of fascination in Malibu and the world over–especially as the offspring of the legendary singer Mick Riva.

By midnight the party will be completely out of control. By morning, the Riva mansion will have gone up in flames. But before that first spark in the early hours before dawn, the alcohol will flow, the music will play, and the loves and secrets that shaped this family's generations will all come bubbling to the surface.
My Thoughts:
This story set in 1980's Malibu perfectly balances substance with glamour and fun. I fell in love with the Riva children and desperately wanted things to work out for each of them. The story is told through dual timelines: present-day "24-style" narrative focused on the day of the party and flashbacks to the Riva parents' relationship and the kids' childhood. The old-school Malibu surf culture comes alive, creating a romantic setting. This novel was one of my most immersive and pleasurable reading experiences this year…unquestionably 5 stars and one of my favorite books of 2021 so far! If you need some corroboration: Ashley Spivey, Tina from @tbretc, Katie from @katieneedsabiggerbookshelf, Annie Jones, and Carla from @HappiestWhenReading also loved it.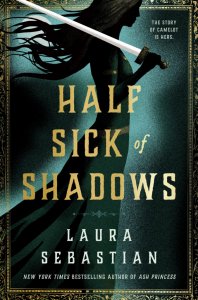 Half of Sick Shadows by Laura Sebastian
Fiction – "Arthurian" Fantasy (Release Date: July 6, 2021)
448 Pages
Average Goodreads Rating: 4.24 on 34 ratings
Recommended By: Brianna Goodman (BOTM Editorial Team)
The Lady of Shalott reclaims her story in this bold feminist reimagining of the Arthurian myth from the New York Times bestselling author of Ash Princess.

Everyone knows the legend. Of Arthur, destined to be a king. Of the beautiful Guinevere, who will betray him with his most loyal knight, Lancelot. Of the bitter sorceress, Morgana, who will turn against them all. But Elaine alone carries the burden of knowing what is to come–for Elaine of Shalott is cursed to see the future.

On the mystical isle of Avalon, Elaine runs free and learns of the ancient prophecies surrounding her and her friends–countless possibilities, almost all of them tragic.

When their future comes to claim them, Elaine, Guinevere, Lancelot, and Morgana accompany Arthur to take his throne in stifling Camelot, where magic is outlawed, the rules of society chain them, and enemies are everywhere. Yet the most dangerous threats may come from within their own circle.

As visions are fulfilled and an inevitable fate closes in, Elaine must decide how far she will go to change fate–and what she is willing to sacrifice along the way.
My Thoughts:
Half of Sick Shadows (Sebastian's adult debut) re-tells a classic story from a feminist perspective, which has been a growing trend over the past few years. Sebastian started writing the first draft of this novel at age 17 after reading Tennyson's The Lady of Shalott and finding it highly problematic. Goodreads reviews were a bit conflicting. Some people loved this book for some of the exact same reasons others didn't: some said timeline is confusing (jumps around between past, present, and future) while others said the jumping around completely worked. Some loved the writing style while others said it felt too YA (not that surprising given Sebastian's YA background). Reviewers also said it was heart-breaking and that there was a compelling push/pull between Elaine and her magic. Critical reviews also mentioned it being dense and slow…and some took issue with some character departures from the original.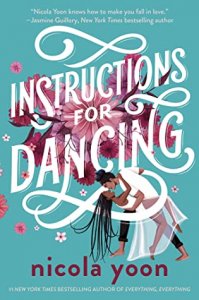 Instructions for Dancing by Nicola Yoon
Fiction – Young Adult / Romance (Release Date: June 1, 2021)
304 Pages
Average Goodreads Rating: 4.37 on 607 ratings
Recommended By: Syed M. Masood (Author of The Bad Muslim Discount)
#1 New York Times bestselling author of Everything, Everything and The Sun is Also a Star Nicola Yoon is back with her eagerly anticipated third novel. With all the heart and hope of her last two books, this is an utterly unique romance.

Evie Thomas doesn't believe in love anymore. Especially after the strangest thing occurs one otherwise ordinary afternoon: She witnesses a couple kiss and is overcome with a vision of how their romance began . . . and how it will end. After all, even the greatest love stories end with a broken heart, eventually.

As Evie tries to understand why this is happening, she finds herself at La Brea Dance studio, learning to waltz, fox-trot, and tango with a boy named X. X is everything that Evie is not: adventurous, passionate, daring. His philosophy is to say yes to everything–including entering a ballroom dance competition with a girl he's only just met.

Falling for X is definitely not what Evie had in mind. If her visions of heartbreak have taught her anything, it's that no one escapes love unscathed. But as she and X dance around and toward each other, Evie is forced to question all she thought she knew about life and love. In the end, is love worth the risk?
My Thoughts:
Another book with huge shoes to fill and this story includes a fantastical element. Goodreads reviewers called it bittersweet, heart-warming and heart-breaking, and emotional (tear-jerker). Yoon was dealing with some tough times in her personal life while writing this (included in her Afterward) and that shows in the tone of her writing. They also said it's almost about Evie's personal journey more than the romance itself…about healing from heart-break. They loved the dancing backdrop, but said some parts felt rushed. It's blurbed by Jasmine Guillory. 
What Book of the Month June 2021 selection(s) will I choose?
Had I not already pre-ordered Malibu Rising, I would absolutely be getting that! But, since I did, I'll be skipping this month.
Make your Book of the Month selections by Sunday, June 6th.
What book will you choose this month?
This Month's Special Deals
NEW MEMBER DEAL: Get your first book for $9.99 with Code PACKABOOK (enter at checkout).
ANNUAL PAYMENT DEAL: BOTM is now a monthly subscription service. However, given that some members preferred paying upfront, they are now offering a 12-month option. Members who sign up for 12 months will pay $149.99/year. That's $12.50/book, instead of the standard price of $14.99/month.
How to Join Book of the Month…
Book of the Month is a subscription service for people who like to try new books from a curated selection and like to read in hardcover format. Through Book of the Month, you can get a hardcover book for generally significantly less than you'd pay in a bookstore or through Amazon. And, you get to try something new that has been vetted by one of Book of the Month's well-read judges!
Sign up for any of the subscription plans below and you get to choose one of five books selected by Book of the Month's panel of judges (including a surprise guest judge). Book of the Month will then mail your chosen book to your house with a cute note. You also have the option to purchase additional books for $9.99 each and to skip a month if you want.
Sign up for a Book of the Month membership (NEW pricing below)!
New members will sign up for a membership that renews monthly:
A book of your choice for $14.99 / month
Add extra books to your shipment for $9.99 each
Skip any month you want
Free shipping, always
Pin this post…