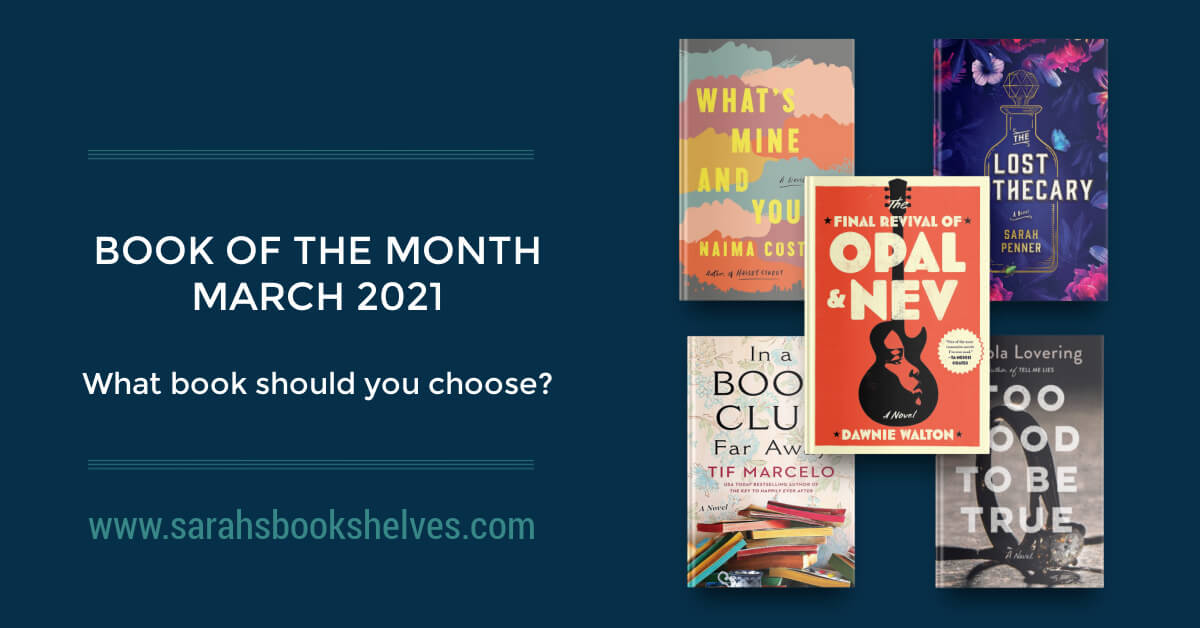 Welcome to my monthly feature "Book of the Month Selections: What Book Should You Choose?"! Every month, I provide commentary on the books that are chosen as that month's Book of the Month selections that will hopefully help you choose your pick, and tell you which book(s) I'm going to choose. 
I've read and liked 2 of this month's picks (and am 35% through a third)! And, I can't wait to read a third (which I'm choosing as my pick this month).
This post contains affiliate links and I will be compensated if you make a purchase after clicking on my links, but I'm also a paying customer.
Book of the Month March 2021 Selections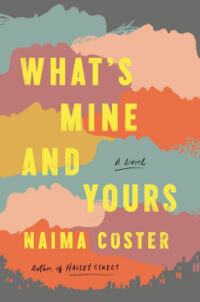 What's Mine and Yours
by Naima Coster
Fiction – Literary (Release Date: March 2, 2021)
352 Pages
Average Goodreads Rating: 4.17 on 87 ratings
Recommended By: Brianna Goodman (BOTM Editorial Team)
A community in the Piedmont of North Carolina rises in outrage as a county initiative draws students from the largely Black east side of town into predominantly white high schools on the west. For two students, Gee and Noelle, the integration sets off a chain of events that will tie their two families together in unexpected ways over the span of the next twenty years.
My Thoughts:
This character-driven, multi-generational story featuring two families who become intertwined through a school integration process (the school integration plays a smaller role in the story than I expected…it's more of a device to bring these two families together rather than the center of the story) begins a bit like interconnected short stories before evolving into a more traditional multiple POV / multiple timeline story. The writing is gorgeous and Coster commentates on race, class, prejudice, and gentrification through the lenses of a cast of characters I was invested in. Though I was more or less enjoying it through the first half, there wasn't anything pulling me back in each time I put it down. But, this changed as the story went on and I loved how she connected the dots at the end. A good pick for fans of An American Marriage and Ask Again, Yes (blurbed by Mary Beth Keane). I rated it 4 stars and Kailey at @KMC_Reads rated it 5 stars. I have also heard this will be the March #ReadwithJenna pick.

The Lost Apothecary by Sarah Penner
Fiction – Historical (Release Date: March 2, 2021)
320 Pages
Average Goodreads Rating: 4.06 on 1,071 ratings
Recommended By: Lidia Yuknavitch (author of Verge)

A female apothecary secretly dispenses poisons to liberate women from the men who have wronged them—setting three lives across centuries on a dangerous collision course

Rule #1: The poison must never be used to harm another woman.

Rule #2: The names of the murderer and her victim must be recorded in the apothecary's register.

One cold February evening in 1791, at the back of a dark London alley in a hidden apothecary shop, Nella awaits her newest customer. Once a respected healer, Nella now uses her knowledge for a darker purpose—selling well-disguised poisons to desperate women who would kill to be free of the men in their lives. But when her new patron turns out to be a precocious twelve-year-old named Eliza Fanning, an unexpected friendship sets in motion a string of events that jeopardizes Nella's world and threatens to expose the many women whose names are written in her register.

In present-day London, aspiring historian Caroline Parcewell spends her tenth wedding anniversary alone, reeling from the discovery of her husband's infidelity. When she finds an old apothecary vial near the river Thames, she can't resist investigating, only to realize she's found a link to the unsolved "apothecary murders" that haunted London over two centuries ago. As she deepens her search, Caroline's life collides with Nella's and Eliza's in a stunning twist of fate—and not everyone will survive.
My Thoughts:
This debut historical mystery is from the publisher of Saving Ruby King (Park Row Books). This is also the book I heard the most people say they hoped would be a March pick. Told in dual timelines, it it's about women fighting the patriarchy across time. Goodreads reviewers say it's not as dark as you would expect based on the premise (some said it's "feel-good" and "inspirational") and it's suspenseful and atmospheric. They said it's heavier on the historical fiction than the mystery and it has a tidy ending (but one that will get people talking). The publisher says it's for readers of The Night Circus and Kate Morton. @katieneedsabiggerbookshelf rated it 4 stars and said "Normally when I am reading a book with dual timelines I have one timeline I prefer and get excited to get back to. I have to say with this one, I didn't have a favorite! Both timelines and stories were so fascinating, every time it changed I was sad to leave the other storyline behind!" @happiestwhenreading also rated it 4 stars and said "Penner seamlessly weaves the two stories together and I flew through this book in less than a day!"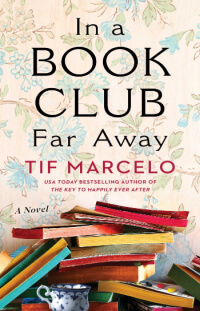 In a Book Club Far Away by Tif Marcelo
Fiction – Brain Candy (Release Date: April 6, 2021)
400 Pages
Average Goodreads Rating: 3.97 on 30 ratings
Recommended By: Claire Gibson (Author of Beyond the Point)
From the author of Once Upon a Sunset and The Key to Happily Ever After comes a heartwarming and moving novel following three Army wives—estranged friends—who must overcome their differences when one of them is desperate for help.
My Thoughts:
Tif Marcelo is a veteran Army nurse whose husband is in the military. She's known for writing about "the strength of families, the endurance of friendship, [and] heartfelt romances." Goodreads reviewers called it adorable and heart-warming. They mentioned its dual timelines (present day and 2011-2012) and rushed ending. They said it gives good perspective of what it's like to be the spouse of someone in the military, the three friends are very different people with different backgrounds, and that readers will get get some book recommendations (each chapter involves a different book the club chose to read). On the flip side, some reviewers said the writing was lacking. Y'all know I won't be picking this one (i.e. "adorable, heart-warming")!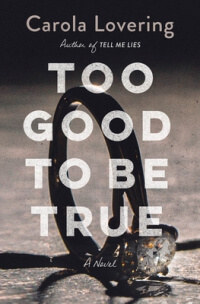 Too Good to Be True by Carola Lovering
Fiction – Thriller (Release Date: March 2, 2021)
352 Pages
Average Goodreads Rating: 4.06 on 575 ratings
Recommended By: Anna Pitoniak (Author of Necessary People) – UPDATE
Skye Starling is overjoyed when her boyfriend, Burke Michaels, proposes after a whirlwind courtship. Though Skye seems to have the world at her fingertips―she's smart, beautiful, and from a well-off family―she's also battled crippling OCD ever since her mother's death when she was eleven, and her romantic relationships have suffered as a result.

But now Burke―handsome, older, and more emotionally mature than any man she's met before―says he wants her. Forever. Except, Burke isn't who he claims to be. And interspersed letters to his therapist reveal the truth: he's happily married, and using Skye for his own, deceptive ends.
My Thoughts:
I loved Lovering's debut novel, Tell Me Lies, and Too Good to Be True is a bit different, but almost as addictive. The premise of this story isn't new, but Lovering had me turning the pages quickly to find out how this tangled web would resolve itself! I recommend going in as blind as possible, but I will say that I loved that each character had shades of gray and that there was some exploration of class and privilege, cloaked in the guise of domestic suspense. I guessed one plot twist very early on (5%), but there was so much more to the story that it didn't ruin it for me. And, the key to it all, the ending did NOT have me rolling my eyes. I rated it 4 stars and so did Susie from @novelvisits! Also blurbed by Erica Katz (author of The Boys' Club).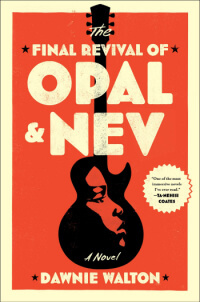 The Revival of Opal & Nev by Dawnie Walton
Fiction (Release Date: March 30, 2021)
368 Pages
Average Goodreads Rating: 4.10 on 135 ratings
Recommended By: Aly Raisman (Women's Gymnastics Olympic gold medalist and Advocate)
A poignant fictional oral history of the beloved rock 'n' roll duo who shot to fame in the 1970s New York, and the dark, fraught secret that lies at the peak of their stardom.
My Thoughts:
This debut, #ownvoices novel is by an author who is a journalist covering "identity, place, and the influence of pop culture." The story sounds like a bit of a mix of Daisy Jones & the Six (but, I hear this one is darker and more serious) and The Seven Husbands of Evelyn Hugo. I LOVE a good oral history, fictional or real (ex: Daisy Jones & the Six, Fantasticland, Live From New York, The Office). Goodreads reviewers said it takes the "fictional oral history" to a whole new level, the writing is amazing, there's a strong sense of the time period. They called it suspenseful, said it makes a point about race and privilege through this rock band, it feels like reading nonfiction (readers said the same thing about Daisy Jones & the Six), it's a bit of a slow burn in the beginning, it's literary and thoroughly entertaining at the same time. On the flip side, some reviewers said there are too many side stories and characters. It's blurbed by Jason Reynolds ("it does what every good book does: tells the truth. A truth that bangs. That shrieks.") and Ta-Nehisi Coates. I'm 35% through this one right now and am really liking it so far…it absolutely has a similar feel to Daisy Jones & the Six, but it's grittier. And, includes a social justice commentary element that wasn't in Daisy Jones & the Six.
What Book of the Month March 2021 selection(s) will I choose?
I'm getting The Revival of Opal & Nev because it sounds totally up my alley and I don't have a galley of it.
Make your Book of the Month selections by Saturday, March 6th.
What book will you choose this month?
This Month's Special Deals
NEW MEMBER DEAL: Get your first book for $9.99 with Code FEBREADS (enter at checkout).
ANNUAL PAYMENT DEAL: BOTM is now a monthly subscription service. However, given that some members preferred paying upfront, they are now offering a 12-month option. Members who sign up for 12 months will pay $149.99/year. That's $12.50/book, instead of the standard price of $14.99/month.
How to Join Book of the Month…
Book of the Month is a subscription service for people who like to try new books from a curated selection and like to read in hardcover format. Through Book of the Month, you can get a hardcover book for generally significantly less than you'd pay in a bookstore or through Amazon. And, you get to try something new that has been vetted by one of Book of the Month's well-read judges!
Sign up for any of the subscription plans below and you get to choose one of five books selected by Book of the Month's panel of judges (including a surprise guest judge). Book of the Month will then mail your chosen book to your house with a cute note. You also have the option to purchase additional books for $9.99 each and to skip a month if you want.
Sign up for a Book of the Month membership (NEW pricing below)!
New members will sign up for a membership that renews monthly:
A book of your choice for $14.99 / month
Add extra books to your shipment for $9.99 each
Skip any month you want
Free shipping, always
Pin this post…