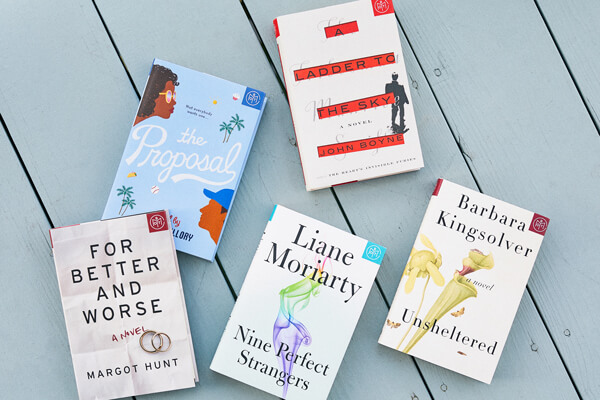 Welcome to my monthly feature "Book of the Month Selections: What Book Should You Choose?"! Every month, I provide commentary on the books that are chosen as that month's Book of the Month selections that will hopefully help you choose your pick, and tell you which book(s) I'm going to choose. AND, I provide you with the most up to date version of my Ultimate Guide to the Book of the Month Judges with free, downloadable template (below).
Well, phew! As soon as I read A Ladder to the Sky a few weeks ago, I knew my head would explode if it wasn't a November Book of the Month pick! Especially since it's by the author of Book of the Month's 2017 Book of the Year (The Heart's Invisible Furies). Thank you, Book of the Month, for keeping my head intact and not completely going off the rails by ignoring this one!
Choose the best Book of the Month selection for you every time!
Check out my fun new tool to help you pick the best Book of the Month selection for your taste: my Ultimate Guide to the Book of the Month Judges and free, downloadable template to help you find your go-to BOTM judge!
Book of the Month November 2018 Selections
For Better and Worse by Margot Hunt
Release Date: December 11, 2018
336 Pages
Average Goodreads Rating: 4.06 on 215 ratings
Selected By: Siobhan Jones (Book of the Month Editorial Director)

When they fell in love back in law school, Natalie and Will Clarke joked that they were so brilliant, together they could plan the perfect murder. After fifteen rocky years of marriage, they had better hope they're right.

Their young son Jacob's principal is accused of molesting a troubled student. It's a horrifying situation—and the poison spreads rapidly. One night before bed, Jacob tells Natalie he is a victim, too. In that moment, her concept of justice changes forever. Natalie decides the predator must die.
My Thoughts:
For Better and Worse is Hunt's sophomore novel and your obligatory psychological thriller for this month. Goodreads reviewers said the premise is clever, it's fast-paced (although a few reviewers disagreed, calling it slow), and it's well-written. Others mentioned they kept zoning out and that Nat and Will aren't super likable. People also seem divided about the ending, mentioning it's somewhat unrealistic. The Goodreads reviews are mostly 4 stars and above or 2 stars and below (there are very few 3 star reviews), making me think this could be a "love it or hate it" kind of book. Hunt has some big name author blurbs (Alafair Burke, Amy Engel, Peter Swanson), but they are all for her debut novel, Best Friends Forever, which is a little worrisome. Where are the author blurbs for this novel??
The Proposal by Jasmine Guillory
Release Date: October 30, 2018
336 Pages
Average Goodreads Rating: 3.9 on 551 ratings
Selected By: Helen Hoang (Author of The Kiss Quotient)

When someone asks you to spend your life with him, it shouldn't come as a surprise–or happen in front of 45,000 people.

When freelance writer Nikole Paterson goes to a Dodgers game with her actor boyfriend, his man bun, and his bros, the last thing she expects is a scoreboard proposal. Saying no isn't the hard part–they've only been dating for five months, and he can't even spell her name correctly. The hard part is having to face a stadium full of disappointed fans…

At the game with his sister, Carlos Ibarra comes to Nik's rescue and rushes her away from a camera crew. He's even there for her when the video goes viral and Nik's social media blows up–in a bad way.
My Thoughts:
Guillory's debut novel, The Wedding Date, was super popular (though, I DNF'd it at 22%) and The Proposal continues her theme of rom-com style romance / chick-lit hybrids with diverse characters. The Proposal a companion novel (but, not a sequel) to The Wedding Date. The main characters are different (though two characters from The Wedding Date do make appearances in The Proposal) and I hear you can absolutely read The Proposal without reading The Wedding Date. Tara at Running N Reading (one of my trusted recommendations sources) liked it, but didn't love it as much as The Wedding Date. She said it was slower and didn't feel quite as exciting, but thought readers who liked The Wedding Date would still like this one. Both Liberty and Rebecca from Book Riot's All the Books podcast loved it. Goodreads reviewers said it's cute, sweet, and deals with empowerment and friendship. They also lamented the cliched writing and dialogue and weren't buying the chemistry between Nik and Carlos.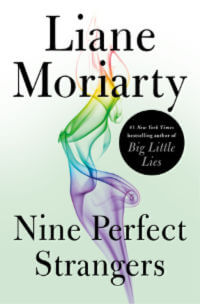 Nine Perfect Strangers by Liane Moriarty
Release Date: November 6, 2018
464 Pages
Average Goodreads Rating: 3.7 on 3,832 ratings
Selected By: Rosie Walsh (Author of Ghosted)

Could ten days at a health resort really change you forever? In Liane Moriarty's latest page-turner, nine perfect strangers are about to find out…

Nine people gather at a remote health resort. Some are here to lose weight, some are here to get a reboot on life, some are here for reasons they can't even admit to themselves. […] But none of them could imagine just how challenging the next ten days are going to be.

Frances Welty, the formerly best-selling romantic novelist, arrives at Tranquillum House nursing a bad back, a broken heart, and an exquisitely painful paper cut. […] But the person that intrigues her most is the strange and charismatic owner/director of Tranquillum House. Could this person really have the answers Frances didn't even know she was seeking? Should Frances put aside her doubts and immerse herself in everything Tranquillum House has to offer – or should she run while she still can?
My Thoughts:
Liane Moriarty doesn't need much of an introduction. However, I am one of the few that is not on her bandwagon (all the mommy politics…more details here). Annie Jones of From the Front Porch podcast said not to worry…that Moriarty fans that were disappointed with Truly Madly Guilty will probably like this one (she rated it 4 stars)! Kelly Massry said the first half is mostly getting to know the characters (but, they're interesting!) and the action really took off in the second half. Goodreads reviewers liked the witty and sly writing (which pokes fun at the wellness / self-improvement industry), the relatable characters that really make this story, how it deals with the way we connect with each other, and how it really takes off in the second half. However, some said the ending is anti-climactic, while others said it's far-fetched.
A Ladder to the Sky by John Boyne
Release Date: November 13, 2018
384 Pages
Average Goodreads Rating: 4.2 on 1,089 ratings
Selected By: Liberty Hardy (co-host of Book Riot's All the Books podcast)

Maurice Swift is handsome, charming, and hungry for success. The one thing he doesn't have is talent – but he's not about to let a detail like that stand in his way. After all, a would-be writer can find stories anywhere. They don't need to be his own.

Moving from the Amalfi Coast, where he matches wits with Gore Vidal, to Manhattan and London, Maurice hones his talent for deceit and manipulation, preying on the talented and vulnerable in his cold-blooded climb to the top. But the higher he climbs, the further he has to fall…
My Thoughts:
Y'all know how much I loved Boyne's 2017 novel, The Heart's Invisible Furies
(my review). Well, I also 5 star-loved A Ladder to the Sky. BUT, I have to caution HIF lovers…just because you loved HIF doesn't mean you'll automatically love this one (even though I did). A Ladder to the Sky is much darker and more messed up than HIF. And, Maurice is incredibly dislikable (but, deliciously dislikable in my opinion)…and reminded me a bit of a Herman Koch character (the kind that has no problem saying very settling things that most people would never say aloud). I loved the structure (each section is told from the perspective of someone Maurice meets/manipulates on his quest for literary fame), the focus on the publishing world's dark underbelly, and Boyne's writing (which is reminiscent of HIF). I know some people who didn't like this one…mostly because they expected something similar to HIF. Let me warn you again…this one is very different. Make sure you like dark, twisted stories and aren't turned off by dislikable characters before picking this up!
Unsheltered by Barbara Kingsolver
Release Date: October 16, 2018
480 Pages
Average Goodreads Rating: 3.8 on 874 ratings
Selected By: Brianna Goodman (Book of the Month Editorial Team)

Unsheltered is the story of two families, in two centuries, who live at the corner of Sixth and Plum, as they navigate the challenges of surviving a world in the throes of major cultural shifts.
My Thoughts:
I've been waffling over whether to try Kingsolver's latest novel. I think I'd love the dysfunctional family story and the writing, but I'm worried about the complicated dual narrative, keeping track of the many characters, its political nature, and its somewhat slow pace. Annie Jones of From the Front Porch podcast loved it (5 stars) despite worrying it would be too slow for her. Catherine at Gilmore Guide to Books (my book twin!) loved it as well and said, "Yes, she draws on politics, but at its heart Unsheltered is a novel of family, aging, relationships, and society." Goodreads reviewers preferred one narrative over the other (although there wasn't consistency about which narrative people preferred!) and said Kingsolver is heavy-handed and unnatural with the many political issues she addresses. Some called it preachy and tiresome…and some who loved her previous novels were disappointed with this one. The overall feeling I got from the Goodreads reviews was that you'll like it if you don't mind overt political agendas in your fiction and you'll be turned off if you don't.
What Book of the Month Club November 2018 selection(s) will I choose?
I'm choosing A Ladder to the Sky! I've already read and loved it, but want a hard copy for my shelves.
Make your Book of the Month selections by Tuesday, November 6th.
What book will you choose this month?
This Month's Special Deals
NEW MEMBER DEAL: Anyone who purchases a new BOTM subscription will get a credit for a free book! Use code FRIENDSGIVING.
ANNUAL PAYMENT DEAL: BOTM is now a monthly subscription service. However, given that some members preferred paying upfront, they are now offering a 12-month option. Members who sign up for 12 months will pay $149.99/year. That's $12.50/book, instead of the standard price of $14.99/month.
How to Join Book of the Month…
Book of the Month is a subscription service for people who like to try new books from a curated selection and like to read in hardcover format. Through Book of the Month, you can get a hardcover book for generally significantly less than you'd pay in a bookstore or through Amazon. And, you get to try something new that has been vetted by one of Book of the Month's well-read judges!
Sign up for any of the subscription plans below and you get to choose one of five books selected by Book of the Month's panel of judges (including a surprise guest judge). Book of the Month will then mail your chosen book to your house with a cute note. You also have the option to purchase additional books for $9.99 each and to skip a month if you want.
Sign up for a Book of the Month membership (NEW pricing below)!
New members will sign up for a membership that renews monthly:
A book of your choice for $14.99 / month
Add extra books to your shipment for $9.99 each
Skip any month you want
Free shipping, always
Support Sarah's Book Shelves on Patreon!
(and get personalized book recommendations and access to our private Facebook Group)