Welcome to my monthly feature "Book of the Month Selections: What Book Should You Choose?"! Every month, I provide commentary on the books that are chosen as that month's Book of the Month selections that will hopefully help you choose your pick, and tell you which book(s) I'm going to choose. 
I'm back after a couple months off from this commentary (for an explanation of why I took a few months off, please see this Instagram post for why I paused my coverage and this Instagram post for why I'm now resuming it).
I don't love this month's picks and am going to skip. I think this is a combination of November (and December) always being relatively slow months for publishing and this November being very slow in particular because of the election. However, I would've liked to see a nonfiction pick for Nonfiction November.
I don't normally comment on the add-ons, but I have read and really liked one of them this month. I talked about White Ivy by Susie Yang in the Fall 2020 Book Preview podcast, so I do recommend this one as an add-on!
This post contains affiliate links and I will be compensated if you make a purchase after clicking on my links, but I'm also a paying customer.
Book of the Month November 2020 Selections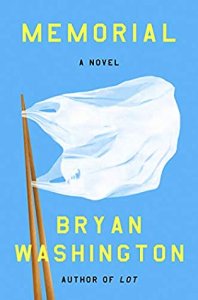 Memorial
by Bryan Washington
Fiction – Literary (Release Date: October 27, 2020)
320 Pages
Average Goodreads Rating: 4.07 on 324 ratings
Recommended By: Katie Kitamura (author of A Separation and Intimacies – out in May)
A funny, sexy, profound dramedy about two young people at a crossroads in their relationship and the limits of love.

Benson and Mike are two young guys who live together in Houston. Mike is a Japanese American chef at a Mexican restaurant and Benson's a Black day care teacher, and they've been together for a few years — good years — but now they're not sure why they're still a couple. 

But when Mike finds out his estranged father is dying in Osaka just as his acerbic Japanese mother, Mitsuko, arrives in Texas for a visit, Mike picks up and flies across the world to say goodbye. In Japan he undergoes an extraordinary transformation, discovering the truth about his family and his past. Back home, Mitsuko and Benson are stuck living together as unconventional roommates, an absurd domestic situation that ends up meaning more to each of them than they ever could have predicted. 
My Thoughts:
Memorial is the GMA Book Club pick for November and Bryan Washington is a repeat author of BOTM (Lot: Stories was a pick a couple years ago). The story is told in 3 parts (Benson living in Texas with Mike's Mom, Mike in Japan, and Benson and Mike together) and is very character-driven and slow-moving. Unfortunately, I DNF'd it at 40%. While I liked the subtleness of the first section focusing on Benson living with Mike's mom, I got bored after awhile. And, when Part 2 began with many new characters (focusing on Mike's time in Japan), I had a hard time staying invested. Susie from Novel Visits gave it a C+ and said "Uneasy. That's the single best word I can think of for how Memorial by Bryan Washington made me feel." She also said the writing was strong, but that the characters were not likable and it was a "deeply unhappy" story. On the flip side, Jordan from @jordys.book.club rated it 5 stars and called it "a complicated, complex story of relationships that absolutely blew me away." Note: this book also does not use quotation marks for dialogue.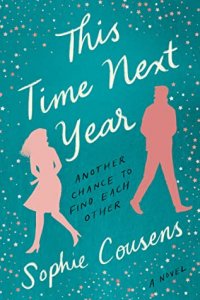 This Time Next Year by Sophie Cousins
Fiction – Brain Candy (Release Date: December 1, 2020)
352 Pages
Average Goodreads Rating: 4.23 on 1,020 ratings
Recommended By: Josie Silver (author of One Day in December and The Two Lives of Lydia Byrd)

Their lives began together, but their worlds couldn't be more different. After thirty years of missed connections, they're about to meet again…

Minnie Cooper knows two things with certainty: that her New Year's birthday is unlucky, and that it's all because of Quinn Hamilton, a man she's never met. Their mothers gave birth to them at the same hospital just after midnight on New Year's Day, but Quinn was given the cash prize for being the first baby born in London in 1990—and the name Minnie was meant to have, as well. With luck like that, it's no wonder each of her birthdays has been more of a disaster than the one before.

When Minnie unexpectedly runs into Quinn at a New Year's party on their mutual thirtieth birthday, she sees only more evidence that fortune has continued to favor him. The gorgeous, charming business owner truly seems to have it all—while Minnie's on the brink of losing her pie-making company and her home. But if Quinn and Minnie are from different worlds, why do they keep bumping into each other? And why is it that each fraught encounter leaves them both wanting more?
My Thoughts:
This Time Next Year came out in October in the UK, so there are lots of reviews on Goodreads. There's a big focus on the New Year's holiday and themes of fate and the ripple effects of choices. Goodreads reviewers said it's not a romance, rather it's more about friendship and family. It's about class, spans multiple decades, has multiple POVs, and has a secondary plot revolving around mental health. They also liked the quirky side characters and snarky humor. On the flip side, they lamented the characters' questionable decision-making at times. 
Pretty Little Wife by Darby Kane
Fiction – Psychological Thriller  (Release Date: December 29, 2020)
416 Pages
Average Goodreads Rating: 4.28 on 99 ratings
Recommended By: Julie Clark (Author of The Last Flight)
Lila Ridgefield lives in an idyllic college town, but not everything is what it seems. Lila isn't what she seems.A student vanished months ago. Now, Lila's husband, Aaron, is also missing. At first these cases are treated as horrible coincidences until it's discovered the student is really the third of three unexplained disappearances over the last few years. The police are desperate to find the connection, if there even is one. Little do they know they might be stumbling over only part of the truth….

With the small town in an uproar, everyone is worried about the whereabouts of their beloved high school teacher. Everyone except Lila, his wife. She's definitely confused about her missing husband but only because she was the last person to see his body, and now it's gone.
My Thoughts:
Pretty Little Wife is this month's obligatory psychological thriller and it's also a debut. Also, according to the publisher, Darby Kane is a "pseudonym for a former trial attorney and current award-winning romantic suspense author." Let the guessing games begin! The publisher also recommends this book for fans of fans of Tarryn Fisher, Gilly Macmillan, and Liv Constantine. Strong. Goodreads reviewers noted that a popular crime podcast is involved in the story (is this a new trend in suspense novels?) and a bit of police procedural element. They liked the strong, but complex female protagonist and the fact that there are multiple mysteries to unravel. On the flip side, some mentioned that the pace is slightly slower than what you'd normally expect from a domestic thriller.
These Violent Delights by Chloe Gong
Fiction – Young Adult Historical Fantasy (Release Date: November 17, 2020)
464 Pages
Average Goodreads Rating: 4.26 on 388 ratings
Recommended By: Ruby Rose (Actress)
Perfect for fans of The Last Magician and Descendant of the Crane, this heart-stopping debut is an imaginative Romeo and Juliet retelling set in 1920s Shanghai, with rival gangs and a monster in the depths of the Huangpu River.

The year is 1926, and Shanghai hums to the tune of debauchery.

A blood feud between two gangs runs the streets red, leaving the city helpless in the grip of chaos. At the heart of it all is eighteen-year-old Juliette Cai, a former flapper who has returned to assume her role as the proud heir of the Scarlet Gang—a network of criminals far above the law. Their only rivals in power are the White Flowers, who have fought the Scarlets for generations. And behind every move is their heir, Roma Montagov, Juliette's first love…and first betrayal.

But when gangsters on both sides show signs of instability culminating in clawing their own throats out, the people start to whisper. Of a contagion, a madness. Of a monster in the shadows. As the deaths stack up, Juliette and Roma must set their guns—and grudges—aside and work together, for if they can't stop this mayhem, then there will be no city left for either to rule.
My Thoughts:
These Violent Delights is a debut novel and the first in a series, by an author who is a junior in college (wow!) and has relatives in Shanghai. It's also a retelling of Romeo and Juliet. Personally, this book hits 4 different elements that don't generally work for me (retellings, YA, historical, and fantasy). But, that's not to say they won't work for you! Goodreads reviewers said there's a heavy political element about Communism and Colonization, an LGBTQ element, and lots of trigger warnings (including violence). They liked the rival heirs skirting around each other dynamic and said the fantasy elements are not too over-the-top. The Goodreads reviews for this one are generally outstanding.
The Star-Crossed Sisters of Tuscany by Lori Nelson Spielman
Fiction – Contemporary (Release Date: November 17, 2020)
400 Pages
Average Goodreads Rating: 4.30 on 1,254 ratings
Recommended By: Yangsze Choo (Author of The Night Tiger)
A trio of second-born daughters set out to break the family curse that says they'll never find love on a whirlwind journey through the lush Italian countryside by New York Times bestseller Lori Nelson Spielman, author of The Life List.

Since the day Filomena Fontana cast a curse upon her sister more than two hundred years ago, not one second-born Fontana daughter has found lasting love. Some, like second-born Emilia, the happily-single baker at her grandfather's Brooklyn deli, claim it's an odd coincidence. Others, like her sexy, desperate-for-love cousin Lucy, insist it's a true hex. But both are bewildered when their great-aunt calls with an astounding proposition: If they accompany her to her homeland of Italy, Aunt Poppy vows she'll meet the love of her life on the steps of the Ravello Cathedral on her eightieth birthday, and break the Fontana Second-Daughter Curse once and for all.
My Thoughts:
This "happy" book hits Venice, Tuscany, and the Amalfi Coast and probably will make you want to travel to Italy. The story is centered around sister dynamics and generational family secrets. Goodreads reviewers said it's a bit of a love story, but not the love story is not the central focus. It's a delightful story about self-discovery and features an older female protagonist (Poppy). And, many reviewers mentioned the story making them cry, while also warming their hearts. Adriana Trigiani called it "a delicious modern fairytale" and Chanel Cleeton called it "a gorgeous blend of family, friendship, and love." 
What Book of the Month November 2020 selection(s) will I choose?
I'm skipping this month as I've already DNF'd the galley of the one book I was interested in.
Make your Book of the Month selections by Friday, November 6th.
What book will you choose this month?
This Month's Special Deals
NEW MEMBER DEAL: Get your first book for $9.99 with Code SAYBOOK (enter at checkout).
ANNUAL PAYMENT DEAL: BOTM is now a monthly subscription service. However, given that some members preferred paying upfront, they are now offering a 12-month option. Members who sign up for 12 months will pay $149.99/year. That's $12.50/book, instead of the standard price of $14.99/month.
How to Join Book of the Month…
Book of the Month is a subscription service for people who like to try new books from a curated selection and like to read in hardcover format. Through Book of the Month, you can get a hardcover book for generally significantly less than you'd pay in a bookstore or through Amazon. And, you get to try something new that has been vetted by one of Book of the Month's well-read judges!
Sign up for any of the subscription plans below and you get to choose one of five books selected by Book of the Month's panel of judges (including a surprise guest judge). Book of the Month will then mail your chosen book to your house with a cute note. You also have the option to purchase additional books for $9.99 each and to skip a month if you want.
Sign up for a Book of the Month membership (NEW pricing below)!
New members will sign up for a membership that renews monthly:
A book of your choice for $14.99 / month
Add extra books to your shipment for $9.99 each
Skip any month you want
Free shipping, always
Pin this post…