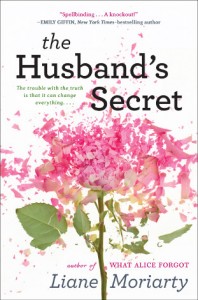 Fiction
Released July, 2013
Bottom Line: Skip it.
Link to this book on Amazon
Plot Summary of

The Husband's Secret

:

When Cecilia Fitzpatrick finds a letter from her husband to be opened "in the event of his death", her life and those of others in their Sydney community are thrown into upheaval.
My Thoughts on

The Husband's Secret

:
This book got so much hype this summer – it was a #1 "New York Times Bestseller" and was one of Amazon's "Best Books of the Month" for August 2013 – and was recommended by numerous other book blogs; however, it just didn't grab me like I expected. It was fine and I didn't have trouble getting through it, but it did not live up to all the hype.
Moriarty starts with three separate stories: Cecilia finding the letter from her husband, cousins Tess and Felicity O'Leary, and Rachel Crowley (whose daughter was murdered as a teenager). It takes her a long time to bring these stories together, so long that I had trouble keeping the characters straight as she was switching back and forth between threads in the beginning. Even though you know there will be some connection (otherwise, why are they included in the book??), the time it took Moriarty to make it annoyed me to the point where I couldn't enjoy the book!
I didn't particularly like any of the characters and Cecilia especially irritated me. She is one of those moms who is the President of every ridiculous committee at her child's school, hand makes the most amazing Halloween costume for her child every year, and is OCD-level organized (I started picturing Bree Van de Camp from "Desperate Housewives"). And, in an over the top cliche, Cecilia is a Tupperware saleswoman.
I understand the reader is probably supposed to roll her eyes at Cecilia and appreciate the irony that Mrs. Perfect's life is unraveling behind the scenes, but she was so grating that I couldn't muster up much empathy for her. I think one of the issues is Moriarty included a lot of "internal monologue" sections, particularly for Cecilia, which highlighted her irritating personality even more. Who wants to hear someone go on and on about her to do list and chastise herself repeatedly for forgetting something because "that's so unlike her"?
This is supposed to be a plot driven book, but the lack of likable characters and Cecilia's perfect mother and housewife facade bothered me so much that I couldn't really appreciate the plot twists (and, there are some good ones!). If you think this book would appeal to you based on the plot summary, I suggest trying the recommendations below instead.
You May Like:
Gone Girl by Gillian Flynn
Me Before You by JoJo Moyes