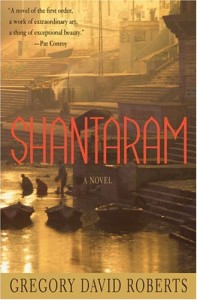 Shantaram: A Novel

by Gregory David Roberts, Fiction (Released September, 2004)
Bottom Line: Read it…but saddle up for a long one.
Summary: An Australian convict escapes maximum security prison to Bombay, where he finds friendship, love, and an unbelievable amount of adventure.
My Thoughts: The amazing thing about this book is that Lin's (the Australian escaped convict) experiences are said to be largely autobiographical, while the characters and dialogue are fiction. If even a quarter of the things that happened to this guy are true, it's one heck of a story that takes you to a Bombay slum, into the inner workings of a local Mafia Council, and to Afghanistan during the war with the Russians. Shantaram is a love letter to Bombay, but Roberts does not shy away from covering its dark side (corruption, squalor, a slave trade, drug culture, and an entrenched Mafia). He portrays the "dark side" elements almost with endearment…like they're offbeat quirks that add to the city's charm. Lin's lovable friend, Prabaker, steals the show with his hilarious broken English…I'm not sure if his humor is intentional or not, but it's funny nonetheless. My one criticism is that Roberts often waxes philosophical and the language he uses when writing these unnecessary sections is completely over the top. Shantaram is going on my Books for Guys and Time to Kill lists.