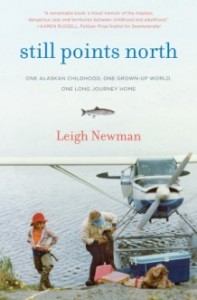 Still Points North: One Alaskan Childhood, One Grown-up World, One Long Journey Home

by Leigh Newman, Nonfiction – Memoir (Released March, 2013)
Bottom Line: Read it.
Summary: Following her parents' divorce, Leigh Newman spent her childhood splitting her time with her Dad in Alaska and her Mom in Baltimore before tackling early adulthood as a travel writer in New York City.
My Thoughts: I feel like I've been reading a lot of memoirs lately – but this one was fantastic! It has eccentric parents reminiscent of The Glass Castle by Jeannette Walls and outdoor adventures reminiscent of Wild by Cheryl Strayed – a great combination in my opinion! Leigh's Dad flies her in his seaplane to remote fishing spots in the Alaskan tundra to catch "mountains of salmon" (at age eight!), yet lives in a brand new house without any furniture. Her Mom is artsy and obsessed with her old Baltimore lineage and does not have any house rules or ask about Leigh's homework (much less make her actually do it). The combination of these eccentric personalities and the touching story of Leigh dealing with her parents' divorce makes for an enjoyably quirky and heartfelt book. Leigh tells her story in three parts. Part 1 focuses on her upbringing in Alaska and Baltimore and how she handles the divorce. I loved hearing about her life in Alaska – her Dad builds himself a smoker out of an old refrigerator and smokes their "mountains of salmon" in their driveway! The Top Chef judges would be very impressed. Part 2 starts out when Leigh is 26 and beginning her writing career (initially for a travel magazine). I liked this part a bit less than the first one – it's more about her struggle with what to make of her life and her commitment issues and focuses less on her Alaskan upbringing, which I think is the truly unique part of this book. Part 3 turned things back around – she meets a guy!  And, of course, struggles with how to navigate that relationship. I got completely sucked into the Leigh/Lawrence story and stayed up very late at night to see how it would end. Don't Google her before reading the book if you want to enjoy the suspense of this plot line! She writes about the relationship in a totally unique way (i.e. "somebody who isn't interested in traveling to eat wild boar isn't somebody I could fall in love with"). And this one: "you'd either come to Alaska one day and meet my family and suck the marrow out of a caribou bone (which no man had yet done). Or you wouldn't.". I also loved Lawrence, which caused me to get a bit frustrated with Leigh's decision-making at times, but it added drama to the story for sure. If you liked The Glass Castle and/or Wild, I think you'll like this one too! It's going on my Summer Reading 2013 list…and a future Memoirs list.