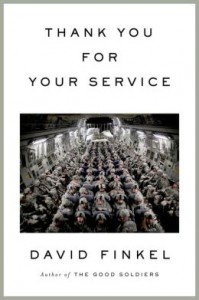 Nonfiction – War (Released October, 2013)
Bottom Line: Read it.
Link to this book on Amazon
Plot Summary:
An exploration of mental and emotional trauma facing soldiers returning from Iraq and Afghanistan and the military's efforts to curb this group's high suicide rate.
My Thoughts:
Thank You for Your Service was named one of the Best Nonfiction Books of the Year by Publishers Weekly and one of the Top 10 Books of the Year by the Washington Post…and I wholeheartedly agree. I won't say it's the best nonfiction book I've read this year (only because it doesn't beat The Boys in the Boat, which is my favorite nonfiction of 2013 so far), but it definitely claims the number two slot.
This is a heartbreaking and moving series of stories about various members of the 2-16 Infantry Battalion and their families dealing with Post Traumatic Stress Disorder (PTSD) and Traumatic Brain Injury (TBI) following war zone deployments. These men, even though they came home without a physical scratch, gave their lives as they and their families knew them to our country. The soldiers experience crippling anxiety and migraines, violent tendencies, depression, and memory loss. These effects cause immense pain and hardship for the soldiers' families, as they see their father/husband/brother turn into a completely different human being…and, in many cases, a monster…and the wives are generally left trying to hold the family together. One soldier's wife said of her husband's months long stay in a mental rehab center, "I'm pissed. […] He gets to go fishing. He gets to go out on weekends. […] I'm always here, taking care of everything. This is not why I got married and had kids, to do this on my own. I'd like to stay in a hospital for a couple of weeks. And sleep.".
TBI ("the signature wound of war", according to the military) is particularly relevant right now, as it is the same injury that football players have been suffering from and has been covered extensively in the media. While the football players' TBI is caused by repeated flows to the head, the soldiers' is caused by close proximity to repeated explosions.
Finkel's writing style is powerful and made the soldiers' situations seem very stark and real. He quickly switched back and forth between discussion of heavy feelings and emotions and mundane details of life. It reminded me of the sequence in the pilot episode of "Friday Night Lights" (the TV show) when the director cuts back and forth between scenes of Jason Street's spinal surgery and the football game going on simultaneously. Finkel also included macabre things the soldiers do to make light of their situations, but are probably horrifying to anyone else. For example, one of the soldiers used his bullet hole ridden war helmet as his Halloween candy bowl, no doubt terrifying Trick or Treaters.
Though Thank You for Your Service is incredibly sad, I was completely engrossed and had trouble putting it down. It's a totally unique look at the effects of war and is going on my Books for Guys and Best of 2013 / Holiday Gift lists.
You May Also Like:
Billy Lynn's Long Halftime Walk by Ben Fountain