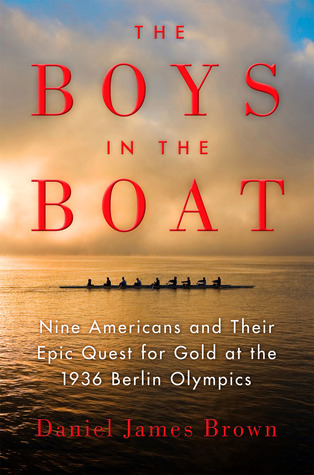 Nonfiction – Sports
Released June, 2013
416 Pages
Bottom Line: Read it.
Affiliate Link: Buy from Amazon

Source: Purchased
Plot Summary
The true story of Joe Rantz and his University of Washington teammates' quest to win gold in the men's eight rowing event at the 1936 Berlin Olympics.
My Thoughts
The Boys in the Boat is the best nonfiction book I've read this year (by far) and the best sports book I've read in the past few years!
For those who have read my Sports Books List, you know that I'm obsessed with the Olympics, but rowing is not one of the Olympic sports I typically watch. Point being, you do not have to be into rowing (or even the Olympics) to enjoy this book. It reminded me a lot of Seabiscuit, not only because it's set in the same time period, but also because Brown, like Seabiscuit's Laura Hillenbrand, managed to keep me fascinated by a sport that I have little interest in.
The Boys in the Boat is a fantastic sports story – it seems like it could have been an ESPN 30 for 30 documentary! And beyond sports, it's a fantastic historical underdog story. Rowing was apparently extremely popular in the 1930's and received tons of national press coverage. Who knew?? Brown did a great job bringing this setting to life, as well as making the reader understand and, more importantly, be entertained by racing strategy and the technique of rowing. A tough assignment, if you ask me!
Brown tells two stories simultaneously – the background of Joe Rantz and his Washington teammates' rise to rowing prominence and Hitler's planning and execution of the Berlin Games. I loved this juxtaposition. And, I loved learning about how kids grew up during the Great Depression – what an admirable bunch! Reading about the oarsmen's survival and determination during such a hard time made me realize how easy kids have it today…and how soft and spoiled many of them consequently become.
The Third Reich's plan for the Berlin Olympics was impressive and horrifying. They essentially turned Berlin into a giant movie set to convince the world that there was no reason to fear the Third Reich and that the rumors about its' treatment of Jews couldn't possibly be true.
I really can't say enough great things about this book. It's just a heartwarming story of good people reaching for the stars. It's going on my Books for Guys, Sports Books, and Book Club Recommendations lists.
You May Also Like
In the Garden of Beasts by Erik Larson
Seabiscuit by Laura Hillenbrand
Muckers by Sandra Neil Wallace