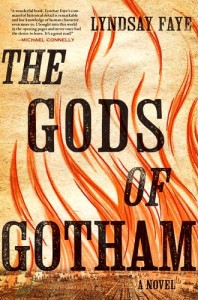 The Gods of Gotham

by Lyndsay Faye, Historical Fiction (Released March, 2012)
Bottom Line: Read it.
Summary: Set in 1845 New York, Timothy Wilde finds a young girl covered in blood in his first days as a New York Copper Star (early incarnation of the NYPD), which sets him on a path to solve a mystery of disappearing child prostitutes.
My Thoughts: This is a great book that, while historically accurate (George Washington Matsell, head of the Copper Stars, was a real person), reads like a suspenseful mystery. The Gods of Gotham is set during the Irish potato famine, during which many Irish Catholics immigrated to New York, causing massive racial and religious prejudices in the city. Faye does a great job portraying this social upheaval, especially the anti-Catholicism, while weaving it so well into the narrative that you don't even notice that you're learning. The murder mystery is compelling and does not have an obvious solution. The main characters are likable and surprising – most are not who they seem to be by the end of the story. This book is a fun way to learn about old New York and the formation of the New York Police Department – it's going on my Books for Guys List.