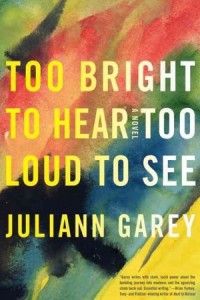 Too Bright to Hear Too Loud to See

by Juliann Garey, Fiction (Released December, 2012)
Bottom Line: Skip it.
Summary: Greyson Todd, a high powered Hollywood Executive leaves his family and the burden of hiding his mental illness for a nomadic life of travel and mental hospitals.
My Thoughts: Greyson (as narrator) tells his story by alternating segments about his childhood, his "Hollywood Executive" life as the disease surfaces, his world travels as the disease overcomes him, and his time undergoing Electroconvulsive Therapy (aka ECT, electroshock). This choppy structure made it really hard for me to get a good sense of Greyson's illness and how it affected everyone around him. However, it enabled me to like certain sections of the book, while hating others. I enjoyed the childhood and early disease sections, but downright hated the travel and ECT sections. I appreciate that Garey was trying to write from the perspective of someone with bipolar disorder, but it was hard to read and made no sense to me. I almost put the book down halfway through because I couldn't take the writing of the travel and ECT sections anymore. So…I obviously can't recommend a book that I considered putting down, even though I liked some parts of it. This one was yet another Amazon "Best Book of the Month" (December 2012) that hasn't measured up…I'm starting to doubt the quality of that list…or maybe I just have different taste!
Have you read Too Bright to Hear Too Loud to See?  Tell us what you thought (without spoilers!) in the comments section.