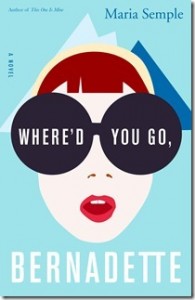 Where'd You Go, Bernadette: A Novel

by Maria Semple, Fiction (Released December, 2012)
Bottom Line: Read it.
Summary: Bernadette Fox disappears following a series of embarrassing incidents at home and issues with anxiety, sending her eighth grade daughter (Bee) on a quest to find her.
My Thoughts: Finally…the first book I've read in 2013 that I've absolutely LOVED! This book is surprising, quirky, heartwarming, and suspenseful. At first, I thought it was going to be a flighty read about neurotic mothers in the carpool line. But, about a quarter into the book, you learn more about Bernadette…she's a complex character and I was hooked on her after reading the ArtForum article profiling her former architecture career. Her complexity as a character is sort of shoved into a light and funny surrounding story, which gives the book great balance. I also loved Bee, Bernadette's daughter. She reminded me of Becca Moody, Hank's daughter on the TV show "Californication"…a calm voice of reason juxtaposed against a family full of turmoil. Beyond great characters, this book contains a quirky mix of topics that somehow all gel together…"crazy mother" dynamics, Microsoft corporate culture, mental illness, architecture, and Antarctica. It sounds scattered, but each topic has its logical place in the story…it just worked. Finally, I loved the structure of the book – the story is told through a combination of Bee's thoughts, emails and letters between characters, news articles, and reports by various "officials" (I don't want to say what types of officials for fear of giving away spoilers). You get lots of different perspectives of what's going on and the structure illuminates the contrast between Bernadette's self image and everyone else's view of her, which gets to the heart of the story. Where'd You Go, Bernadette? is going on my Book Club Recommendation List.
Have you read Where'd You Go, Bernadette??  Tell us what you thought (without spoilers!) in the comments section.