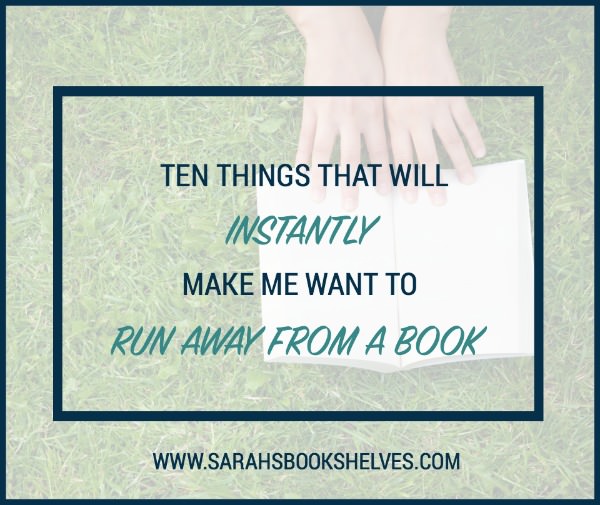 Today's Top Ten Tuesday (hosted by the Broke and the Bookish) topic is Ten Things That Will Instantly Make Me Want to NOT Read A Book.
This topic is the flip side of last week's Ten Things That Will Instantly Make Me Want to Read A Book. And, I actually prefer this version because the snark can come out!
This post contains affiliate links.
Ten Things That Will Instantly Make Me Want to Read A Book
Cheesy Romance…
I love a good love triangle on TV (Hart of Dixie
, One Tree Hill
…yep, I admit to watching the ridiculous CW network shows) and in movies (Sweet Home Alabama
), but I just can't stomach it in my reading. Something about the cheesy banter. However, I'm not against a good hate/love storyline (The Roanoke Girls, Dead Letters).

Comparisons to Gone Girl and/or The Girl on the Train
Publishers need to just stop this already! It's completely overdone and regularly slapped on books that don't remotely resemble the two gigantic Girl books (A Separation is the most recent egregious example).
Magical Realism
I just have trouble buying into stuff like this. And, I've skipped some recent hit novels (The Underground Railroad
, Exit West
) because of it.
Mommy Politics
UGH! I try to run far away from this in my daily life…why would I want it invading my precious, peaceful reading time?! It's why I can't abide Liane Moriarty and hated Cutting Teeth (my review).
Overly Formal or Flowery Writing
I wrote a whole post about the kind of writing I adore and it boils down to simple, spare, and hard-hitting. The formal writing is why I couldn't get onboard with A Gentleman in Moscow (my review).
Endings That Are Too Neatly Tied Up
I like some sort of closure that leaves me satisfied (which can be an open ending that make sense with the story), but I can't stand when every single tiny thing is answered in the last chapter. The worst offenders are those epilogues that skip forward a decade to tell you where each character ended up ten years later (i.e. The Nest).
Series
I just can't commit to three, four, or more books about the same story. I recently read the first two books in Greg Iles's Natchez Burning (my review) series and have no urge to pick up the final book (Mississippi Blood
) that just came out. 
Certain Covers
Like the ones you typically find on romance or fantasy books.
"Beautiful" War Novels
I used to love these, but am just kind of burned out. This one may be temporary…we'll see.
Celebrity Comedian Memoirs
I don't generally find these as funny as I think I'm supposed to (Bossypants
, Yes Please
, Dad Is Fat
). I think I prefer more subtle, unexpected humor.
What are your biggest book turn-offs?
Looking for a specific book recommendation? I've got you covered!
Participate in my limited time, free trial of my
new PERSONALIZED BOOK RECOMMENDATION service!