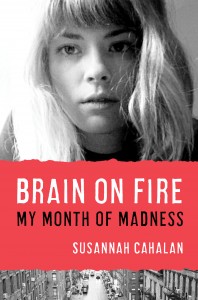 Nonfiction – Memoir
Released November, 2012
290 Pages
Bottom Line: Read it.
Link to this book on Amazon
Plot Summary of

Brain on Fire

:
The true story of 26 year old New York Post reporter Susannah Cahalan's unexplained "descent into madness" and her subsequent struggle to recover her identity.
My Thoughts on

Brain on Fire

:
This month is my turn to host our book club in Larchmont and, consequently, I got to choose the book. I turned to the blog's Facebook page for suggestions and, when Brain on Fire was mentioned (thank you, Courtenay Palmer!), I remember having read Cahalan's abbreviated version of her story in the New York Post (my favorite newspaper!). The story eventually grew into this book.
Brain on Fire is a fascinating medical mystery. Susannah's first symptoms were flu-like (true of 70% of patients with her illness), which then spiraled into numbness, seizures, hallucinations, paranoia, memory loss, loss of motor skills, and catatonia. After weeks of doctors haphazardly diagnosing her with all kinds of things (alcohol withdrawal was my favorite), she ended up at the renowned NYU Comprehensive Epilepsy Center for a month while the experts there struggled to figure out what was wrong with her.
This book, while absolutely having the potential to turn me into a hypochondriac, was a wake-up call for me that, as miracle-working as many doctors are, they don't have all the answers all the time. I think we get lulled into a sense of security that, when we get sick, we go to the doctor, he/she diagnoses us, and we get treatment. Brain on Fire is a harrowing reminder that it's not that simple…that there are so many things that the experts don't yet understand. And, that you might need to cross paths with the one doctor in the world who is familiar with your rare illness to get your life-saving treatment.
The other major issue that made an impression on me was how many people there must be out there that have some sort of brain disorder and are incorrectly diagnosed as mentally ill. Susannah was certainly headed in that direction had her doctors not persevered and contacted the correct experts in the field. I don't want to say what exactly was wrong with her, as that question accounts for a lot of the suspense in the story, but I will say that her diagnosis was fascinating for me, especially as she was only the 217th person in the world to be diagnosed with the illness since its discovery in 2007.
As I was reading, I became more and more astounded that someone who had been where she had could then, within a few years, have the mental sharpness and emotional strength to put together such a well-written and impeccably researched book. She was able to clearly explain complicated medical issues and make them entertaining (although she did go into too much detail at times):
"The mind is like a circuit of Christmas tree lights. When the brain works well, all of the lights twinkle brilliantly, and it's adaptable enough that, often, even if one bulb goes out, the rest will still shine on. But depending on where the damage is, sometimes that one blown bulb can make the whole strand go dark."
The one thing that annoyed me (and it's minor) were the sections of italics throughout the book, which I think represent her memories and/or hallucinations from the time of her illness. My question is, since she claims to barely remember the month or so that she was ill, how does she know what she was thinking at periods during that time? These were not, in most instances, things that she could have reconstructed from medical records or interviews with people close to her. Or, is my assumption totally incorrect? 
Brain on Fire is a captivating and quick to read memoir and is going on my Book Club Recommendations List.
You May Also Like:
Thank You for Your Service by David Finkel
The Immortal Life of Henrietta Lacks by Rebecca Skloot