A big thank you to TLC Book Tours for providing me with an electronic copy of this book and for inviting me to be a host on this tour.
Historical Fiction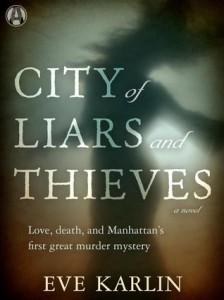 Released January 13, 2015
258 Pages
Bottom Line: Skip it.
Affiliate Link: Amazon

Source: TLC Book Tours

Plot Summary of

City of Liars and Thieves

:
In 1799 New York City, a young woman's (Elma Sands) disappearance from her cousin's home kicks off the nation's first ever recorded murder trial involving rising political figures Aaron Burr and Alexander Hamilton (yes, those of the famous duel!).
My Thoughts on

City of Liars and Thieves

:
City of Liars and Thieves caught my interest because it combines two things I've had great luck with recently: debuts and fiction based on true crime. Unfortunately, this one was merely so-so for me. What I liked about it was unexpected and what I expected to like ended up disappointing me. 
The historical background and political elements intrigued me…
As background to the crime and murder trial, Karlin covers the yellow fever epidemic, the  water shortage in New York and forming of the Manhattan Water Company (eventually becoming Chase Manhattan Bank and now J.P. Morgan Chase), the history of the Aaron Burr/Alexander Hamilton mutual hatred, and the politics of the upcoming 1800 Presidential election (Thomas Jefferson vs. John Adams).
I particularly enjoyed the scandal behind the Manhattan Water Company, which also touches the Presidential politics piece. I was more interested in how this was going to shake out than I was in the mystery of what happened to Elma. And, Burr and Hamilton's unlikely pairing as defense lawyers for Elma's suspected murderer solely to raise their profiles for the Presidential election was more fascinating to me than the trial itself.  
But, the centerpiece of the crime and murder trial was underwhelming.
This was the part of the book I'd been most looking forward to, but I'm not sure the real crime was interesting enough to warrant an entire book (but, I can see a Vanity Fair style investigative article). Elma, a cousin of Catherine Ring (the narrator), came to NYC to live with Catherine and her husband in their boarding house. Three other male boarders live there as well, two of whom play significant roles in the crime and trial. 
The investigation and murder trial felt clumsy to me. I understand that techniques have come a long way since 1800, but this seemed like a bunch of kids conducting a play of a murder investigation. Once the story begins to come to light, there were so many conflicting pieces of information, accusations, and possible motives that I had trouble keeping track. It was convoluted in a bad way rather than complicated in a good way.
I did enjoy the Afterward (which I tend to always look forward to in this type of book), which nicely lays out the facts behind the novel and the author's personal connection to the story. I almost feel like a nonfiction telling of this crime would have made for a more compelling story.
While City of Liars and Thieves was an easy read and dealt with some intriguing history, the bulk of the book wasn't interesting enough to recommend.
Click here to visit other stops on this tour.