I had mixed feelings about both of these books…and had trouble deciding whether or not to recommend them.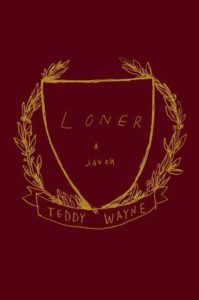 Loner by Teddy Wayne
Fiction (Released September 13, 2016)
224 Pages
Bottom Line: Skip it…I think.
Affiliate Link: Amazon

Source: Publisher (Simon & Schuster) via NetGalley

Plot Summary: High school geek David Federman hopes to change his social fortunes at Harvard University, becoming obsessed with gorgeous dorm-mate Veronica Morgan Wells on the first day of school.
My Thoughts: I'm a sucker for campus novels, so I was willing to give Teddy Wayne's latest a shot despite not being enamored with his previous novel, The Love Song of Jonny Valentine. It took me awhile to get into Loner, but the farther I read, the more I was dying to find out how the entanglement between David, Veronica, and David's girlfriend (Sara, Veronica's roommate) would resolve itself. David reminded me of Can't Buy Me Love's Ronald Miller, a geek who acquired some measure of social status through questionable associations with a popular girl before flying too close to the sun…and his downward trajectory reminded me a bit of the desperate spiral in Belinda McKeon's Tender (but, please don't take this as a comparison to Tender as an overall book!).
When all was said and done, I'm not sure I bought David's personality evolution or the ending of the book. His motivation for his actions at the end was completely unclear. Did he want another level of attention? Was it out of anger or vengeance or a thirst for power? I also wondered if Loner was intended to address a social issue. If it was, it merely dipped a toe in that pool rather than doing a cannonball into the deep end. Finally, the writing was a bit uneven…brilliantly capturing what it might be like to be an outsider at Harvard at times and resorting to over-the-top pretension at others. As you can see, I'm a bit conflicted about Loner overall.
The Trouble With Goats and Sheep by Joanna Cannon
Fiction (Released July 12, 2016)
352 Pages
Bottom Line: Skip it…I think.
Affiliate Link: Amazon

Source: Purchased (Publisher: Scribner)

Plot Summary: During the sweltering summer of 1976 in England, the disappearance of their adult neighbor (Margaret Creasy) ignites two ten year old girls' (Grace and Tilly) curiosity about community, God, and neighborhood secrets.
My Thoughts: The Trouble With Goats and Sheep was an up and down book for me, sporting high highs and low lows. It has two characteristics I generally love in my reading: releasing background information about characters in drips and drabs (like Did You Ever Have A Family) and melding a coming of age story with a crime or mystery (like My Sunshine Away and Only Love Can Break Your Heart). I was immediately captivated by ten year-old Grace's voice, which manages to be childlike without being childish. She sounds clever and unique, yet still maintains her innocence.
I had never met anyone who had nearly died, and in the beginning the subject was attacked with violent curiosity. Then it became more than fascination. I needed to know everything, so that all the details might be stitched together for protection. As if hearing the truth would somehow save us from it.
And Cannon's writing, in general, blew me away…at first. She showed a propensity for writing about emotions like they are physical things and, on the flip side, giving inanimate objects emotion. Worrying was "packed away" and "made silent." A room looked "tired and unhappy." This writing trick piqued my interest early on, but it appeared so often that it felt gimmicky by the end. Every time I spotted another example, I'd roll my eyes and think "here we go again." The story also took far too long to advance through the middle…I felt like we weren't much farther at 75% than we were at 25%. That being said, I thoroughly enjoyed Cannon's style during the first 25% and some of the surprises towards the end.