Historical Fiction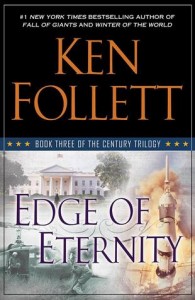 Released September, 2014
1,104 Pages (yup, really!)
Bottom Line: Read it.
Affiliate Link: Buy from Amazon

Source: Purchased
Plot Summary of

Edge of Eternity

:
In the final installment of Ken Follett's Century Trilogy, five families of different nationalities (American, Russian, German, Welsh, and British) experience the rise of Communism and the Berlin Wall, the Cuban Missile Crisis, the U.S. Civil Rights Movement, Vietnam, and the rock n roll and hippie movements.
My Thoughts on

Edge of Eternity

:
As an avid fan of the first two installments of this trilogy (Fall of Giants covering WWI and Winter of the World covering WWII), I was anxiously awaiting publication of Edge of Eternity. This was actually the installment I thought I would like the most, as I've always been fascinated with the Cold War and lived through some of the other events Follett covers. And, I did love a lot of Edge of Eternity, but it ended up being my least favorite of the three books.
Follett makes learning history fun…
…and this is one of my favorite things about this trilogy. Even though years have passed since I read Fall of Giants, I can still remember how WWI started (and I never remembered stuff like this years after I learned about it in school)! Follett's writing and storytelling is so readable that you forget you're actually learning something about world events. 
My favorite parts of Edge of Eternity were those I was least familiar with…
I loved reading about life behind the Berlin Wall and how families were torn apart because they were split between the East and West sides. Though they might only live two miles apart, they literally had no contact with each other for decades other than letters that were censored by the Stasi (the East German secret police). This quote sums up the situation pretty nicely:
You did nothing wrong. I did nothing wrong. The only wrong was the Wall.
I also enjoyed learning about the Cuban Missile Crisis from the Russian perspective and the internal politics of the Kremlin leadership. This was all especially timely given I had recently read an excellent historical fiction about the U.S. side of the Cuban Missile Crisis (Stephen L. Carter's Back Channel), so Cuban Missile Crisis-y type things were all fresh in my mind.
But, the predominantly American events felt a bit surface…
Unfortunately, the sections covering the Civil Rights, Vietnam, rock n roll, and hippie movements were handled in a more cursory and cliche way and I didn't learn much new information. With the Berlin Wall and Communism, I felt immersed in the way life was for those living behind the Wall and under Russian Communism. With the American movements, I felt like I was reading a recitation of events that have been well covered in the news and in school. Maybe Follett tried to fit too much in on the American end of things…
Though I didn't love Edge of Eternity quite as much as Fall of Giants and Winter of the World, I'm glad I was able to see how the five families turned out. Certainly, fans of the first two books should read this one. Edge of Eternity is going on my Time to Kill List.
2 Warnings:
1) If you are new to this trilogy, I highly recommend you read the novels in order. The same five families are traced throughout…with each successive installment focusing on later generations.
2) If you're using an e-reader, highlight the "Cast of Characters" at the beginning of the book. You'll need it to refresh your memory!
You May Also Like…other than Fall of Giants and Winter of the World, obviously!
Back Channel by Stephen L. Carter
Natchez Burning by Greg Iles
The Charm School by Nelson DeMille