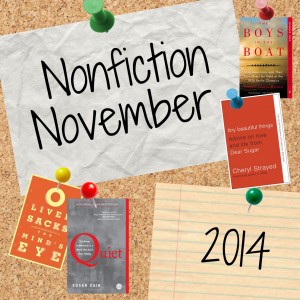 This post is part of Nonfiction November hosted by Katie at Doing Dewey, Kim at Sophisticated Dorkiness, Becca at I'm Lost in Books, and Leslie at Regular Rumination.
Nonfiction – History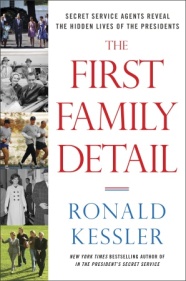 Released August, 2014
272 Pages
Bottom Line: Skip it.
Affiliate Link: Amazon

Source: Purchased
Plot Summary of

The First Family Detail

:
A behind the scenes look at protecting the First Families of the United States, by the author of In the President's Secret Service and the journalist who first broke the recent Secret Service prostitution scandal in Colombia.
My Thoughts on

The First Family Detail

:
The First Family Detail is a mix of personal anecdotes about Presidential families and their relationships with their protective details, operational Secret Service specifics, and tales of mismanagement at the Executive level. Though I am interested in all these topics and much of the information in this book is pretty fascinating, I did find it to be mostly a rehash of In the President's Secret Service (which I read and liked).
Secret Service agents are uniquely positioned to collect a plethora of dirt on their protectees, expose hypocrisies in their private versus public personnas, and really see into their characters. I'm definitely a sucker for some scandalous stories about politicians' personal lives and The First Family Detail did give me a good dose of these. The problem is that I was having deja vu while reading most of them. Many of the older stories were included in In the President's Secret Service and many of the juicy new anecdotes had already been reported by the media (i.e. Bill Clinton has a mistress in Chappaqua who doesn't have to be screened by the Secret Service). 
The operational details of how the Secret Service does their job made for some tedious reading at times. And, I wonder how Kessler was able to divulge so many of these details to the public. I felt like a would-be assassin could learn a lot about Secret Service tactics and weak spots from reading this book. Isn't that dangerous?!
Kessler is extremely critical of Secret Service upper management and I was interested in the sections about the recent slide in standards. He tells of many instances of management ordering agents to cut corners in their protection details and in providing security for events. He also tells of Secret Service upper management catering to political aides at the expense of the President's and other top politicians' safety. On the flip side, Kessler praises the rank and file agents as people who are highly ethical and dedicated to their mission of keeping the President and his family safe. He indicates they are mostly disgusted with upper management and that morale among agents is at historic lows. This piece became especially intriguing upon the Head of the Secret Service, Julia Pierson's, resignation after an armed intruder waltzed unimpeded through the White House front door.
If you're interested in how the Secret Service works and behind the scenes stories about high ranking politicians…and, if you haven't already read In the President's Secret Service, then I do recommend you read this book. Otherwise, it's probably not for you.