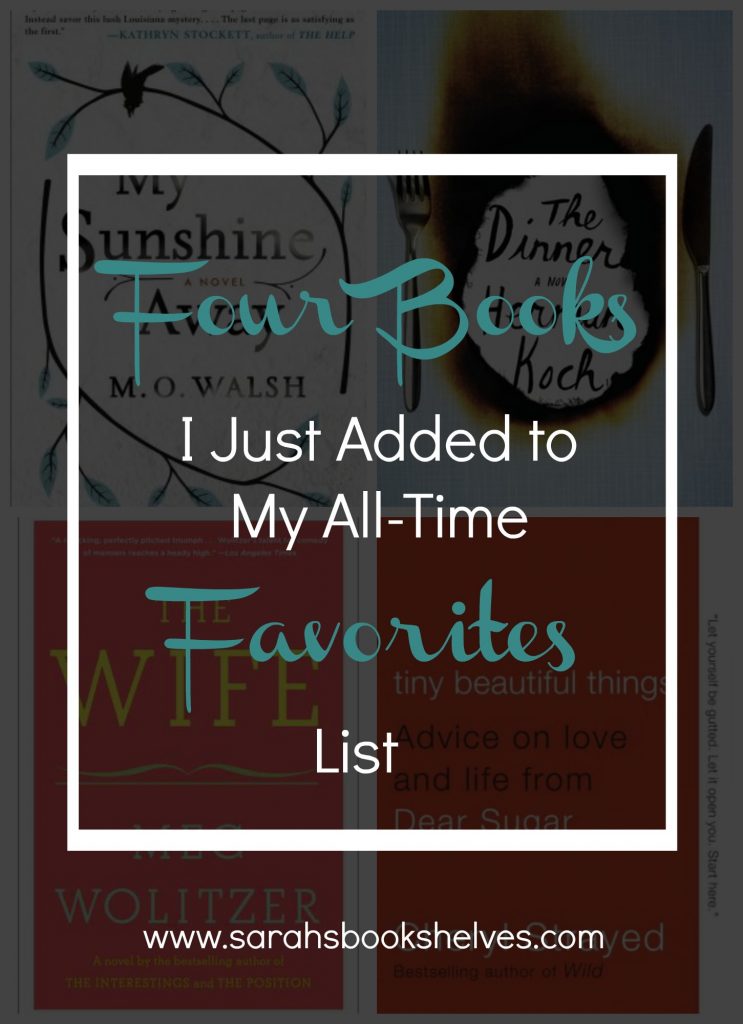 Ever since I started Sarah's Book Shelves, I've had a list of my All-Time Favorite Books sitting on my menu bar (under Book Lists). I haven't added a single new book to this list since I started blogging. Or, removed one. But, in theory, I do believe that my All-Time Favorites list can and should evolve over time.
I'm the type of person that has to let a book sit with me for awhile before I truly know if it will be a lasting favorite. With some books, I love them when I read them, but they eventually fade from memory. With others, I continue to think about them and recommend them to others long after I've read them.
It's this second category of books that has a shot at making my All-Time Favorites list…eventually (the most recently read book on this list is Tiny Beautiful Things
 8 months ago). The books I just added to my All-Time Favorites list have a couple of things in common:
Gorgeous and/or "yes, that's exactly how it is" writing

Parts that bothered some people (The Dinner's slow start, My Sunshine Away's long Hurricane Katrina tangent, and The Wife's dreariness)…but totally worked for me

Books that I frequently recommend to others
Four Books I Just Added to My All-Time Favorites List
Fiction
My Sunshine Away
 by M.O. Walsh (my review)
My Sunshine Away is a book that floored me with its gorgeous writing, endeared me to its nameless narrator, had me anxiously wondering who raped Lindy Simpson, and took me home with its teenager in the late 1990's setting. It was one of my favorite books of 2015 and I've been recommending it like crazy since.
The Dinner
 by Herman Koch (my review)
I read this book 2 years ago and its still one of the books I recommend most to people looking for a juicy book club selection. Koch's sometimes cringe-worthy writing style reads as refreshing to me and this novel has the perfect balance of scathing social commentary, discussable issues, and a perfectly pace plot. 

The Wife
 by Meg Wolitzer (my review)
Recently, I've had a fast growing love for short books that leave a huge impression. The Wife is the first book that comes to mind when I think about these types of books. And, it was the right book for me at the right time…addressing issues like the expectations of the role of the wife in society and balancing family and career in "yes, that's exactly how it is" statement after "yes, that's exactly how it is" statement.
Nonfiction
Tiny Beautiful Things
 by Cheryl Strayed
I was hugely hesitant about reading this book. Advice columns? Ugh. But, I hadn't experienced Cheryl Strayed's advice columns. This is a book I wish I'd had next to my bedside table in high school (ok, fine, college too) and I believe is the book to read when your life isn't going exactly like you's hoped.
PS – I did remove a couple books (Nineteen Minutes
by Jodi Picoult, The Gold Coast
 by Nelson DeMille, Unbroken
 by Laura Hillenbrand) from my All-Time Favorites list. They were favorites of mine at the time (and still get a fair amount of love from me), but have, like I mentioned at the beginning of this post, faded a bit from memory over time.
What books are on your all-time favorites list and when was the last time you bestowed a book with all-time favorite status?