Both of these books have gotten excellent reviews from other bloggers I follow, but I couldn't jump on the bandwagon with either of them. Here's why…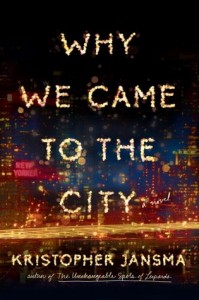 Why We Came to the City by Kristopher Jansma
Fiction (Released February 16, 2016)
418 Pages
Bottom Line: Skip it.
Affiliate Link: Amazon

Source: Purchased (Publisher: Viking) 

Plot Summary: Four twenty-something college friends (Jacob, Irene, Sara and George) living their newly adult lives in New York City are forced to reexamine their lives when tragedy hits.
My Thoughts: This novel came highly recommended by a few bloggers and the premise appealed to me since I lived in New York City in my twenties/early thirties around the time the book was set (2008). Halfway through the story, I was fairly confident it would be a solid 4 star read. I liked the theme of young adults without real problems being suddenly dealt a blow of serious consequence and Jansma nailed the subtle details of NYC life for someone in their twenties (i.e. how people don't know their friends' addresses…just their cross streets, the appearance of their apartment buildings, and their unit numbers). Though the story reminded me a bit of The Interestings (yay!), I missed Wolitzer's distinctive style that made The Interestings a winner despite its meandering nature.
Sadly, Why We Came to the City was essentially over for me at the halfway mark, as I didn't understand the purpose of the entire second half. A section focusing on a friendship Jacob made at his job as a psychiatric hospital orderly seemed irrelevant to the story and two other prominent characters virtually disappeared from the narrative. That being said, I think I'm in the minority on this one, so I encourage you to check out some other reviews (Doing Dewey, 52 Books or Bust) if you're considering picking it up!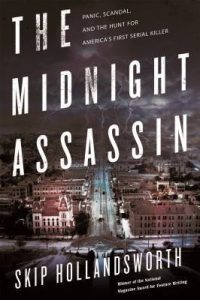 The Midnight Assassin by Skip Hollandsworth
Nonfiction – Crime (Released April 5, 2016)
321 Pages
Bottom Line: Skip it.
Affiliate Link: Amazon

Source: Publisher (Henry Holt) via NetGalley

Plot Summary: The true story of America's first serial killer who haunted Austin, Texas in the 1880's, bludgeoning and/or killing Austin's servant women with an ax before broadening his scope.
My Thoughts: I've always been interested in true crime and this story especially appealed to me since the Austin killer operated just before Henry Holmes, the serial killer from The Devil in the White City (one of my all-time favorite nonfiction books). The story of The Midnight Assassin and his impact on the city of Austin is almost as fascinating as that of Holmes and the Chicago World's Fair. Hollandsworth did a great job portraying the fear that permeated Austin, which led to some desperate actions by the police and various city activist groups. They had no idea who was committing these crimes, so essentially rounded up anyone and everyone (but mostly known black troublemakers) without any real evidence. 
What kept me from being able to get invested in the The Midnight Assassin's narrative was the lack of focus on the story's characters. It read more like a timeline of crimes rather than a story involving real people…it was like a football game being called by a play-by-play analyst without the color commentator. Most of the victims (with Eula Phillips being the one exception) remained little more than just names on a page, which made it hard for me to care. I wish Hollandsworth had focused on two or three of the crimes and gone deeper into who the victims were, rather than covering every single crime in chronological order. And, since the crimes remain unsolved, there was no perpetrator's story to tell, which was key to The Devil in the White City's success for me.