Anne Tollett from Hanover Avenue has been lighting up Instagram lately with unique bookish accents for your home, so I thought who better to team up with for a holiday gift guide for bookworms! Today, Anne is covering gifts for bookworms and I'll share a gift guide with actual books on Monday! I give you Anne…

Two heads really are better than one – especially when the second head is the funny and brilliant Sarah Dickinson! Our very first muse at Hanover Avenue, Sarah has collaborated on more rooms with us than anyone else!
"Hey, Sarah, wanna choose every book for your dream library?"
Result: A True Reader's Home Library
"Hey Sarah, wanna choose the books a bachelorette's apartment in London who is looking for Mr. Right?"
Result: The White Knight Bedroom
"Hey Sarah, wanna pick the books for one bathroom shown three unique ways?"
Result: The Mineral Bathroom
Every time the answer is an energetic, "Yes! When do you need it?!"
The books that Sarah chooses for our Hanover Avenue rooms always round out the space making it feel personal and authentic. She is a true reader's best friend, so to compliment the books Sarah picked for her Holiday Book List (coming on Monday), we decided to pull together our favorite and carefully curated items for the Book Lover in your life!
Behold…
Holiday Gift Ideas for that Special Bookworm in Your Life
1. Arteriors, Gidget Lamp
 – doesn't this remind you of a question mark?
5. Quotation Marks Bookends – one of my personal favorites!
6. Big Top Classic Balloon Dog Bookends
 – another fave!
7. Conceal Book Shelf – confused about what this is? Check this out…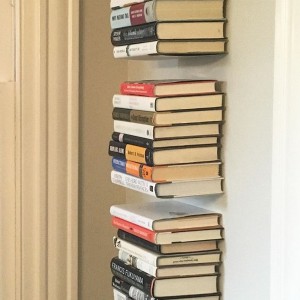 8. Whale Bud Vase – a little reminder of Moby Dick.
9. Ideal Bookshelf: NYC Print by Jane Mount – she has many other themes to choose from (including cooking, English Lit, fashion, children's books, etc)
10. DIY Book Cover Series – find images of your bookworm's favorite books and frame them in simple frames. Anne's images came from a calendar!
11. Penguin Spines Notebook
 – would be great for Secret Santa or a gift exchange!
12. Bin Bin Waste Paper Basket – a waste basket inspired by crumpled paper….brilliant!
13. Chrome Plated Bathtub Caddy – a must have for anyone who reads in the tub!
14. Vintage Library Card Case for Ipad Air – yet another fave!
Check out Anne's other creative gift guides: 
Perfect Holiday Shopping List if You Hate Big Box Stores
Anne's Favorite Decorations Perfect for this Holiday Season
Holiday Gift Ideas: This Year's Annual Round Up
Anne's Favorite Art Books for This Holiday Season
Holiday Shopping: Perfect Unisex Toys for Every Room