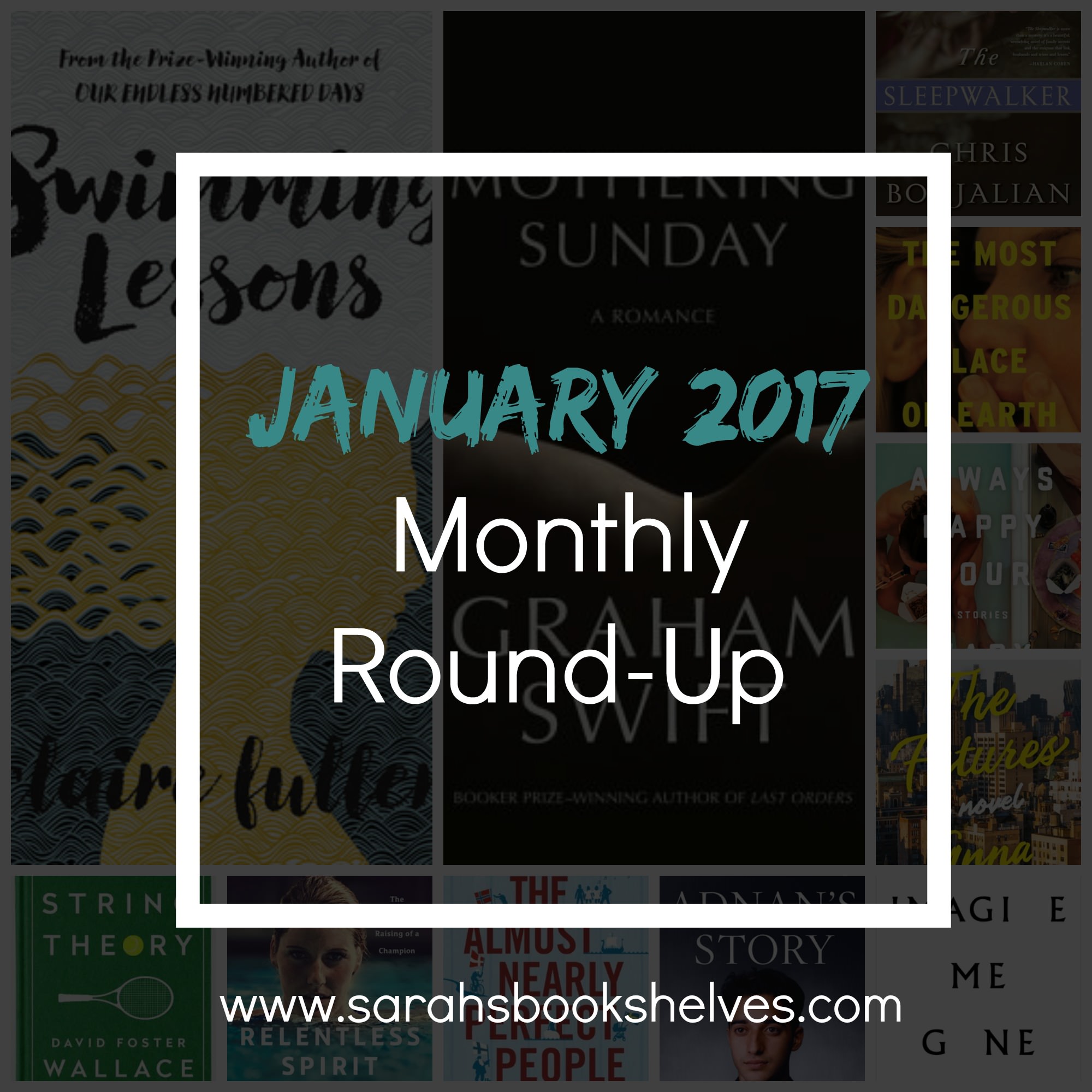 This post contains affiliate links and I will make a small commission if you make a purchase after clicking on my links.
January Reading / Life
And…we have a very late January round-up! I changed up last week's posting schedule at the last minute, so the round-up got pushed to this week. I promise there will be better planning next month.

My 2017 reading kicked off with a bit of a lackluster month…even though I read 11 books, which is more than I usually finish. Quantity rather than quality in general.

I liked many of my 2017 reads (The Sleepwalker, The Most Dangerous Place on Earth, Always Happy Hour, and Swimming Lessons), but none of them completely blew my mind. And, The Futures was just a flat out dud.
I read/listened to 3 books from my Ten 2016 Books I Missed list (Imagine Me Gone, Adnan's Story, and Mothering Sunday) and liked them all. Plus, one was this month's Best Book of the Month!
Two of my audiobooks were misses: The Almost Nearly Perfect People, which I think might have been more successful in book form, and Relentless Spirit (Olympic gold medal swimmer Missy Franklin's memoir), which just shouldn't have been written in the first place (at least at this point in her life).
I also got all introspective about the state of this blog (here and here) and shared that I'd be trying some new things in the coming months. The first "new thing" is a monthly feature commenting on the Book of the Month Club selections…and sharing which book(s) I would choose. Check out my commentary on the February selections!
Best Book of the Month
Mothering Sunday by Graham Swift (April 19, 2016)
Fiction, 192 Pages
Affiliate Link: Buy from Amazon
February Releases I'm Excited About
A Separation
 by Katie Kitamura (February 7)
Swimming Lessons
 by Claire Fuller (February 7)
We Were the Lucky Ones
 by Georgia Hunter (February 14)
The Brain Defense
 by Kevin Davis (February 28)
Most Popular January Posts
Eight Underrated Gems of 2016
My Most Anticipated DEBUTS of Winter 2017
Ten 2016 Books I Missed
Favorite Posts by Fellow Bloggers