Well…July was a bit of a letdown after my excellent June reading. I only really enjoyed two books (but, I'll be adding both to my 2018 Summer Reading List!) and suffered through two others that didn't work out…then, there are the DNF's. 
Hosted by Modern Mrs. Darcy.
This post contains affiliate links (plus: here's your Amazon Smile-specific affiliate link
).
Read These
Charlotte Walsh Likes to Win
 by Jo Piazza
Fiction – Brain Candy (Release Date: July 24, 2018)
320 Pages
Affiliate Link: Buy from Amazon
Source: Publisher (Simon & Schuster)

Plot Summary: When Charlotte Walsh leaves her high powered job as COO of a Silicon Valley tech darling to run for Senate in her home state of Pennsylvania, she's forced to confront the impact on her marriage, her sanity, and her past.
My Thoughts: I've been loving books about substantial topics that read easy this summer and I can now add Charlotte Walsh Likes to Win to that list! Though it reads easy enough for the beach, it's full of astute commentary on women in politics, women in business, managing your image in public life, marriage, motherhood, and gender roles. It makes you feel how truly soul-sucking campaigning and politics can be. But, it also has snappy dialogue, a badass sister-in-law (Kara), and a Friday Night Lights name-check (the easiest way to my heart). Charlotte is a complex character and your sympathy level for her will probably flip-flop throughout the story. The ending will drive some people bonkers and made me say "WTF," but the more I thought about it, the more it fits with the overall message of the book. An excellent choice for fans of The Hopefuls by Jennifer Close, for book clubs, and for your beach/pool bag!
"You're thinking, 'Why does it matter?' Why does your husband matter?" Josh read her mind. "Your husband matters. Your marriage matters. As a woman, you bear the burden of having to appear to be charismatic, smart, well-groomed, nice, but not too nice. If you're married, you need to look happily married. If you have kids, you should be the mother of the year."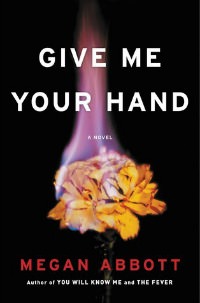 Give Me Your Hand
 by Megan Abbott
Fiction – Thriller (Release Date: July 17, 2018)
352 Pages
Affiliate Link: Buy from Amazon
Source: Publisher (Little, Brown)

Plot Summary: When Diane and Kit become lab partners in high school, Diane shares an explosive secret. And, when the two women meet again as star lab scientists, the secret comes back to haunt them both. 
My Thoughts: Megan Abbott is one of my go-to authors for intense summer reads…generally about demented high school girls (The Fever and You Will Know Me are my favorites). She's kept her streak alive with Give Me Your Hand…her most grown-up novel yet. This story is set in the world of science and Abbott's writing makes the lab, the competition for limited positions on important studies, and the researchers' dedication seem like the pressure cauldron of an Olympic Trials (similar to how Michael Ruhlman wrote about the Culinary Institute of America in The Making of a Chef). The players are intriguing: the enigmatic legend who seems almost non-human (Dr. Severin), the star researcher who is possibly unstable (Diane), the flirty and slightly reckless researcher (Alex), and the obedient worker bee (Kit). I guessed some of the twists, but not nearly all of them, and each twist revealed deeper layers to one of the characters. Ultimately, this is a story of two women locked in competition…and how a secret that gets told can tear apart both the secret-teller and the person she tells. Grab this one if you like dark and twisty with some substance…and I'll be adding it to my 2018 Summer Reading Guide!
I wanted to know her secrets, but I didn't want them to be this. And now I was in there, in that heart of hers, the coldest, darkest place I'd ever been.
Skip These
Baby Teeth
 by Zoje Stage
Fiction (Release Date: July 17, 2018)
320 Pages
Affiliate Link: Amazon
Source: Publisher (St. Martin's Press)

Plot Summary: When four year old, non-verbal Hanna begins to escalate her terrible behavior towards her mother, the whole family must decide how to handle their only child.
My Thoughts: This book left me kind of speechless. It's horrifying, but also weirdly intriguing. I kind of hated it, but also needed an explanation for what was going on (which was why I finished it). Hanna is hands-down the most diabolical child I've ever read about and I felt bad for her parents. But, they have their own faults. Hanna's father is in denial about Hanna's behavior and coddles her. Before Hanna's behavior got really bad, her mother made her feel unwanted. Hanna is jealous of the affection her father gives her mother and sort of pits them against each other. If you need likable characters in your reading, you won't find them here. The overall family dynamics and premise of the book could have been really fascinating, but Stage took the plot way over the top (won't say more to avoid spoilers!). If she'd left out one particular element and cut back on another, I think I could've liked it. The ending did bring things down to earth, but I wish the culmination of the story had happened earlier (maybe 60-70% of the way through?) so we could explore the aftermath and how it impacted the family. I wanted more psychology and less shock value. If you're on the fence about having kids, Baby Teeth might just push you into the "hard no" camp.
It was unacceptable; Mommy was failing her tests to prove her motherly love. And the more she failed, the more opportunities Hanna tried to provide for her to redeem herself. Though she wasn't always sure of the rules to their war games. And when she scrunched up her brain, she couldn't quite remember who had started it.
Fruit of the Drunken Tree
 by Ingrid Rojas Contreras
Fiction – Literary (Release Date: July 31, 2018)
304 Pages
Affiliate Link: Buy from Amazon
Source: Publisher (Doubleday Books)

Plot Summary: Amid the violence of Pablo Escobar-era Bogota, Colombia, a wealthy young girl (Chula) and her maid (Petrona) become friends while growing up side by side, but end up with very different stories.
My Thoughts: Fruit of the Drunken Tree is a debut novel inspired by the author's life. That, the juxtaposition of Chula's privileged perspective and Petrona's perspective of poverty, and Pablo Escobar (I've always had a weird fascination!) were what attracted me to this book. And, all the pieces for a home run were there, but it was missing the intangibles for me. I loved seeing the drug wars through the eyes of a child and I identified with Chula's combination fear / fascination with Pablo Escobar and the violence that accompanied him (on a far less personal level, I remember feeling similarly about the Russians as a child during the Cold War). And, the story had explosive plot elements that should have kept me frantically turning the pages. But, something about the way the story was told made all of it feel very distant and kept me from getting invested in these characters. Overall, I wavered over whether to recommend it, but decided against since I found myself frequently zoning out, checking Instagram, and sampling other books while reading it. 
I knew there was no gate surrounding the invasiones where Petrona lived, no iron locks on the doors, no iron bars on the windows. When I asked Petrona how she and her family stayed safe, she laughed. Then because I was embarrassed she shrugged her shoulders. She thought for a moment then said, "There's nothing to lose." Five syllables.
The DNF's
What We Were Promised
 by Lucy Tan (Released July 10, 2018)
DNF at 18%
I was just kind of bored. Nothing was happening and I didn't care about the characters.

The Incendiaries by R.O. Kwan (July 31, 2018)
DNF at 10%.
This debut novel about a girl who gets wrapped up in a cult and the boy who is obsessed with her has gotten tons of pre-release hype (and Annie Jones and Tyler Goodson both rated it 4 stars), but it just seemed weird to me. I kept spacing out and the writing was really distant.
What's the best book you've read so far this month?
Do you want a monthly personalized book recommendation from me and access to our private Facebook Group?
Support Sarah's Book Shelves on Patreon for access to these special bonuses (more details here)!