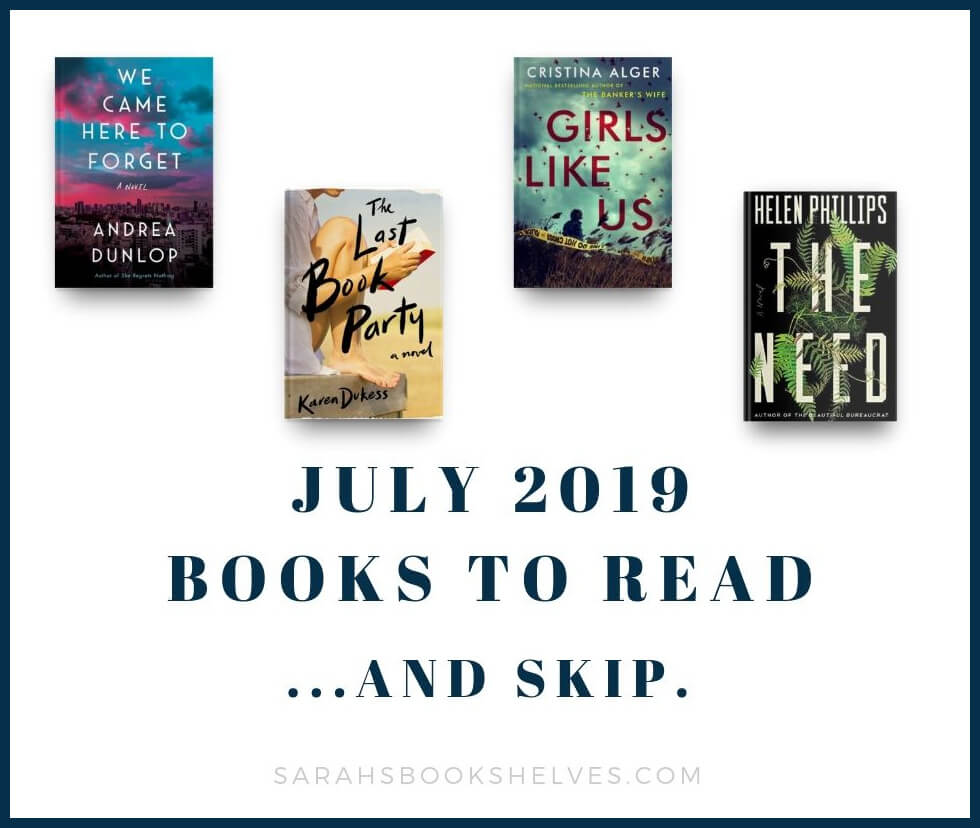 My July releases were a mixed bag and they didn't bring me a 5 star read, but there are still a couple of July books I can recommend to you!
And, I still have 3 July books that I'm really excited to read, but that I didn't have in advance copy (Three Women by Lisa Taddeo, The Nickel Boys by Colson Whitehead, and Lady in the Lake by Laura Lippman). Finally…drumroll…I didn't DNF any July books! 
Hosted by Modern Mrs. Darcy.
This post contains affiliate links (plus: here's your Amazon Smile-specific affiliate link
).
Favorite Book of July 2019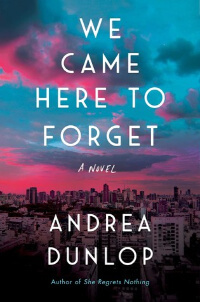 We Came Here to Forget
by Andrea Dunlop
Fiction – Literary (Release Date: July 2, 2019)
320 Pages
Affiliate Link: Buy from Amazon

Source: Publisher (Atria Books)

Plot Summary: After devoting her life to her elite skiing career (including training with childhood best friends Luke and Blair Duncan), Katie Cleary escapes to Buenos Aires after a shocking incident involving her sister (Penny).
My Thoughts: I love a good novel featuring a female athlete protagonist and they're fairly hard to find (ex: You Will Know Me, The Unraveling of Mercy Louis)…so, I'm thrilled to be able to add We Came Here to Forget to the list! The story is told in dual timelines: Katie's childhood / the lead-up to the incident with her sister and her time hanging out with an eccentric expat group in Buenos Aires while trying to figure out what to do with her life (present day). As is the case with many dual timeline books, I did prefer the childhood/ski/career/family dynamics timeline over the Buenos Aires one. I just didn't care about the expat characters nearly as much. But, I was completely engrossed in the childhood/skiing career story. What exactly happened with Penny (and, I was pleasantly surprised that it wasn't any of the things I guessed it could be)? How would Katie's relationships with Luke and Blair evolve? How does Katie's mind work as an elite female athlete? The Epilogue does tie things up way too nicely, but this was still a 4 star book for me and I flew through it in a weekend.
How do you lose yourself? Is it all at once, in a flash? Or is it as slow and irreversible as the melting of a glacier – so that by the time the once-solid core of you has diminished to a handful of fragile crystals, the chance to do anything about it is long past? It seems to me that you lose yourself quickly, and that you lose others little by little.
Also Read This One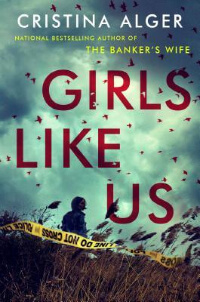 Girls Like Us
by Cristina Alger
Fiction – Mystery / Thriller (Release Date: July 2, 2019)
288 Pages
Affiliate Link: Buy from Amazon

Source: Publisher (Putnam)

Plot Summary: When FBI agent Nell Flynn goes home to Long Island to close out her father's estate, she's pulled into a possible serial murder case that her father seems to have been heavily involved in.
My Thoughts: I loved Alger's 2018 mystery The Banker's Wife (my review) and I love that she writes mysteries with strong female protagonists, bucking the recent thriller trend of the women being victims. And, while I didn't love Girls Like Us quite as much as The Banker's Wife, it's still a stellar mystery in an interesting setting. Girls Like Us is more police procedural than thriller and I've been gravitating towards these recently. The ending isn't outlandish at all, but did have some twists I wasn't expecting. And, the Hamptons setting added a layer of depth to the story…with the tension between the locals and the wealthy summer crowd (and the different parts of Long Island…the Hamptons vs. Riverhead), which is a very real issue for that area and plays a significant role in this story. If you like Alafair Burke, give Cristina Alger a try…and, Girls Like Us is going on my 2019 Summer Reading Guide!
The summer people like their towns perfect. God knows they pay enough for it. It's strange to think of this as Suffolk County, but it is just the same. The people who reside here don't know there's anything else. To them, our part of the island is just something they have to drive through on the way to the beach.
Skip These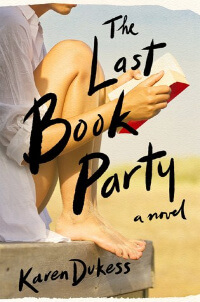 The Last Book Party
by Karen Dukess
Fiction – Brain Candy (Release Date: July 9, 2019)
256 Pages
Affiliate Link: Buy from Amazon

Source: Publisher (Henry Holt)

Plot Summary: Set in the 1980's, twenty-five-year-old aspiring writer Eve Rosen takes a job as research assistant to famous New Yorker journalist Henry Grey on Cape Cod and becomes entangled in his family.
My Thoughts: The 1980's publishing world setting was what drew me to this novel and I was hoping it would be smart, but fun brain candy. Unfortunately, the major plot points felt like cliches. Eve seemed like a paper-doll character…jumping around without much meaningful exploration of her feelings or motives for what she was doing. However, I did want to know what was going to happen and the story reads easily, so I finished the book (y'all know it's rare for me to finish I don't like!). But at the end, what happened was exactly what I thought would happen and I just wondered what the point of it all was. 
"You know what they say," Kayla said, linking her arm through Ron's. "Those who can't do, sleep with those who can. Isn't that what drives you all to work for pennies – the proximity to literary greatness."
The Need
by Helen Phillips
Fiction – Literary (Release Date: July 9, 2019)
272 Pages
Affiliate Link: Buy from Amazon

Source: Publisher (Simon & Schuster)

Plot Summary: When Molly and her two young children confront an intruder in their home while her husband is traveling, Molly enters a world where she has to face the drastic extremes of motherhood and work to save her family.
My Thoughts: I loved Phillips' The Beautiful Bureaucrat and thought it was just the right amount of weird. I thought I was going to feel the same about The Need and did at first, but it ended up getting too weird for me. The beginning has the same "WTF is going on" vibe as The Beautiful Bureaucrat…that coupled with very short chapters had me dying to know what was happening and quickly turning the pages. There was a strange otherworldliness mixed in with regular life and spot-on observations about motherhood. It was an odd combination, but it worked for me. Then, things went sideways. It's hard to elaborate more than that without spoiling things, but the ending was so confusing that I mentally checked out. There were some weird religious elements and absolutely no resolution (which often doesn't bother me, but did this time). I feel like this book was one big allegory for motherhood…showing the soul-crushing tediousness alongside the immense joys and how mothers struggle to balance the two. And, I would've loved that, but then the ending just made no sense at all.
She never took walks by herself at dusk. This was the time of day when her home demanded everything of her. Once in a while she would peek out the window at the tail end of a sunset. But always she was needed inside.

Now, though, having achieved her wish, walking these streets alone at the sunset hour, she felt unmoored, the appalling vertigo of her freedom.
What's the best book you've read so far this month?
Pin this post…