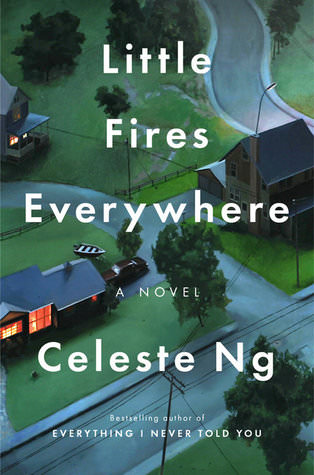 Fiction
Released September 12, 2017
384 Pages
Bottom Line: Read it.
Affiliate Link: Buy from Amazon
Source: Complimentary from Publisher (Penguin Press)
This post contains affiliate links and I will be compensated if you make a purchase via my links.
Headline
Little Fires Everywhere
is an engrossing story about a family and a community that you can sink right into…and may have even broader appeal than Everything I Never Told You.
Plot Summary
When nomadic artist Mia Warren and her daughter (Pearl) rent an apartment from Elena Richardson in Shaker Heights, Elena's entire family becomes enmeshed in the Warrens' lives, resulting in uncovered secrets, unanticipated consequences, and a raging debate about what it means to be a mother.
Why I Read It
Ng's debut, Everything I Never Told You, was a smash hit with me and others (it was Amazon's Best Book of 2014), so Little Fires Everywhere might be the 2017 book I've been anticipating the most!
Major Themes
Family Life, Secrets / Betrayal, Motherhood, Teen Angst, Art, Suburbia
What I Liked
Little Fires Everywhere's premise didn't jump out at me initially. It's not entirely clear what this book is about. Yet…the way Ng told this story had me engrossed immediately. It's the kind of story where you sink right into the community and the characters' lives. I'm a bit hard-pressed to pick out specific things I loved about it…yet, I loved the book as a whole. 

Little Fires Everywhere

 is greater than the sum of its parts.
The set-up for this story reminded me a bit of the tv show The O.C. – an outsider sort of infiltrates a wealthy family and supposedly idyllic community with far-reaching consequences (Pearl Warren = Ryan Atwood).

It starts out as a story of a family and a community…and then takes an interesting turn. Ng presented a Jodi Picoult-esque situation (i.e. one with valid arguments for both sides and where there is no clear right answer) and forced me to think about what I'd do in a similar situation

Ng painted a vivid picture of the Shaker Heights community while making you feel that it was the only place this story could play out the way it did:




In fact, the city's motto was – literally, as Lexie would have said – "Most communities just happen; the best are planned": the underlying philosophy being that everything could – and should – be planned out, and that by doing so you could avoid the unseemly, the unpleasant, and the disastrous.

Little Fires Everywhere is more action-packed than 

Everything I Never Told You

 and, I believe, has the potential for even broader appeal.
And, the debate-starting issues it deals with make it a great book club selection!
What I Didn't Like
I had to suspend belief and just roll with some of the plot points…the coincidences were a little too big. But, while I recognized this as I was reading, it didn't bother me or influence my opinion of the book as a whole.
A Defining Quote
Sometimes you need to scorch everything to the ground, and start over. After the burning the soil is richer, and new things can grow. People are like that, too. They start over. They find a way.
Good for People Who Like…
Dysfunctional families, Secrets/Betrayal, Motherhood, Engrossing Plot & Characters, Suburban Life
Other Books You May Like
More stories about families facing unconventional situations:
Every Last One
 by Anna Quindlen (my review)
Miller's Valley
by Anna Quindlen
Another story about what it means to be a mother:
The Mothers by Brit Bennett (my review)
And, of course, Celeste Ng's debut novel:
Everything I Never Told You (my review)