This post is part of fellow book blogger, Beth Fish Reads', weekly meme (a "community" blog post, for all those non-bloggers out there) called Weekend Cooking.
As I mentioned in a post a couple weeks ago, I gave my husband a membership to The Lobster Place's Fish of the Month Club for Christmas this year. We receive a package at the beginning of the month with 5 different types of fish (which can be frozen) and accompanying recipes.
The first fish we tried was Lemon Sole and I shared the recipe in a previous Weekend Cooking post. The second was Baked Mahi Mahi with Wine and Herbs. It was light, simple, and easy to prepare and was delicious! The juices of the steamed fish are used to make a yummy sauce and I added pan roasted cherry tomatoes for an extra pop.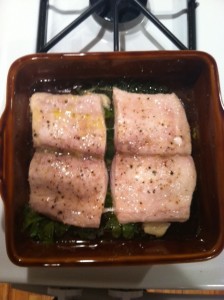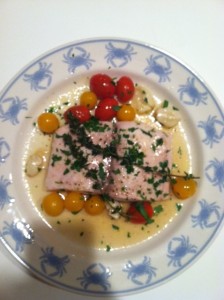 Baked Mahi Mahi with Wine and Herbs
Recipe courtesy of The Lobster Place (originally from foodnetwork.com)
Ingredients
4 sprigs fresh thyme
8 sprigs fresh parsley
8 cloves garlic, smashed
4 (6 oz.) skinless Mahi Mahi fillets
Kosher salt and freshly ground black pepper
3/4 cup dry vermouth (I substituted Pinot Grigio)
4 tablespoons extra-virgin olive oil
2 teaspoons freshly squeezed lemon juice
2 Bay leaves (this was actually missing from the ingredient list, but was mentioned in the directions, but didn't specify an amount, so I guessed 2)
12 cherry or pear red and yellow tomatoes, for garnish (I used these in the dish, rather than just for garnish)
Directions
Preheat oven to 450 degrees.
Make a bed of herbs in a medium gratin or baking dish with the thyme, 4 sprigs of the parsley, and the bay leaves. Scatter the garlic on top. Season both sides of the fish with salt and pepper and place on top of the herbs. Add the vermouth (or Pinot Grigio, in my case) and drizzle 2 tablespoons of the oil over the fish. Cover loosely with foil and bake until the fish is opaque, about 15-20 minutes, depending on the thickness of the fillets.
Carefully pour the pan juices into a small saucepan and set the fish aside. Reserve the garlic and 4 thyme sprigs. Bring the sauce to a boil over high heat and cook until reduced by half, about 5 minutes. I added the tomatoes to the pan about halfway through the reduction process so they would burst (releasing a tangy sweetness). Whisk in the remaining 2 tablespoons of olive oil and the lemon juice. Season with salt and pepper. Set aside.
Divide the fish among 4 serving plates. Pour sauce over fish and garnish with the 4 remaining parsley sprigs, the reserved garlic and thyme, and tomatoes (if you didn't add them to the pan earlier).