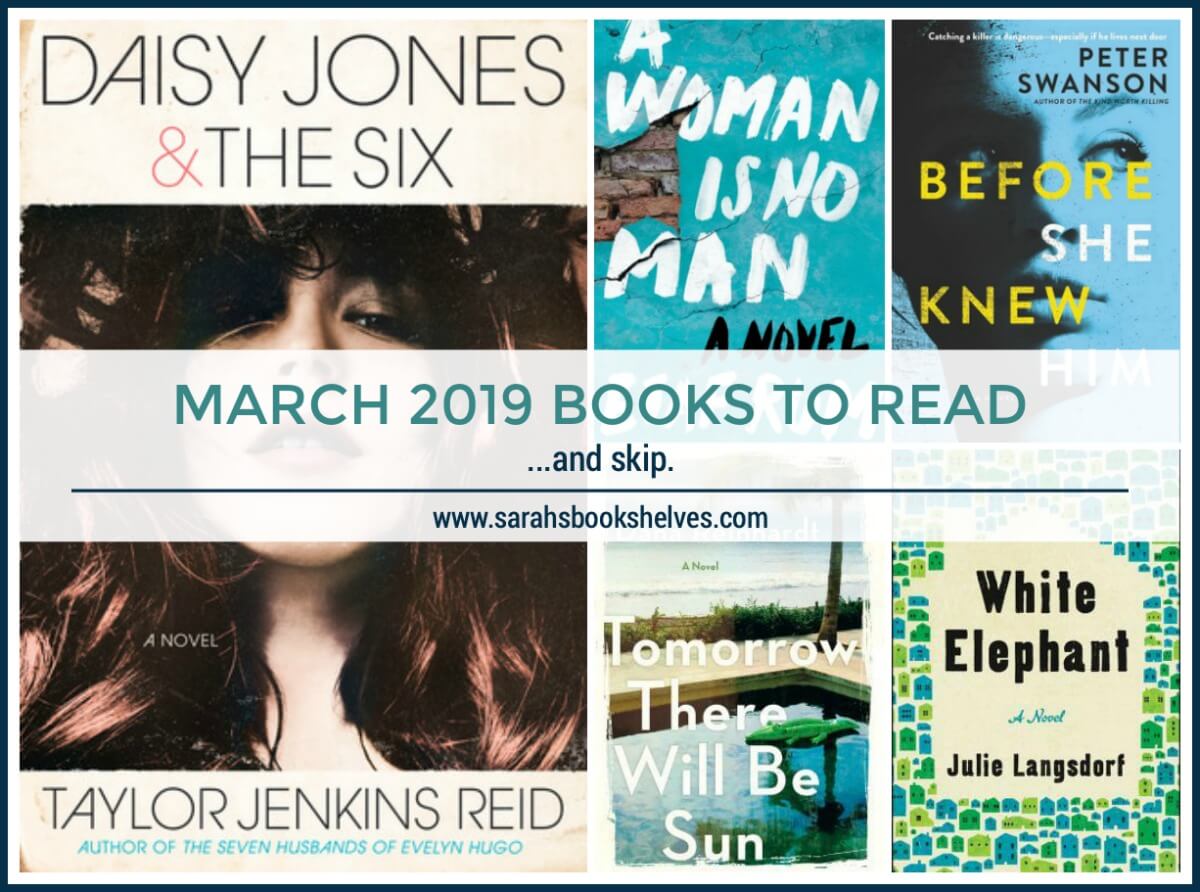 Here's what I wrote before finishing Daisy Jones & the Six:
March was a bit of a down month for my new release reading, but I kind of expected that going in. There just weren't a ton of March releases I was looking forward to. Then, a couple I had hopes for didn't pan out. I actually finished two March books I ended up not liking, which is rare for me. But, they were quick, easy reads, which makes me less likely to DNF them.
Here's what I think now:
I think I might have found my #1 book of 2019! It's going to take something really special to top this!
Hosted by Modern Mrs. Darcy.
This post contains affiliate links (plus: here's your Amazon Smile-specific affiliate link
).
Favorite Book of March 2019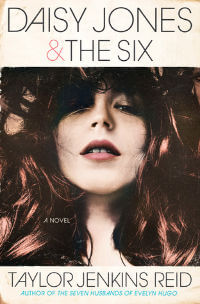 Daisy Jones & the Six
by Taylor Jenkins Reid
Fiction (Release Date: March 5, 2019)
368 Pages
Affiliate Link: Buy from Amazon
Source: Book of the Month (Publisher: Ballantine Books)

I'd planned to include Daisy Jones & the Six in this round-up, but once I read it, I had so much to say about it that I decided it needed it's own full review. So, that's coming early next week…stay tuned!
Also Read This One
A Woman is No Man
by Etaf Rum
Fiction (Release Date: March 5, 2019)
336 Pages
Affiliate Link: Buy from Amazon
Source: Publisher (Harper)

Plot Summary: A dual timeline story of a Palestinian mother (Isra) and daughter (Deya) growing up in Brooklyn in a household that tried to strictly adhere to traditional Muslim custom (i.e. arranged marriage at a young age, men valued over women, women confined to the home, physical and emotional abuse, etc).
My Thoughts: Let me start by saying A Woman is No Man is a feminist's worst nightmare…in the sense that women are still treated this way in some cultures even though it's 2019. I'd heard it was brutal reading before I started it and it was. Women are treated like unpaid servants / slaves by their own families (i.e. husbands, fathers, and brothers) and constantly made to feel ashamed…just for being a woman. They have no agency or choice about what happens in their lives and even the older women in the book perpetuate the cycle by forcing their daughters into marriages similar to their own. I'm shuddering wondering how much of this story is autobiographical for Rum (this NPR interview leads to me believe at least some of it is). But, how brave of her to speak out and try to change the cycle. Her female characters also show immense bravery to attempt to change their futures and it's this small ray of hope at the end of the book that made all the brutality worth it. In a way, A Woman is No Man ended up being a badass lady book. In addition to being a window into this hidden culture, A Woman is No Man has some suspenseful story hooks that kept me turning the pages…and, I loved that books and reading serve as such a balm for these women amid such oppression. If your book club can stomach the brutality, this would be an excellent choice!
I was born without a voice, one cold, overcast day in Brooklyn, New York. No one ever spoke of my condition. I did not know I was mute until years later, when I'd opened my mouth to ask for what I wanted and realized no one could hear me. Where I come from, voicelessness is the condition of my gender, as normal as the bosoms on a woman's chest, as necessary as the next generation inside her belly.
Skip These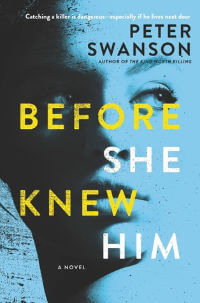 Before She Knew Him
 by Peter Swanson
Fiction – Mystery / Thriller (Released March 5, 2019)
320 Pages
Affiliate Link: Buy from Amazon
Source: Publisher (William Morrow)
Plot Summary: A woman with a history of mental illness and erratic behavior (Hen) suspects her high school teacher neighbor (Matthew) of murder.
My Thoughts: Y'all know psychological thrillers are risky for me, but I liked Swanson's previous novel, The Kind Worth Killing. Unfortunately, Before She Knew Him turned out to be exactly the type of psychological thriller I can't stand…the one with a plot twist and/or ending that ventures into eye-rolling / outlandish territory. The ending to this one struck me as a total gimmick. After reading two of Swanson's thrillers, I've noticed something he does with his "villains"…he gives them a motive for their bad behavior that most rational people would agree with, but that the villain takes to an extreme most rational people never would. He did this in The Kind Worth Killing and again in Before She Knew Him. While I appreciate the thought-provoking element of this approach, I've had trouble really buying into the motive in both cases. Yes, I agree that the victims weren't necessarily good people, but I just couldn't buy into someone taking "justice" against them to such extreme lengths. And, this calling card isn't even the outlandish gimmick I was referring to earlier…that's something else entirely. I guess the good news is I did fly through this novel…mostly to see if he could end it in a surprising, yet believable way. I'd hoped this one would go on my Summer Reading Guide, but it sadly doesn't cut it.
They had a secret, the two of them, and there is no better way to start a friendship than with a secret.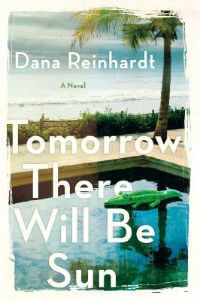 Tomorrow There Will Be Sun
 by Dana Reinhardt
Fiction – Brain Candy (Released March 12, 2019)
288 Pages
Affiliate Link: Buy from Amazon
Source: Publisher (Pamela Dorman Books)
Plot Summary: Best friends and business partners Peter and Solly and their families vacation in a private villa in Puerto Vallarta, Mexico to celebrate Peter's 50th birthday…and things inevitably go wrong.
My Thoughts: This book has been compared to Siracusa, a vacation book which I loved, and The Vacationers, a vacation book which I didn't, so I was curious to see where it would land. It was definitely more The Vacationers with some Do Not Be Alarmed thrown in. But, I felt like I'd read this book before. There wasn't much unique about it. It's your average vacation book where there are simmering issues amongst the vacationers, but without anything truly compelling or writing that stands out. There is a bit of plot involving some local gang politics and I wish the whole book had centered more around that, which would have made it a different book, but I think more unique and intriguing. Unfortunately, I started skimming around the 60% mark.
I didn't plant the devil grass, neither of us did, but we let it spread untended.
The DNF's
White Elephant
by Julie Langsdorf (March 26, 2019)
DNF at 19%
It was fine, but it needed to be more than fine for me to continue. I didn't care much about what was going to happen. Also, it immediately followed Daisy Jones & the Six, which is a terrible position to be in.
What's the best book you've read so far this month?
Do you want a monthly personalized book recommendation from me and access to our private Facebook Group?
Support Sarah's Book Shelves on Patreon for access to these special bonuses (more details here)!