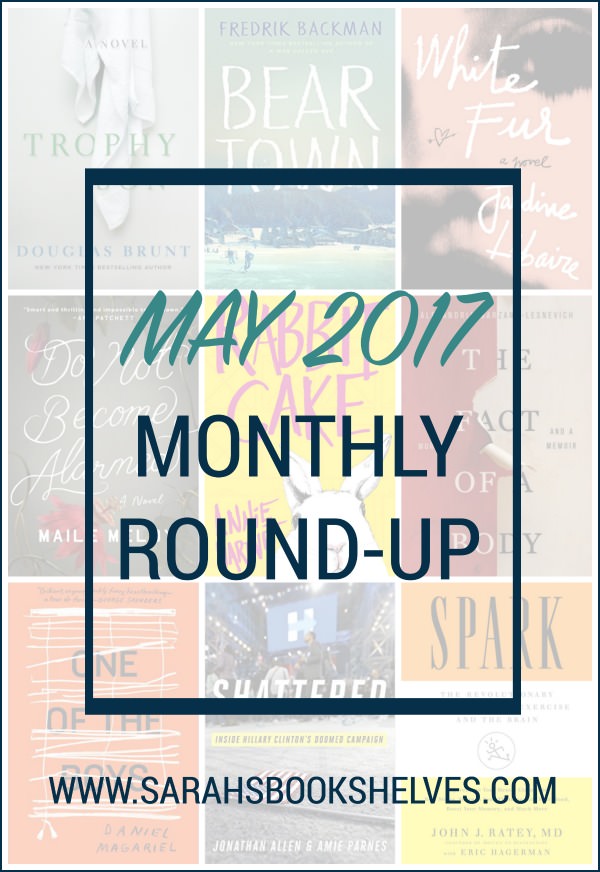 This post contains affiliate links and I will make a small commission if you make a purchase after clicking on my links.
May Reading / Life
After reading 14 books in April, I'm back to a more normal-for-me reading level with 9 books in May. Not one of them was a real dud and I truly couldn't decide between the 3 (yes, I realize this is totally ridiculous!) books that are my favorites of the month!
Three of those were massive winners with two 5 star sports novels (Trophy Son and Beartown) and a 4.5 star gorgeously written, gritty love story (White Fur).
Do Not Become Alarmed and Rabbit Cake made perfect additions to my 2017 Summer Reading Guide!
The Fact of a Body by Alexandria Marzano – Lesnevich (my review) and One of the Boys by Daniel Magariel were both solid 4 star reads.
My free trial of my personalized book recommendation service will be ending on Father's Day, so it's time to get in any last minute requests. And, I've got you covered for Father's Day gift recommendations!
Today is the last day to choose your June Book of the Month Club selection(s). Check out all the details and my commentary on which selection I'd choose here!

I graduated to 1x/week of physical therapy for my lower back (down from 2x/week), so I'm now able to fit Barre class back in! I went to my first one today since the injury and, man, am I out of Barre shape. Bring on the soreness…
My Favorite Book(s) of the Month
Best Books of the Month
Trophy Son
by Douglas Brunt (May 30, 2017), My Review
Fiction – Sports, 288 Pages
Affiliate Link: Buy from Amazon

Beartown
by Fredrick Backman (April 25, 2017)
Fiction – Sports, 432 Pages
Affiliate Link: Buy from Amazon
White Fur
by Jardine Libaire (May 30, 2017)
Fiction, 320 Pages
Affiliate Link: Buy from Amazon
PS – last year's Best Book of May was Sweetbitter by Stephanie Danler (my review)…one of my Best Books of 2016!
Best Selling Book(s) of the Month (via my affiliate links)
Dead Letters by Caite Dolan-Leach (My Review)
Based on a True Story by Delphine de Vigan (Spoiler Discussion)
The Woman Next Door
by Yewande Omotoso (My Review)
The Roanoke Girls by Amy Engel (My Review)
If We Were Villains by M.L. Rio (My Review)
White Fur by Jardine Libaire
June Releases I'm Excited About
Do Not Become Alarmed
by Maile Meloy (June 6)
The Bright Hour
by Nina Riggs (June 6)
Stephen Florida
by Gabe Habash (June 6)
Small Hours 
by Jennifer Kitses (June 13)
Most Popular Posts
Posts Actually Published in May
2017 Summer Reading Guide
My Most Anticipated Books of Summer 2017
Ten Read-Alikes I'm Dying to See
Overall Posts
Book Club Recommendations
Behind Her Eyes and THAT Ending: Spoiler Discussion
A Gentleman in Moscow by Amor Towles: On Appreciating, Yet Not Loving a Book
Favorite Posts by Fellow Bloggers
How was your reading month?
Looking for a specific book recommendation? I've got you covered!
Participate in a limited time, free trial of my
new PERSONALIZED BOOK RECOMMENDATION service!