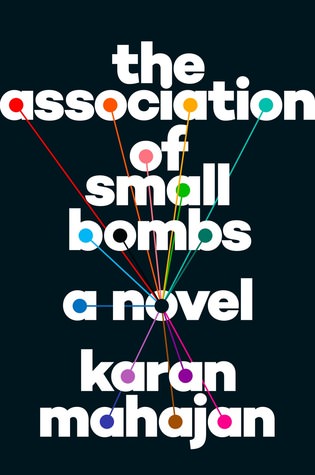 Fiction
Release Date: March 22, 2016
278 Pages
Bottom Line: Read it…if the "Good For People Who Are Interested In" section below appeals to you
Affiliate Link: Pre-Order from Amazon

Source: Publisher (Viking) via NetGalley
Headline
The Association of Small Bombs's fantastic start, meandering middle, and somewhat perplexing ending left me with mixed feelings.
Plot Summary
A portrait of how small scale terrorism (i.e. a car bomb vs. something like 9/11) impacts the lives of its victims and perpetrators, told through the stories of the families of two young boys killed by a bomb in a Delhi market (the Khurana brothers), the boys' friend and a survivor of the same attack (Mansoor Ahmed), and multiple perpetrators of terrorism.
Why I Read It
I first saw this book on The Millions Great 2016 Book Preview and their description of "the way that families, politics, and pain weave together" in relation to small scale terrorist attacks intrigued me.
Major Themes
Terrorism, Muslims living in a predominantly Hindu country, grief, how law enforcement in India handles terrorists, Kashmir/India conflict
What I Liked
My Kindle's highlighting function got a serious workout…particularly in the first half of the book when Mahajan's social commentary shined. 
He'd become a man whose kids had died. This was his chief distinction. It occurred to him now that people are defined much more by their association with death than by what they do in life. Poor thing, she's a widow, they say. She lost her mother when she was ten to cancer.
The Association of Small Bombs

mentally took me to India (specifically Delhi) and was a stark comparison to 

The Year of the Runaways

(also set partially in India), during which I felt like I was hanging out in the clouds above India, with only a hazy view of the country. To be fair, I only read the first 12% of

Runaways

, but my very present feeling during 

Small Bombs

was immediate.

This story made me think: about life in a country where bombings are common, about ways to grieve, about the experience of Muslims in a predominantly Hindu country, about how young people get drawn into a life of terrorism, about what it's like to be a terrorist, about the differences between "small scale terror" and mass attacks, and about Indian cultural biases (i.e. how the North views the South, poverty, etc).

Mahajan was not afraid to portray odd and less socially acceptable ways of handling grief, which I appreciated. Without giving anything away, the way grief manifested in some of his characters was unexpected and a little shocking…and had me raising my eyebrows in a good way.
What I Didn't Like
Initially, I found two potential story directions incredibly intriguing, but Mahajan didn't truly pursue either of them. He went a third way, which was unexpected, but less compelling for me. 

The middle of the book focuses on Mansoor (the Khurana brothers' friend who survived the bombing) and his involvement with a political discussion group. And, at this point the story started meandering.

I wish Mahajan had fleshed out the conflict between India (predominantly Hindu) and Kashmir (a Muslim region) and how Narenda Modi came to power in Kashmir more fully, as it's the driving force behind the terrorist attacks that are central to the story. I didn't know much about it and had to resort to Google for more information.

One part of the ending was completely bizarre and ancillary to the story. Was it there for shock value? Did I just not get its meaning? Or, was it just not explored adequately enough to make sense?
A Defining Quote
"And you know what happens when a bomb goes off? The truth about people comes out. Men leave their children and run away. Shopkeepers push aside wives and try to save their cash. People come and loot the shops. A blast reveals the truth about places."
Good for People Who Are Interested In…
Gorgeous writing, books that make you think, politics, terrorism, social commentary