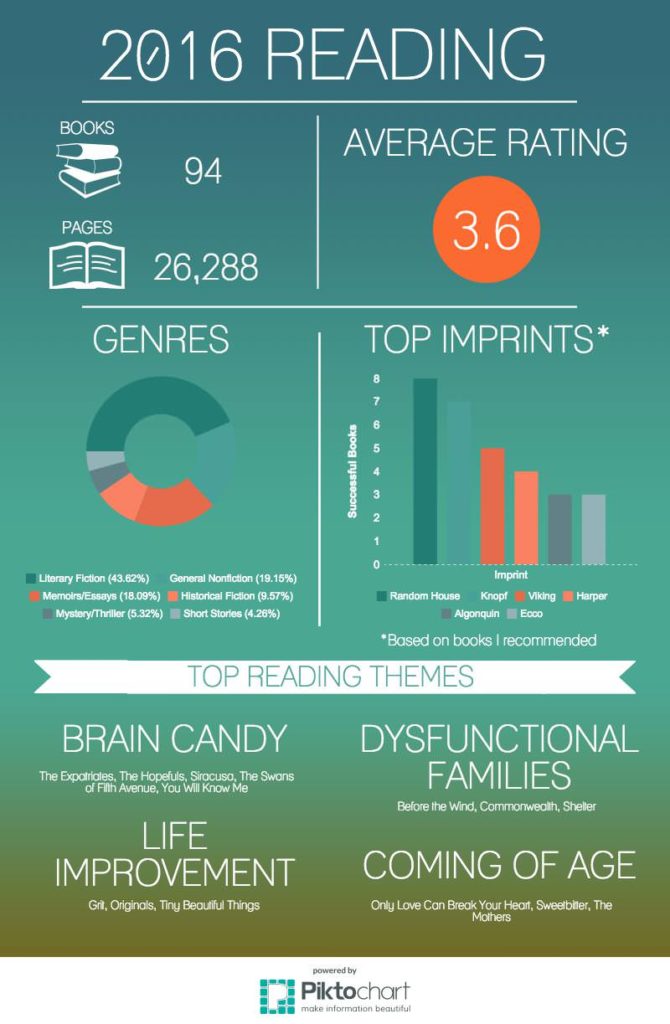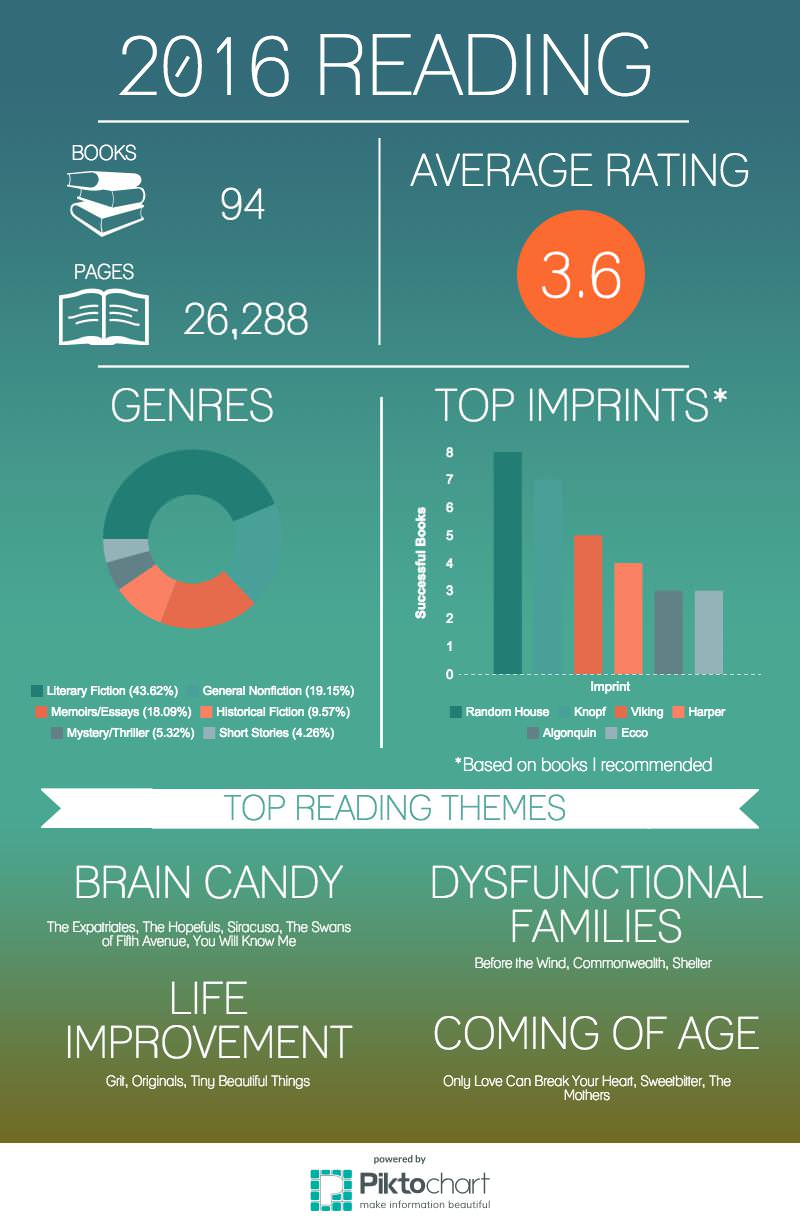 Happy New Year, everyone! I'm happy to provide you with some hangover reading.
Last year was the first full year I kept reading stats and a Goodreads account, so I actually have a baseline to compare with this year's stats! Let's get down to it.
Reading
Though I blew through my goal of 75 books, I felt like this year's crop of new releases were less successful for me than usual…with eight 5 star books compared to fifteen last year. I was also drawn to lighter books…possibly because I was doing more reading then ever amidst chaos (at playgrounds, sports practices, etc).
Audiobooks: Though not a stated goal for this year, I successfully integrated audiobooks into my reading (comprising 15%), which helped me read more nonfiction (37% of my reading, up from 16% last year) and books in general than ever before. Audiobooks also enabled me to read the lighter memoirs (i.e. celebrity and sports) that I used to read often, but had gotten away from in the past few years.
Backlist (2016 Goal): I read 21 backlist books (22% of my reading) this year compared to 10 last year. 
ARCs: I finished 29 ARCs (30% of my reading) and DNF'd another 17 for a total of 46 ARCs this year. Of the 29 I finished, 41% were "successful" (i.e. books I recommended on the blog). I'd like to see my success rate top 50% next year.
Imprints: For the second year in a row, Knopf, Random House, and Harper are all successful imprints for me. Algonquin and Ecco are both newly successful, while Putnam, Doubleday, and Grand Central weren't as successful for me this year.
Longest Book Read: Five Days at Memorial by Sheri Fink (602 pages). I think I was so traumatized by wasting so much time (944 pages worth) on last year's City on Fire that I was a little hesitant to pick up chunksters this year. 
Shortest Book Read: We Should All Be Feminists by Chimamanda Ngozi Adichie (49 pages)
Diversity Stats
66% of my 2016 reading was female authors (up from 62% last year) and 70% of my Best Books of 2016 were by female authors.
14% of my 2016 reading was by POC authors. This is the first year that I've tracked POC diversity and I didn't overthink it (see this fantastic post on the difficulties of accurately tracking diversity by Andi at Estella's Revenge), so it's possible my numbers aren't 100% accurate. 
Social Media Stats
For the first time, I tracked my social media followers every month. My 2016 goal was to improve my Pinterest presence and I focused most of my effort there, so I'm thrilled it panned out. Since a few of you have asked, here are the two posts I used as guides to improve my Pinterest presence: Can Book Bloggers Be Successful on Pinterest? from These Paper Hearts and How I Increased My Pinterest Impressions by 200% in 30 Days from Ashley Lamar at Far Beyond Love.
Growth in social media network followers from January 1 – December 31, 2016:
| | |
| --- | --- |
| Network | % Increase in Followers |
| Twitter | 53% |
| Facebook | 46% |
| Pinterest | 142% |
| Email Subscribers | 349% |
| Bloglovin' | 45% |
Percent of traffic generated by social media network compared to last year:
Top Networks
2015 
% Traffic
2016
% Traffic

Twitter

27%

 8%

Facebook

36%

 17%

Blogger

19%

 4%

Pinterest

11%

 69%
Blogging
Key Takeaways
Like last year, The Girl on the Train Spoiler Discussion comprised the largest chunk of my traffic until December, when A Month of Favorites: Five 2016 Books That Deserved the Hype…and Five That Didn't took over thanks to Pinterest repins.
"Sticky content" performed well (i.e. recommendation lists like Book Club Recommendations and Page Turner Books). These pages reside in my main menu and are constantly updated with new books.
My quarterly "most anticipated books" posts performed well. 
Top Ten Tuesday lists generated the most discussion, but they were not my best performing posts like they were last year. And, I probably have the most fun writing these, so they're not going anywhere.
Book reviews in general don't do as well as other types of content. With the exception of spoiler discussions (which do pretty well), only one book review (

Fates and Furies

) cracked my top 10 posts of the year. All but one of my top 5 book reviews were written in 2015.
Pageviews / Unique Visitors
Pageviews increased 43% over 2015.

My best months (by pageviews) were December, October, September (in that order).
Best Performing Posts/Pages of 2016
Best Performing Book Reviews of 2016 (all mostly Google search)
Most Discussed Posts (determined by number of comments in 2016)

My Personal Favorites
How were your 2016 reading and blogging stats?