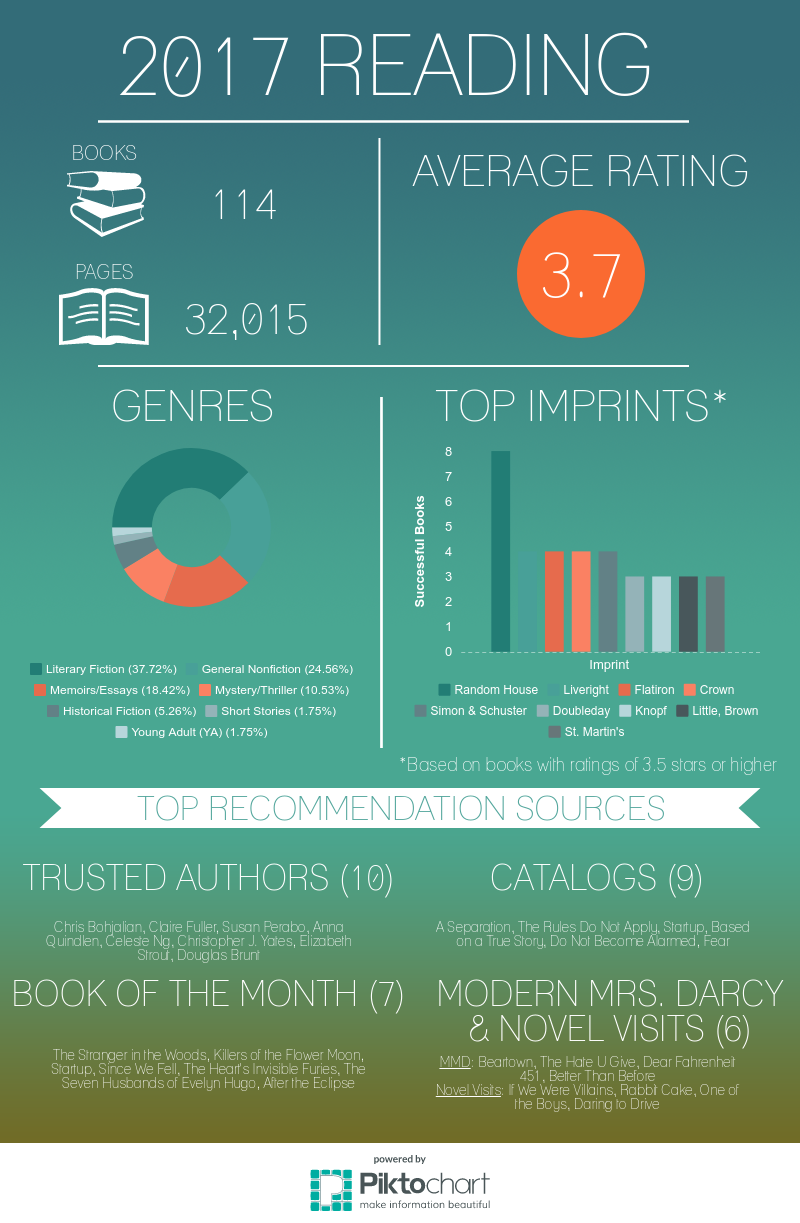 Happy New Year, everyone! Your brains are probably on overload getting back into the swing of things at work. But, I'm still going to throw some more stats at you…at least these are fun ones (for bookworms)!
I gotta tell ya, it was a pain to manually compile all these stats. I keep track of the raw data throughout the year, but I didn't total everything up until the bitter end. That makes for a lot of work come December 31.
BUT, next year will be so much easier because I'll be using my "Rock Your Reading" Tracker, which automatically tallies all your stats for you (and even sticks them into pretty pie charts) throughout the year. You can see how you're doing with your stats as the year progresses and have all the totals (and Summary Charts) at your fingertips come year-end. The Tracker will be available for purchase next week, so you too can avoid all the end of year tallying! 
Reading Stats
I blew through my goal of 100 books with a final 2017 count of 114 books. Thirteen were 5 stars compared to eight last year. This is surprising because I felt like this year's reading was dismal compared to last year's. Maybe I feel that way because many of this year's hyped books failed for me. I also continue to be drawn to lighter books that I can read amidst chaos (at playgrounds, sports practices, with kids running and screaming around me, etc).
% Successful Books:
I personally view a "successful" book as a 3.5 rating or higher. 43% (65 of 152 books attempted, which includes DNFs) of my 2017 books were "successful." UGH – this is too low! I hope to break 50% next year.
Next year I'll be using my "Rock Your Reading Tracker" (available for purchase next week!), which will automatically calculate this for me throughout the year! 
Genres:
I read slightly less literary and historical fiction this year and more general nonfiction (thank you, audiobooks!) and mysteries / thrillers. I think I'm getting over my mystery / thriller burnout (loving Emma in the Night
probably helped with that).
Audiobooks:
I listened to 30 audiobooks this year, 26% of my overall reading. This is up from 15% last year and was integral in achieving my 2017 Goodreads goal of 100 books.
Backlist:
I read 32 backlist books (28% of my reading) this year compared to 21 last year. Another area where audiobooks really helped me.
Publishers / Imprints:
Longest Book Read: The Heart's Invisible Furies
by John Boyne (592 pages)…also my favorite book of the year! I'm still shying away from long books. They have to be outstanding to be worth it for me…luckily, The Heart's Invisible Furies was.
Shortest Book Read: A Short Guide to a Happy Life
by Anna Quindlen (64 pages)
Diversity Stats
I don't set particular diversity goals, but I am interested in seeing where my reading naturally falls…
73% of my 2017 reading was by female authors (up from 66% last year) and 70% of my Best Books of 2017 were by female authors.
15% of my 2017 reading was by POC authors, compared to 14% last year. 
Blog Traffic Stats
This year, I focused on continuing to build my Pinterest presence (it's my #1 social media traffic source), growing my email subscriber list, and spending more time on Instagram. Not surprisingly, this focus is reflected in my social media and blog traffic numbers.
I didn't really start paying attention to Instagram until November and am still somewhat ambivalent about it. It takes a lot of time, doesn't directly drive a lot of traffic to my blog, and it's now harder than ever to build a following because of the new algorithm. But, I do think it helps get my blog name out there in the #bookstagram community and I am gaining followers, so I'll keep putting some effort into it for now.
Overall Traffic Source Comparison:
Top 5 Sources
2016
% Traffic
2017
% Traffic
Google Organic Search

49%

43%

Pinterest

17%

21%

Direct

16%

12%

MadMimi Email

1%

5%

Facebook Mobile

3%

2%
Social Media Network Traffic Source Comparison:
Top Networks

2015

 
% Traffic
2016
% Traffic
2017
% Traffic
Pinterest

11%

69%

79%

Facebook

36%

17%

10%

Twitter

27%

 8%

 7%

Blogger

19%

 4%

 2%

WordPress

 

1%

1%
Social Media Growth Over 2016:
| | | |
| --- | --- | --- |
| Network | % Increase in Followers | % Increase in Traffic |
| Twitter |  22% |  65% |
| Facebook |  29% |  16% |
| Pinterest |  128% |  102% |
| Email Subscribers |  187% |  711% |
| Bloglovin' |  51% |  43% |
| Instagram |  80% |  82% |
Blog Stats
Key Takeaways
For the second year in a row, "Sticky content" (i.e. recommendation lists like Book Club Recommendations and Page Turner Books) performed well via Google Search and Pinterest. These pages reside in my main menu and are constantly updated with new books.
Lists like "Best Books of the Year, Summer Reading Guide, and my quarterly Most Anticipated Books posts continue to perform well and aren't going anywhere.
My best performing book reviews were mostly Spoiler Discussions. This is illuminating for me because I don't write many of them. I'll look for more opportunities for Spoiler Discussions in 2018.
Pageviews / Unique Visitors
Pageviews increased 70% over 2016.

Unique Visitors increased 57% over 2016.

My best months (by pageviews) were February, November, October (in that order). I had a post go viral on Pinterest in February and the Fall months are generally high traffic times for me.
Best Performing Posts/Pages of 2017
Best Performing Book Reviews of 2017 (all mostly Google search)
Most Discussed Posts (determined by number of comments in 2017)

My Personal Favorites
What interesting things did you learn from your reading and blogging stats? Who were your most successful recommendation sources?