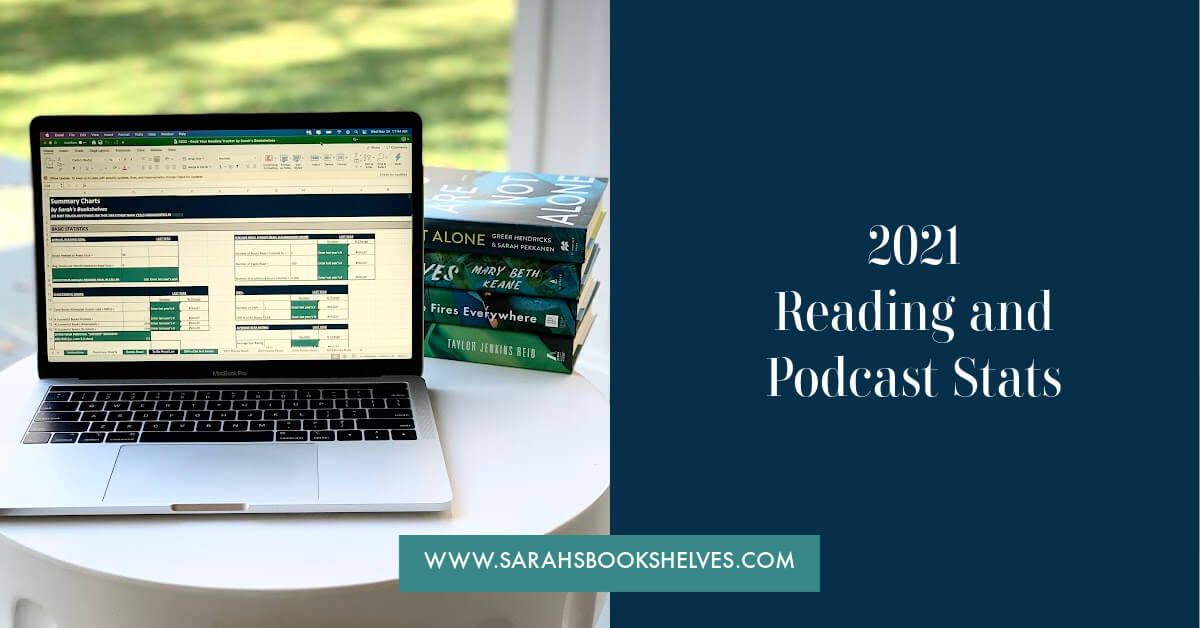 I went into 2021 expecting my reading to have "recovered" from its COVID weirdness. I shouldn't have been so optimistic. My brain still feels unable to handle books that require more concentration, feel dense, or are longer than 400 pages.
And, not surprisingly, I've been gravitating towards lighter books. I'm not sure if this is a permanent shift (or as permanent as any shift in reading taste can be) or if I'll eventually go back to craving more hefty reading. But, I'm rolling with it for now…
I read more books this year than in any other year since I started the podcast. I think cutting back how frequently I posted on the blog helped me get some reading time back…and hiring a Virtual Assistant to help me with the podcast (a HUGE thank you to my patrons for enabling me to do this!).

My reading "quality" improved from last year, but I read even less 5 star books. And, I didn't have a 5 star book between July and late December. I think this is why my reading didn't feel that great, even though my "success" stats told me differently.

And, I'm finally succeeding at reading more backlist books!
Putting this post together was a breeze compared to years ago because my Rock Your Reading Tracker had been automatically compiling these stats for me throughout the year (it's available for purchase for $14.99 here).
Let's dig into the numbers…
Quality and Quantity
2021 Quality Goal (% Successful Books – rated at least 3.5 stars)
I'm shocked that my reading quality stats are even better than last year because my 2021 reading did not feel that successful. But, I think that has to do with the number of 5 star books I read and the 5 star drought I had in the second half of the year. 
% Books Attempted that Were Successful (includes DNFs)
69% (91 of 131 books attempted)…a touch higher than last year.

Surpassed my goal of 65%.
% Books Finished that Were Successful
90% (91 of 101 books finished)…better than last year (86%).

Surpassed my goal of 85%.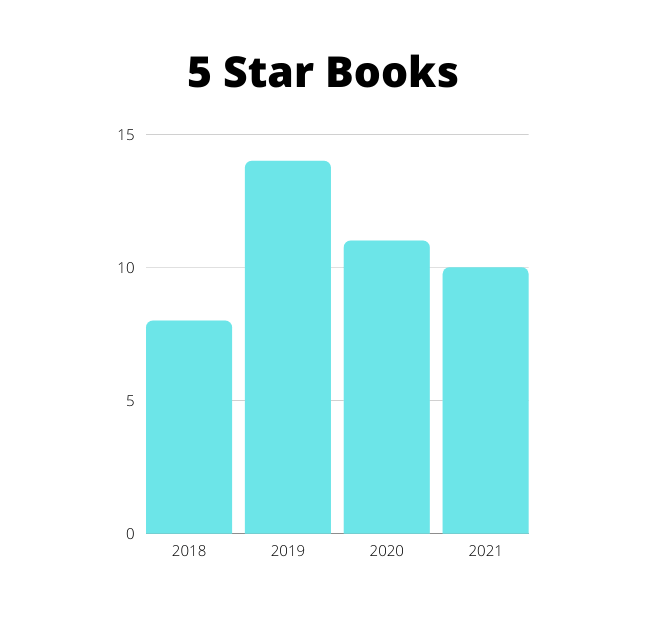 I read slightly fewer 5 star books than last year, but I felt like I read way less because I had a 5 star book drought from July – late December. And, my 5 star book from late December was a 2022 release. This is a reading stat that I'm discovering plays a big role in how I feel about the quality of my reading…even more than my overall "successful books" stat. And, is one I'll be paying more attention to moving forward.
My 2022 Reading Goal
For the third year in a row, I'm not setting a quantity goal and am going to focus solely on a quality goal, which will be the same as the past two years 65% Successful Books Attempted and 85% Successful Books Read. 
2021 Reading Quantity
For the third year in a row, I didn't set a reading quantity goal and this has worked well for me the past couple of years. I don't foresee myself ever setting a quantity-based reading goal again. I hate the feeling of chasing a specific number and letting my progress against that number influence my reading choices.
I did track how many books I read (101)…11 more than last year and the first time I've read over 100 books since starting the podcast. Last year, I said I thought the 85-95 book range was my comfort zone as long as I'm running the podcast (which significantly cuts into my reading time). I'm fairly certain the reason I read over 100 books this year was that I drastically cut back how much I posted on this blog. 
I've had thoughts rumbling about reading quantity, how much reading is too much, and how reading quantity impacts readers' lives as a whole…which I'm considering sharing with my patrons in a bonus podcast episode.
Picking Better Books
Over the past few years, I've been tracking my best and worst recommendation sources (and now mutual dislikes) as well as my top publisher imprints. Knowing my best recommendation sources and top publishers helps me know who to pay attention to when looking for books that best fit my reading taste. There is so much clutter out there, so knowing which voices speak to my particular taste helped me improve my reading quality 43% since before I started tracking these things! My 2022 Reading Tracker can help you track your recommendation sources and publishers / imprints and is available for purchase for $14.99 and to my Superstars patrons for free!
Recommendation Sources
| | |
| --- | --- |
| Recommendation Source | Success Stats |
| Novel Visits | 78% (20 Successful, 7 Unsuccessful, 4 Mutual Dislikes) |
| Kristi Phillips (Podcast Patron) | 86% (7 Successful, 3 Unsuccessful, 1 Mutual Dislike) |
| Elizabeth Barnhill (@wacoreads) | 81% (15 Successful, 5 Unsuccessful, 7 Mutual Dislikes) |
| Liz Hein | 71% (14 Successful, 6 Unsuccessful, 1 Mutual Dislike) |
| Annie Jones | 60% (15 Successful, 10 Unsuccessful) |
Novel Visits, Annie Jones, and Liz Hein at @lizisreading_ are in my Top 5 recommendation sources for the second year in a row!
Elizabeth Barnhill (@wacoreads) flew into my Top 5 this year…and we have a lot of mutual dislikes (as well as successful recommendations), which I think is just as important to understand as successful recommendations.
And, for the first time ever, a podcast patron (Kristi Phillips) is in my Top 5! My podcast patrons are became a big source of recommendations for me. 

In fact, my podcast patrons as a group had a recommendation success rate of over 80%! Compared to the next highest group rate of 69% (Bookstagrammers / Podcasters / Bloggers).
Publishers / Imprints
Imprint

Success Stats

Successful Books

Doubleday

100% (6 Successful, 0 Unsuccessful)

The Bad Muslim Discount

Empire of Pain

Olympus, Texas

When I Ran Away

Beautiful Country

Voices from the Pandemic

Grand Central

100% (5 Successful, 0 Unsuccessful)

Seven Days in June

What's Mine and Yours

The View Was Exhausting

You Should Have Known

The MindBody Prescription

St. Martin's Press

100% (5 Successful, 0 Unsuccessful)

Too Good to Be True

Take it Back

O Beautiful

The Unwilling

The Ballerinas

Ballantine

100% (4 Successful, 0 Unsuccessful)

Malibu Rising

When the Stars Go Dark

All Together Now

The Sweet Taste of Muscadines

Riverhead

100% (4 Successful, 0 Unsuccessful)

What Comes After

Shiner

Intimacies

The Paper Palace
Key Takeaways
Random House, Knopf, and William Morrow had been in my Top 5 for the past 3 years and all dropped off my list this year. I wonder if this is indicative of the shifts in my reading taste or of the books they're buying.
St. Martin's Press and Riverhead were the only 2 publishers to carry over from last year's list.
I also think it's important to look at what types of books tend to work from particular publishers: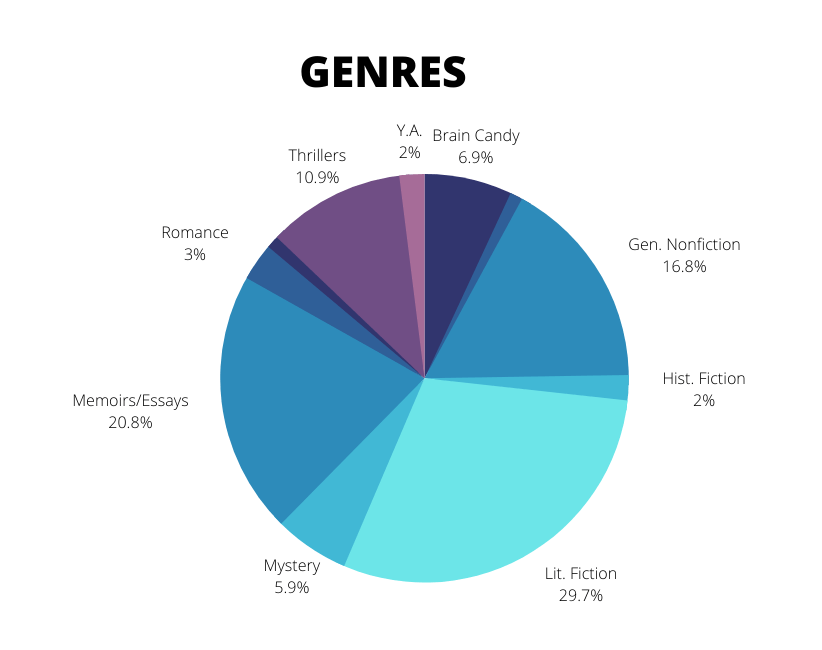 My reading was 62% Fiction / 38% Nonfiction (exactly the same as 2021 and I think my comfort zone).
My Literary Fiction reading is up from it's 2020 dip (30% of my 2021 reading…up 24% from 2020). But, it's still way below 2019's 44%. I wonder if I'll ever get back to that level of Literary Fiction reading and I'm also not sure if I want to.
I also read more General Nonfiction (up 40% from 2020) and Brain Candy (up 247%) than last year.
My biggest decreases were Memoirs / Essays (down 20% from 2020) and Young Adult (down 75%). Both of these genres crushed it for me last year. It was a lot to live up to.
Look at that steady year over year increase in backlist books! And, I finally surpassed my pre-podcast level of backlist reading!
I read 29 backlist books (29% of my reading)…a 24% increase from last year.
Every year, I tell myself I want to read more backlist books and, until last year, I just kept reading less. But, now that I have a built-in "reason" to make time for backlist (i.e. my Double Booked bonus podcast episodes for Superstars patrons where either Catherine or Susie and I share our book recommendations in the same format as the big show…which includes 2 backlist picks per month). You can get these bonus episodes and more goodies by supporting the podcast on Patreon for $7 /month. 
Debuts
I read 38 debuts…38% of my overall reading (up from 26 debuts, 29% of my reading last year). And, my Best Books of 2021 list was 40% debuts!
I'm thrilled to see my Debuts stats are recovering from 2020 and are back inline with where they were pre-COVID.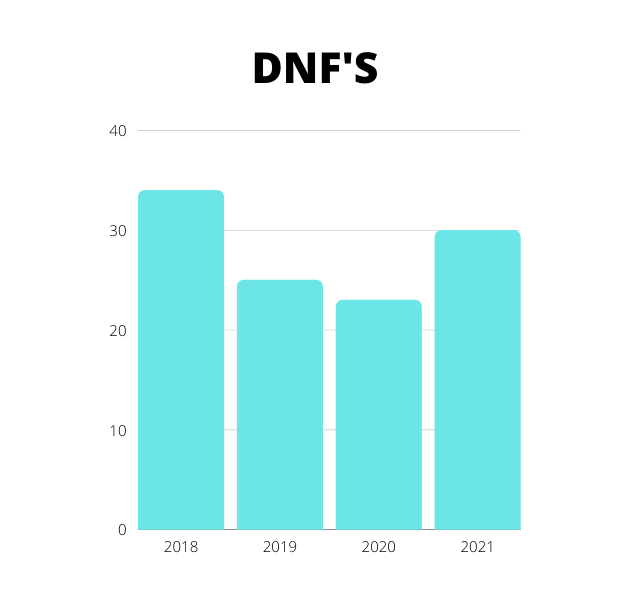 Looks like my DNFs rose in 2021 after falling for a couple of years. I DNF'd 30 books this year (23% of all the books I attempted)…and a 30% increase from the 23 I DNF'd last year. This number actually surprised me ad I wonder if my increase in DNFs contributed to my feeling that my reading year wasn't as great as my "success stats" indicated.
Longest Book Read
It's a tie…
Caste by Isabel Wilkerson and Firekeeper's Daughter by Angeline Boulley (496 pages).
Both are a lot shorter than the longest book I finished last year (Wanderers by Chuck Wendig).
Shortest Book Read
The Secret Lives of Church Ladies by Deesha Philyaw (192 pages)…also the first book I finished in 2021.
Diversity Stats
75% of my 2021 reading was by female authors (a tiny bit higher than last year). My % Female Authors has hovered around 75% for 3 years now…and, I don't see that changing much.
29% of my 2021 reading was by BIPOC authors, compared to 31% last year (down 7%). 44% of my books read were diverse books (i.e. about diverse topics and/or people), exactly the same as last year. And, 28% of my reading was #OwnVoices books.
The Podcast
2021 was a big year for growing the podcast's Patreon community. The number of Patrons grew 125% from 2020 and this influx in revenue enabled me to hire a Virtual Assistant, who has been invaluable! The Patreon community also became my favorite place to talk books on the Internet and it's my favorite part of running the podcast at this point.
Downloads
(average from episode drop date)
2021 Growth from
2020
2020 Growth from
2019
1 Day 

49% increase

75% increase

7 Day

46% increase

82% increase

30 Day

47% increase

43% increase
Favorite Episodes
By Downloads:
1) Ep. 99: Best Books of 2021 with Susie
2) Ep. 93: Fall 2021 Book Preview
3) Ep. 83: Summer Reading Special Episode with Susie
Your Favorites (via Instagram and Facebook votes):
1) Seasonal Book Previews
2) Ep. 96: Debuts Special with Susie
3) Circle Back Episodes and Ep. 89: Behind-the-Scenes of Indie Book Buying with Elizabeth Barnhill
What interesting things did you learn from your reading stats? Who were your most successful recommendation sources and publishers?